Cate & Chloe have announced the theme and box spoilers for the March 2017 Cate & Chloe VIP Box! Next month's jewelry subscription box theme is Stained with Love. The March Stained With Love Cate & Chloe VIP box includes "signature" jewelry pieces.
Hey VIP's! Now that we have all survived the winter holidays it's time to lighten the load, literally. We can put away those Christmas sweaters, down jackets, and that holiday red lipstick (you know which one we're talking about ;-D) and get ready for the warm months to come. We hope you heart these new "signature" pieces, as much as we do, and add them to your wardrobe and show off to your family and friends!
March 2017 Cate & Chloe VIP Box Spoiler
We also have a sneak peek at the VIP beauty perk in the Stained With Love Cate & Chloe VIP Box – Manna Kadar Beauty Lip Locked Gloss Stain – a $24 value free gift value.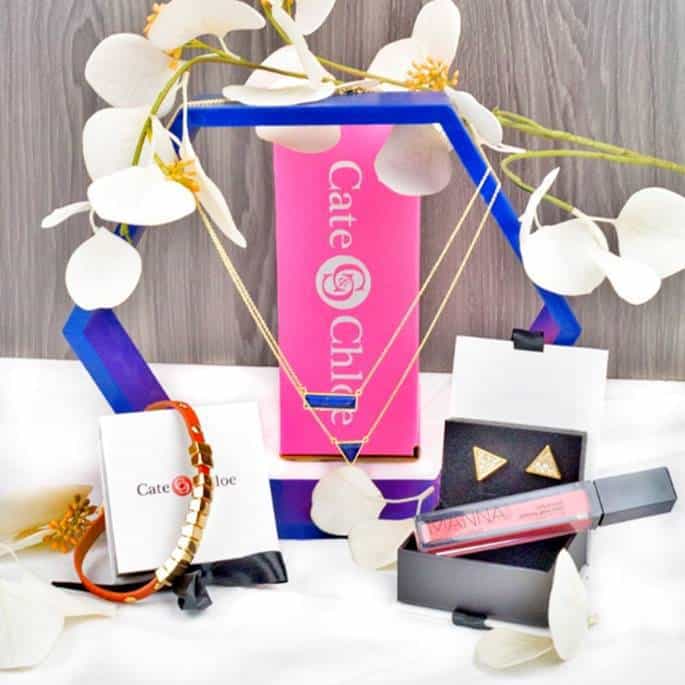 We are proud to share with you our partner Manna Kadar Beauty, a woman owned, California based beauty company. Manna Kadar's lip stains are the latest innovation in lip stains. With a smooth application that keeps lips hydrated and pigment lasts for hours. All their lip stains contain vitamins A & E, and Berry Extract that keep the lips nourished!
Get a personalized subscription box of jewelry selected to match your style with the Cate & Chloe VIP Box. Join today!
March 2017 Cate & Chloe VIP Box Coupon
We're excited to share an exclusive Cate & Chloe VIP Box promo code for FSB readers! Use exclusive code FSBSTAINEDVIP35 to get 35% OFF all one month Cate & Chloe VIP Box subscriptions (The Starter Package, Double the Fun, Full VIP Status.)