We have a first look into the May 2016 Vegan Cuts Snack Box. The Vegan Cuts snack box is a vegan snack subscription box delivering 7-10 vegan snacks and goodies every month. Here are 3 of the vegan snacks in the Vegan Cuts May 2016 Snack Box: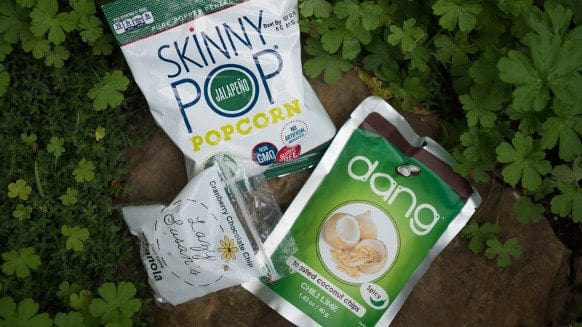 Skinny Pop Jalapeno Popcorn

Guilt-free snacking with a subtle kick of Jalapeño. No artificial ingredients, Non-GMO, Gluten-Free, Dairy-Free, Peanut-Free, Tree Nut Free, Preservative Free and delicious!

Lazy Susan's Cranberry Chocolate Chip Granola
If you're a fan of the cran, but like an added bonus of chocolate to sweeten up the pot and cut out some of the tartness from cranberries in your granola, this is the flavor for you.
Dang Foods Chili Lime Coconut Chips
Chili Lime is the perfect friend to coconut. Thai chilis and lime complement the sweet coconut meat in a spicy symphony of flavor.
The Vegan Cuts May 2016 Snack Box starts shipping May 17, 2016. Join today to reserve your vegan snack box!
Which May 2016 Vegan Cuts Snack Box snack are you most excited to try?
May 2016 Vegan Cuts Snack Box Sneak Peek