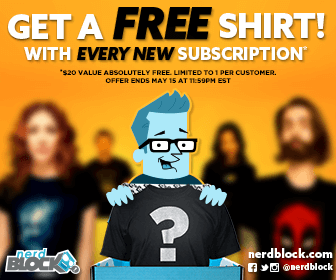 Get a FREE T-Shirt with every new subscription! For a limited time, new Nerd Block, Comic Block, Horror Block, Arcade Block, and Nerd Block Jr. subscribers will get a $20 nerd shirt absolutely free!

Nerd Block delivers monthly mystery nerd subscription boxes filled with nerdy apparel, toys and collectibles. Subscribe by April 15, 2016 to reserve the April Parody Nerd Block Classic Block.

Don't miss your chance to get your free t-shirt with every new subscription! Choose your Nerd Block nerd box and join today.

Limit 1 free shirt per customer. Nerd Block free shirt promo ends 11:59PM EST, May 15, 2016.