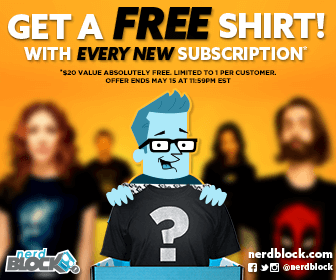 Don't miss your chance to get a FREE t-shirt from Nerd Block! Through May 15, 2016, new Nerd Block Jr. subscribers will get a FREE nerd shirt shipped immediately – a $20 free gift value! No code is needed to claim your free shirt – just click this link, subscribe to Nerd Block Jr. and wait for your free shirt to arrive.

Get a sneak peek into the May Nerd Block Jr. box with our Nerd Block Jr. May box spoilers. Subscribe by May 15, 2016 to reserve your Nerd Block Jr. May box and get your free nerd shirt with new subscriptions. Join today!

Valid for new block subscriptions only. Nerd Block free nerd shirt offer expires 11:59PM EST, May 15, 2016. Limit 1 per customer.