Loot Crate, one of the top-rated geek subscription boxes is expanding its product family with the new Loot Anime Crate. Originally launched as a geek + gamer subscription box, Loot Crate recently expanded to include monthly geek accessory crates with the Loot Crate Level Up boxes. With the Loot Anime crate, Loot Crate will grow their subscription box geek brand to include monthly crates of anime and manga gear.
Each Loot Anime crate will feature a selection of anime figures, collectibles, manga, apparel, accessories and more! The Loot Anime crate costs $24.95 + $5 shipping & handling in the US and will be valued at over $60 USD per box.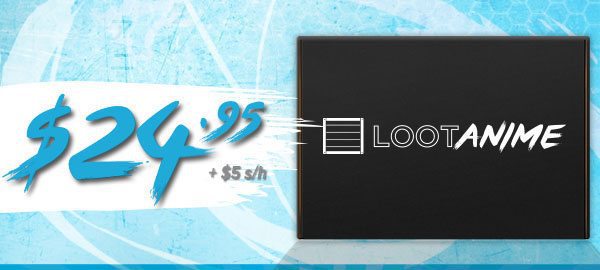 The first members of the Loot Anime crate will receive an exclusive item in the box. The inaugural Loot Anime crate will include an EXCLUSIVE Loot Anime Founders phone charm.
Stay tuned for additional news about when Loot Anime will launch and box spoilers for the first box. Visit www.lootcrate.com/anime to get more information and the latest Loot Anime news.