Citrus Lane delivers a surprise box of toys, books, goodies and essentials selected for your child's age and gender every month. Get a sneak peek into some of the products that could be in your October Citrus Lane box with these October 2014 Citrus Lane box spoilers!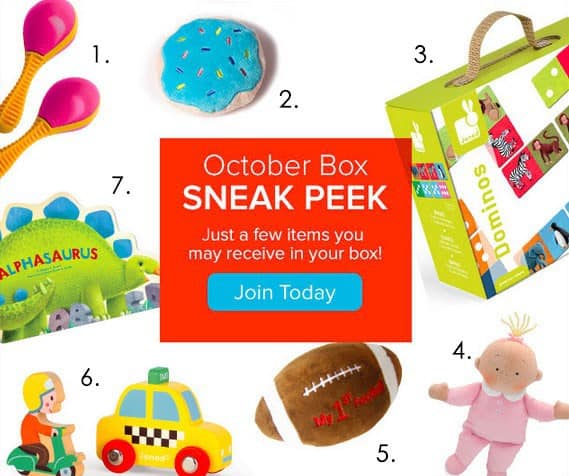 Your child's October 2014 Citrus Lane box may include:
1. Hohner Kids Maracitos
Plastic egg shakers with a handle, easy to hold and grip. Produce a nice and clean "chick-sound". 5″ in length and includes songs and activities specific to instrument.
2. North American Bear Co. Bake N Shake Rattle
Perfectly sized for little hands and deliciously fun, Shake 'n Bake Donuts are no-calorie yummy treats to engage baby with play.
3. Janod Toys Dominos
This 28 piece domino set by Janod features friendly animal designs to match up. Who can build the longest chain of matched animals? Made from hardboard, these dominos come in a handy storage box with a handle and magnetic clasp.
4. North American Bear Company Rosy Cheeks Doll
5. My 1st Football Plush Toy
This 6 inch soft chime Babies R Us Plush My First Football sports ball will be the first choice for your baby. It plays chimes when rolled around. The plush toy is very soft to the touch.
6. Story Set Wooden Taxi Car and Scooter by Janod
Designed on the same scale as our wooden toy trains, Janod's Wooden Taxi Story Set toy can play with trains or on its own. Comes with one wooden scooter figure and one wooden taxi car.
7. Alphasaurus or Shapeasaurus Board Book
In this new series of concept-based, shaped dinosaur board books, little ones will learn dinosaur names for every letter of the alphabet, identify bold shapes, practice counting skills, and discover the bright colors in the dinosaur world.
Which October Citrus Lane box spoiler do you hope will be in your child's October Citrus Lane box?
Not a Citrus Lane subscriber yet? Use coupon code SAVEHALF to save 50% off your first Citrus Lane box or use coupon code OCTBOX20 to save 20% off 3 or 6 month Citrus Lane subscriptions.