COCOTIQUE is continuing their 1 Year Anniversary with their October Mega Beauty Box! COCOTIQUE delivers a monthly box of The October COCOTIQUE Mega Beauty Box features 6 FULL SIZE products from some of their 1st year favorites.
COCOTIQUE has announced one box spoiler for the October 2014 COCOTIQUE Box. In addition to the 6 full-size beauty products, every October Mega Beauty Box will have a Deluxe Sample of Kiroja's Shea Nilotica, bringing the value of the October COCOTIQUE Box to $75!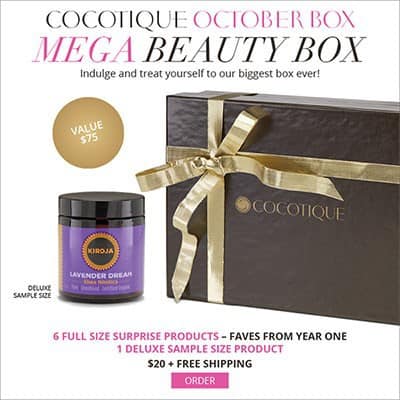 A lovely scented butter to keep your skin lusciously moisturized during the cooler Fall temperatures. Shea Nilotica is often referred to as East African Shea butter to distinguish it from its more well known cousin: West Africa Shea butter – it's much softer, with a milder fragrance.
What do you think of the first October COCOTIQUE box spoiler?
Not a subscriber and want to the October COCOTIQUE Mega Beauty Box? Use COCOTIQUE coupon code BOX10 to save 10% off any new COCOTIQUE subscription!