Every month, Nerd Block delivers a mystery box of nerd-approved collectibles and limited edition t-shirt for just $19.99. We have our first box spoiler for the October 2014 Nerd Block.
While not a spoiler about a product in the box, it is still pretty exciting. The October 2014 Nerd Block Classic block will be curated by Kevin Smith – one half of the famous Jay & Silent Bob and the star of AMC's Comic Book Men.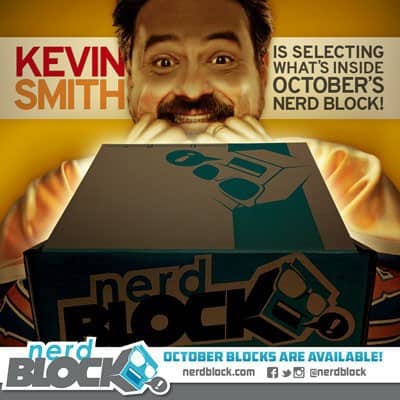 For the month of October, Kevin Smith will be selecting what goes into your Nerd Block Classic!

With his love of comics, Star Wars, superheroes, toys, movies, and television, this Block is sure to be amazing!
What do you think Kevin Smith will select for the October Nerd Block Classic block?
Not a current Nerd Block subscriber and want the October Nerd Block? Use code SUPERHERO and save 10% off any new Nerd Block subscriptions.