Every month, Treatsie delivers a box of artisan sweets and treats to your door. The October Treatsie Box is the Trick or Treatsie October Box and we have box spoilers for the delicious treats in the October 2014 Treatsie Box.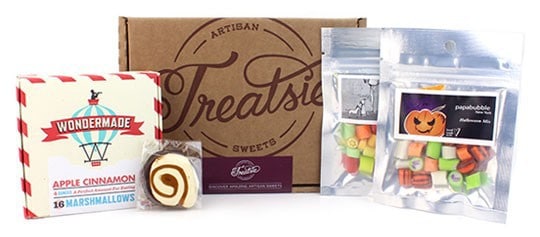 With Fall in full swing, this month's box highlights the delicious flavors we love around this time of year. Plus this month features some seasonal designfs from the prestigious Papabubble!
The October 2014 Treatsie Box includes:
Papabubble Halloween Mix Hard Candy
Papabubble Halloween Mix Hard Candy
Whimsical Candy Original Dark Chocolate La-Dee-Dah
Wondermade Apple Cinnamon Marshmallows
AvenueSweets Pumpkin Spice Caramel
AvenueSweets Apple Caramel
Which sweet product from the October Treatsie box are you most excited to try?