Groovy Lab in a Box has launched a new Groovy Single Box Trio just in time for summer. Eliminate summer boredom and continue your child's learning throughout the summer with these three Groovy Lab in a Box projects delivered straight to your door. For a limited time, use Groovy Lab in a Box promo code GROOVYSUMMER to save an additional $10 off the Groovy Single Box trio.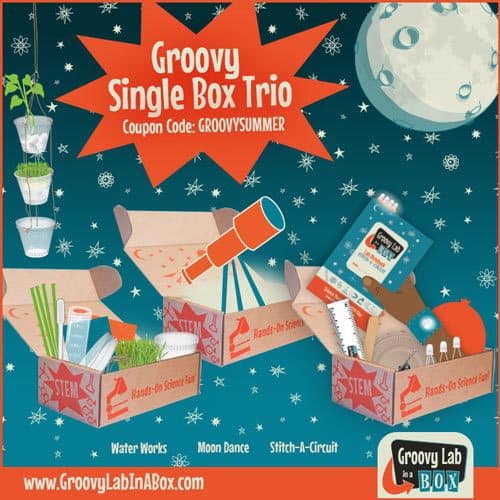 The Single Box Trio Includes:
Moon Dance – Can you design and build a two lens telescope which can expand and contract?
Water Works – The Mars Colony astronauts need to grow their own food. Using only the materials from your Groovy Lab in a Box, can you design and build a hydroponic garden prototype that can be used by future astronauts at the Mars Colony?
Fly With Me – Can you design, build, and launch an airplane generating thrust with a propeller which travels fifteen feet?
Use code GROOVYSUMMER to get the Single Box Trio, a $114.85 value, for just $78 with code – over a $35 savings!
Save an additional $10 on the Groovy Single Box trio with code GROOVYSUMMER