Kiwi Crate is an award-winning, monthly subscription box that delivers all the hands-on materials needed for themed, unique activities that you and your kids can enjoy together. Stock up on creative ideas for summer fun during this 1 week only Kiwi Crate sale!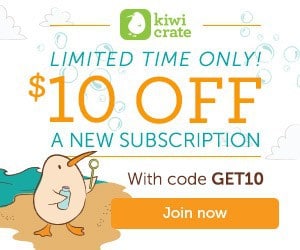 Subscribe to Kiwi Crate today and save $10 off new Kiwi Crate subscriptions when you use Kiwi Crate coupon code GET10 at checkout. PLUS get FREE shipping with any subscription order!
Subscribe to Kiwi Crate and save today!
Offer expires July 21, 2014.