Gear up for heading back to school with Kiwi Crate. Kiwi Crate is an award-winning, monthly subscription box for kids that delivers all the materials needed to inspire creative, educational fun with their monthly crate of activities. Each Kiwi Crate has a fun theme, like Music, Color, Robots, and Safari, which include unique activities that you and your kids can enjoy together.
This month, save $10 off any new Kiwi Crate subscription and receive a FREE bonus welcome kit when you use coupon code BACKTOSCHOOL10 at checkout.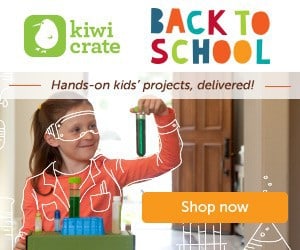 Kiwi Crate Free Trial!
Want to give Kiwi Crate a "try"? Sign-up for the Kiwi Crate Free Trial offer and get their popular My Starlight Lantern activity kit FREE – just pay $3.95 shipping.