Geeks and nerd love getting their monthly mystery box from Nerd Block. Every month, Nerd Block curates geek approved and nerd tested limited-edition t-shirts, collectables and other geek gear in a mystery geek box delivered right to your door. For a limited time, new Nerd Block subscribers can save 10% off your 1st month of new monthly Nerd Block subscriptions when you use Nerd Block coupon code DALEK at checkout.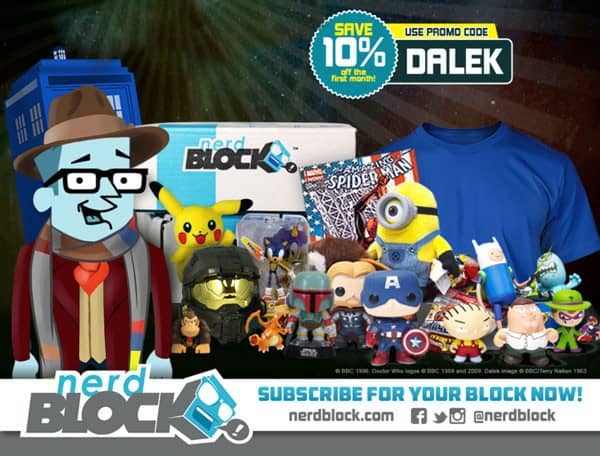 Regularly priced at $19.99/month, monthly Nerd Block subscriptions are just $17.99/month + shipping after savings. New and current Nerd Block subscribers can save up to 20% off subscriptions when you purchase a Nerd Block multi-month subscription or have more than one subscription to the Nerd Block brand (Arcade Block, Horror Block, Nerd Block Jr.)
Want to see what's in a Nerd Block? Check out our Nerd Block box reviews and our Nerd Block box spoilers for a peek into upcoming Nerd Blocks!
Save 10% Off Your 1st Month of New Monthly Nerd Block Subscriptions with Code DALEK