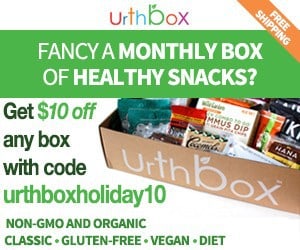 UrthBox is a healthy snack subscription box that delivers up to 30 healthy snacks, beverages and more to your door. For a limited time, save $10 off any size UrthBox when you use UrthBox promo code URTHBOXHOLIDAY10 at checkout.

Each UrthBox snack box can be customized to include the snacks you prefer. Choose from 1, 3, or 6 month UrthBox subscriptions. In addition to the Classic box, UrthBox offers Gluten-Free, Vegan and Diet box options.

Use code URTHBOXHOLIDAY10 to save $10 off any size UrthBox subscription today!