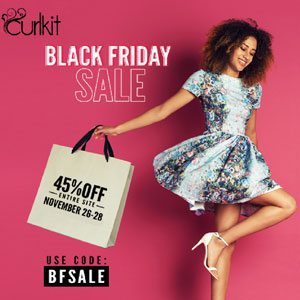 Get big savings during the Curl Kit Black Friday sale! Join CurlKit today and save 45% off your 1st CurlKit and everything in the CurlKit Shop when you use code BFSALE at checkout.

CurlKit helps you discover the best natural hair products that work for your hair. Each CurlKit box features 6 – 9 hand-picked samples of amazing beauty and lifestyle goodies.

Your first CurlKit is just $13.75 + FREE shipping with code BFSALE during this Black Friday Sale. The discount also applies to all products in the CurlKit shop.

Save 45% off your 1st CurlKit with code BFSALE today!

CurlKit Black Friday 45% off sale ends November 28, 2015.