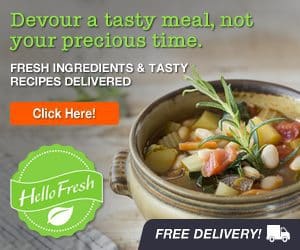 Grab great HelloFresh savings only on Cyber Monday! Subscribe to the HelloFresh Classic or Veggie meal box and save $50 off your 1st 2 HelloFresh boxes when you use HelloFresh promo code CM50HF at checkout.

HelloFresh makes cooking easy and fun with weekly deliveries of delicious, nutritious recipes and high quality ingredients to prepare them. A new menu is released each week, offering a variety of new dishes to cook up in your own home.

Order before midnight, Wednesday (PST), and your box of delicious recipes & fresh ingredients will arrive on your chosen delivery day next week. Your first two boxes are as low as $34 after savings.

Eat fresh and healthy with HelloFresh. Save $50 Off Your 1st 2 HelloFresh Boxes with code CM50HF today!

Valid for new customers only. Classic or Veggie Box. Ends 12/1/15.