Freshly is a weekly meal delivery box that sends you freshly prepared meals that you just heat, eat, and enjoy. For a limited time, new Freshly subscribers can 50% off your 1st Freshly meal box when you click here to join now. Your 50% discount will automatically be added to your cart.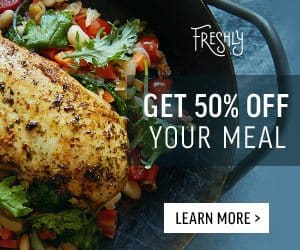 With this 50% off savings, your first Freshly meal delivery box is as low as $25 + free shipping. Don't miss this chance to get HALF OFF your 1st Freshly box. Click here to join today and claim an automatic 50% discount on your first Freshly meal box with Freshly coupon code FALL50RAD.
Check out our Freshly box reviews to see some of the delicious meals Freshly delivers.
Freshly is currently available in Arizona, California, Oregon, Washington, Idaho, Utah, Nevada, Colorado, New Mexico, Texas, Missouri, Oklahoma, Arkansas, Kansas, Louisiana, Virginia, Georgia, South Carolina, North Carolina, Tennessee, Illinois, and Missouri.