Celebrate Father's Day with cool and funky socks for the whole family. During the Sock Panda Father's Day sale, new Sock Panda subscribers can save 10% + get a FREE pair of socks with new Sock Panda subscriptions when you use promo code FATHER10 at checkout.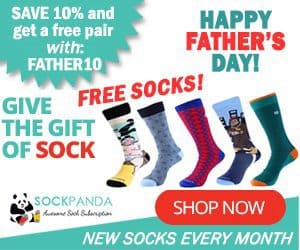 Sock Panda subscriptions are the perfect gift for Dad this Father's Day. They've also got subscriptions for women, teenagers and kids too! Each Sock Panda delivery features socks that are cool, soft and spark creativity. Choose from Bold and Daring styles and get fun and unique designs every month. Subscribers start at just $12/month for 1 pair of socks or $19/month for 2 pairs of socks per month.
Don't miss your chance to save on new Sock Panda subscriptions! Shop the Sock Panda Father's Day Sale today to save 10% plus get a FREE PAIR of Sock Panda socks. Use code FATHER10 to claim your savings and free socks.
Sock Panda Father's Day Sale promo expires June 30, 2017.