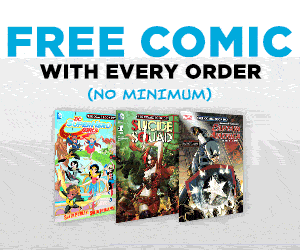 Free Comic Book Day is TOMORROW, May 7, 2016! To celebrate, SuperHeroStuff is giving away FREE comic books with every order! Through May 11, 2016, get a FREE comic book when you subscribe to the SuperHeroStuff HeroBox or any other purchase. No code is needed! You'll also be entered to win a $1000 comic book prize pack!

This month's HeroBox is a special limited edition, Free Comic Book Day HeroBox. There are only 300 of these exclusive boxes available this month and they feature comic books!

Don't miss your chance claim your free comic book! Join the SuperHeroStuff HeroBox today!

Free Comic Book Offer expires May 11, 2016.