Meal kits are a fun way to make delicious, healthy, restaurant-quality meals at home – while saving yourself a trip to the store and valuable prep time. There are dozens of meal kits out there, so we've rounded up 15 of the best ones!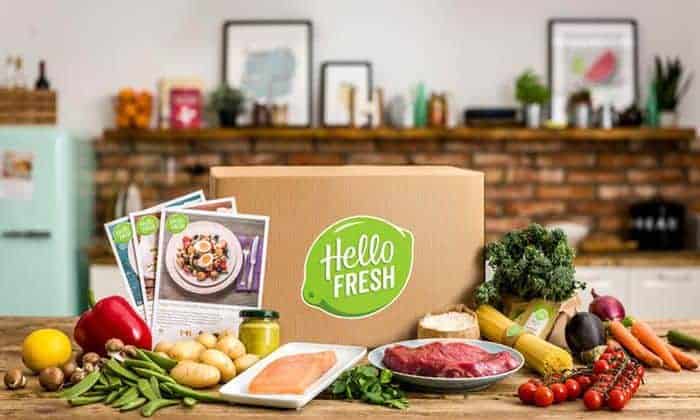 HelloFresh offers simply delicious meals that match whatever dietary preference you and your family have a taste for. Vegetarian is one option to choose if you and your family are avoiding meat, but so is a low-calorie diet option. You don't have to say goodbye to meat and cheese though! HelloFresh has something for everyone! And will they taste good? You bet.
Cost: From $39.96/week

A gourmet choice that offers fun meals that are out-of-the-box in more ways than one, Blue Apron helps you plan your meals, delivering perfectly measured fresh ingredients straight to your doorstep. Partnered with award-winning chefs and farmers, Blue Apron provides the highest quality of food and the most innovative recipes, giving you something to look forward to after a long day.
Cost: Starting from $59.94/week
Dinnerly is an affordable meal kit subscription that sends you fresh ingredients and recipes so you can cook easy, fuss-free dinners. It costs $4.99 per adult-sized serving, which is the most affordable meal kit option around. There are 8 different recipes available each week, which you can choose in advance. You can also skip deliveries at any time.
Cost: Starting from $39.96/week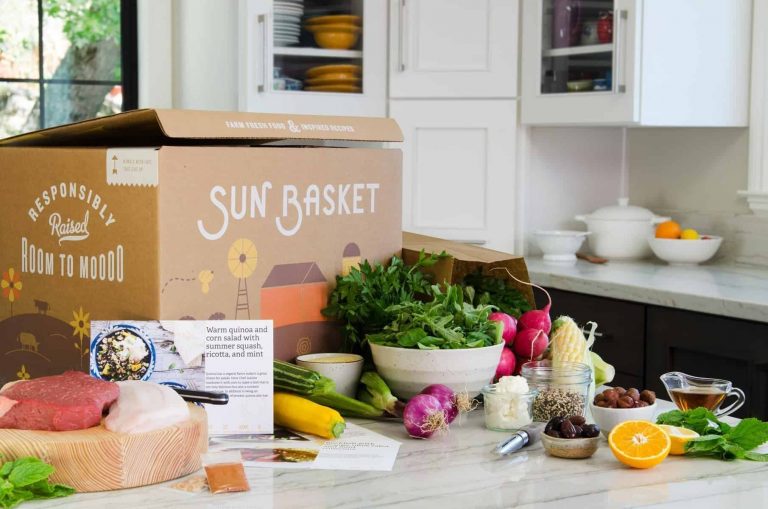 All Sun Basket recipes are nutritionist approved and are designed to be cooked in 30 minutes or less, with minimal clean-up. Ingredients in your weekly Sun Basket are organic non-GMO produce from the best West Coast farms and sustainably sourced, hormone-free meats and seafood.
Cost: From $71.94/week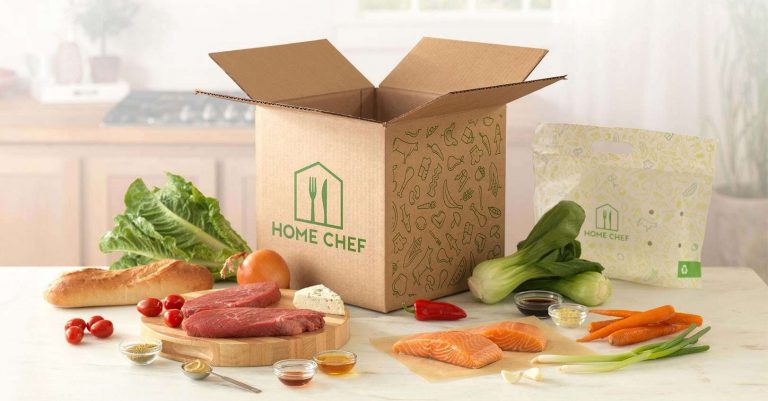 An easy-to-customize meal subscription box, Home Chef allows you to choose when you want boxes delivered, helping you plan your week and make sure you and your family have healthy, delicious, home-cooked meals when you want them. By using the simple Home Chef app, you can select which meal you want delivered, allowing you to adjust for preference and dietary restrictions.
Cost: From $19.90/wwek
Green Chef is proud to be a USDA-certified organic option.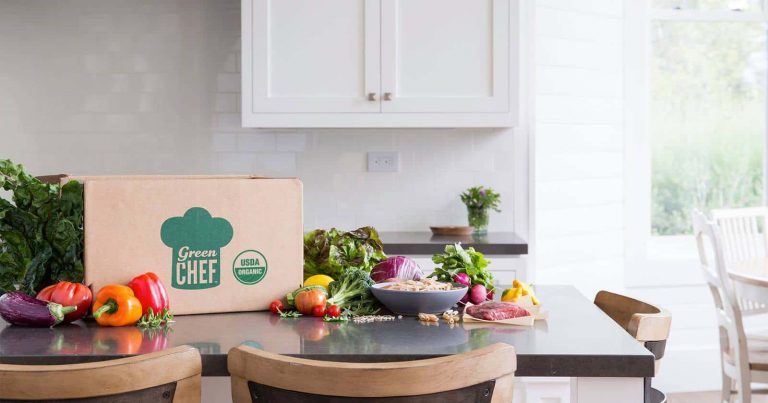 They pride themselves on sourcing wholesome, clean, and sustainable ingredients of the highest quality. If dinner is meant to be wholesome and nourishing, then feeding your family non-GMO, certified organic, and sustainable food makes sense. Plus, if reinvesting in the environment is important to you, it's starts with the choices you make every single day. Green Chef makes it easy!
Cost: From $78.93/week
Hungryroot sends fresh, easy-to-make food picked to match your preferences. Do you eat a vegan, gluten-free, or nut-free diet? No problem! Hungryroot has an extensive menu, with options perfect for every lifestyle. Everything is made without artificial ingredients or refined sugars, and the meals you receive are nutrient dense.
You will receive pre-prepped, plant-centric ingredients ready to be combined into quick and easy dishes. If you want clean, tasty food on the table in less than 10 minutes, check out Hungryroot!
Cost: From $69/week
Marley Spoon is a meal delivery subscription box that makes it easier to cook the food you want to eat. Along with Martha Stewart, Marley Spoon chefs create simple, delicious recipes that are easy to cook and use seasonal ingredients for a delicious meal.
New recipes are created each week. You choose the meals you want, select your preferred delivery day, and Marley Spoon handles the rest. You'll receive a chilled box of fresh, pre-measured ingredients and step-by-step instructions to prepare your meal.
Enjoy a fantastic cooking experience and eat well at the same time with Marley Spoon.
Cost: From $48/week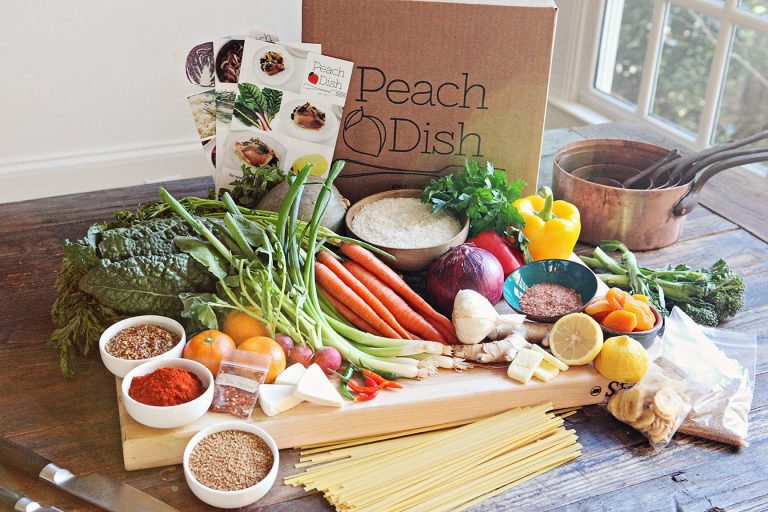 PeachDish exists to connect customers to the finest small-scale farmers and ingredients in the South. At PeachDish, a farmer can drop off their produce and it will be shipped to you that afternoon. This is the FRESHEST meal kit subscription around! PeachDish has a team of award-winning chef that creates delicious, seasonal recipes for home cooks of all skill levels.
Cost: From $45/box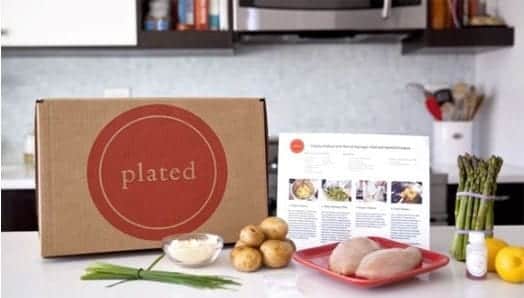 Plated is designed for people who love food and who want to love it even more. With chef-designed menus featuring global inspiration, Plated is the easiest way to make preparing and cooking meals fun again. There are 20 recipes to choose from each week, and they use in-season produce, healthy meats without antibiotics, and artisan products.
Cost: From $47.80/week
Purple Carrot makes it easy to cook delicious, plant-based recipes that are good for you, and good for the planet! Your weekly delivery includes:
Fresh, high-quality produce
Easy to read recipes
Cooking tips and tricks + occasional special offers from vegan brands
Cost: From $71.94/week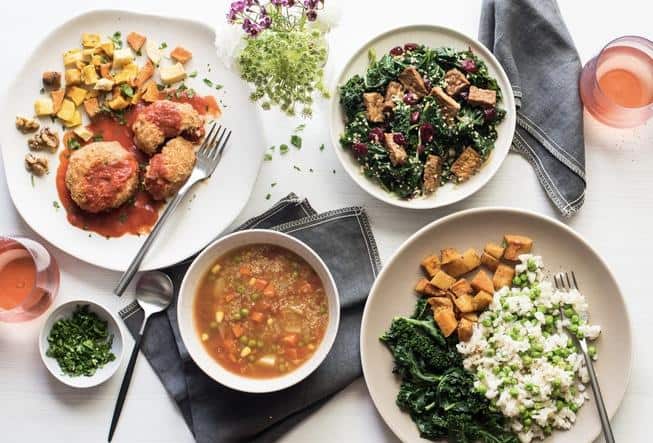 Veestro has plant-based meals for everyone – including gluten free, soy free, kosher, nut free, high protein, and low calorie meals! Build you box, choosing from over 50 breakfasts, lunches, or dinners. The ingredients are fresh and organic, and non-GMO. There is no prep involved; just heat and eat!
Cost: From $117/week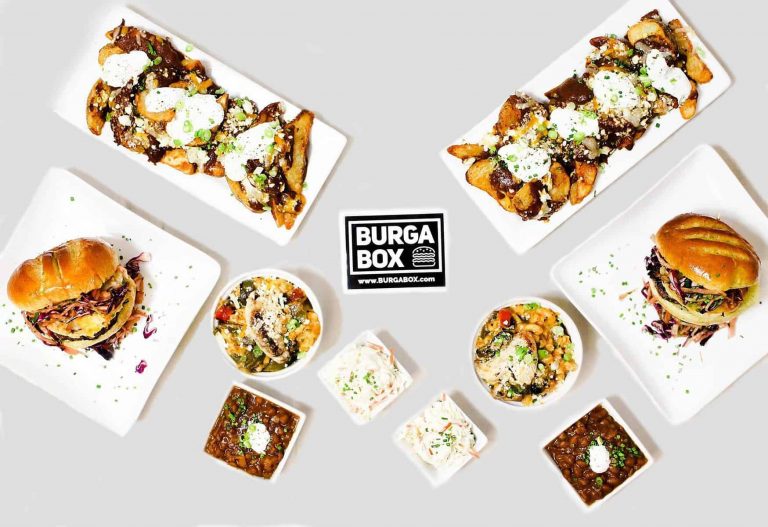 BurgaBox of The Month Club is a meal kit delivery subscription box for REAL burger lovers. Every month, BurgaBox of The Month Club ships all the ingredients you'll need to make the best burgers, mac & cheese, and fries in your own kitchen.
Cost: From $59/box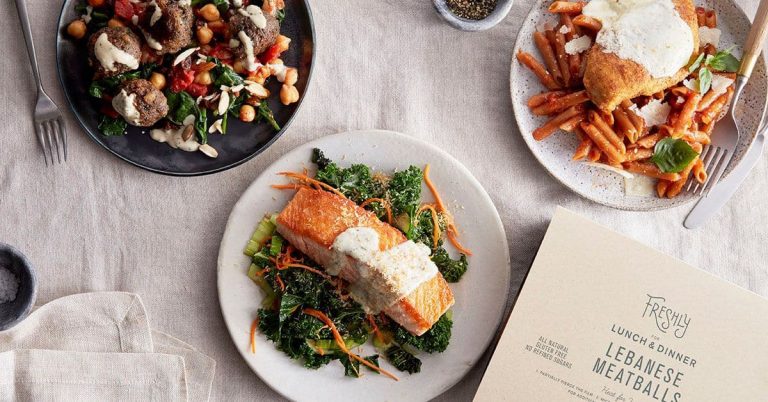 Freshly delivers healthy, chef-prepared meals to your doorstep through a weekly meal delivery subscription box. "Healthy" means that the Freshly menu is designed using whole, natural ingredients. Every Freshly meal is packed with high-quality proteins, heart-healthy fats, and nutrient-dense carbohydrates.
Freshly meals will NEVER contain gluten, refined sugars, or artificial additives. Meals arrive fresh, never frozen, and are ready to eat within 3 minutes.  Just heat, eat and enjoy. No shopping, cooking, or cleaning required.
Cost: From $49.99/week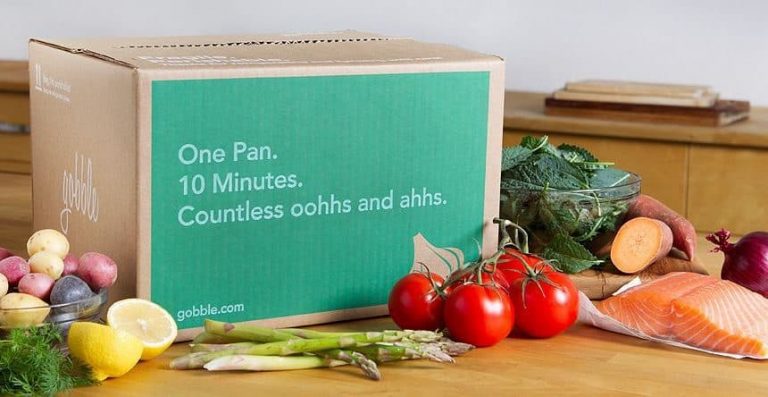 Gobble is a weekly dinner subscription service delivering farm fresh, gourmet dinner kits to your door. All Gobble dinner kits are designed to be cooked in 10-15 minutes in 3 easy steps – often times with only 1 pan.
Gobble's executive chef creates new menus each week so you can select the dinners that cater to your diet and lifestyle. Every Gobble dinner kit provides par-cooked sauces, grains, and pasta, or pre-sliced vegetables and meat so you can skip the grocery shopping, meal planning, meal prep and clean up.
Cost: From $71.94/week