Get a first look into the Treatsie March 2015 sweet subscription box with this box spoiler. The March 2015 Treatsie Box will feature What The Fudge Bar from Zingerman's Candy Factory in Ann Arbor, Michigan.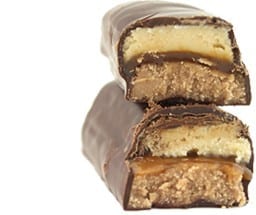 Milk chocolate fudge, Muscovado caramel and malted milk cream dipped in chocolate. Don't miss out on this item and the other awesome sweets in the March Box!
Treatsie subscriptions are just $15/month + $4.95 shipping and each Treatsie box has a retail value of up to $25 before shipping. Subscribe to Treatsie before March 15, 2015 to reserve your Treatsie box!
Are you a fudge fan? What do you think about the March Treatsie box spoiler?