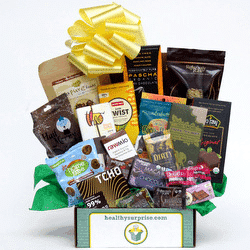 If you're shopping for a chocolate lover this Valentine's Day, here's a great Valentine's Day gift idea – the Healthy Surprise Chocolate Box!
This limited availability Healthy Surprise box is packed with over 16 full-sized chocolate snacks that can serve 1-6 people (32+ servings,) all for $100 + FREE shipping.
In addition to chocolate bars, the Healthy Surprise Chocolate box will also include chocolate macaroons, chocolate cookies, chocolate truffles and other kinds of chocolatey goodness.
This box will sell out for Valentine's Day so order now (you can schedule the box to ship on a later date). To ensure delivery in time for Valentine's Day, it's recommend to select a ship date no later than the 11th.