We have our first box spoilers for the July 2015 Vegan Cuts Snack Box! Every month, the Vegan Cuts Snack Box subscription delivers 7-10 vegan snacks and goodies to your door.
Here are 3 of the vegan snacks included in the Vegan Cuts July Snack Box:
Box Spoiler #1: Ranch World Peas

n Texas, we love ranch with everything. Our Santa Barbara Ranch Peas capture the sour cream and herb sensation first popularized at a famous California dude ranch — and ours is dairy free!
Box Spoiler #2: D's Natural Mint Chocolate No Cow Bar
No Cow Bars deliver clean nutrition on-the-go. Made with cutting-edge ingredients, including organic brown rice and pea proteins, prebiotic fiber, and natural sweeteners like monk fruit and stevia, D's Naturals No Cow Bars are vegan, non-GMO, and free of gluten, dairy, lactose and soy.
Box Spoiler #3: Bell Plantation PB Thins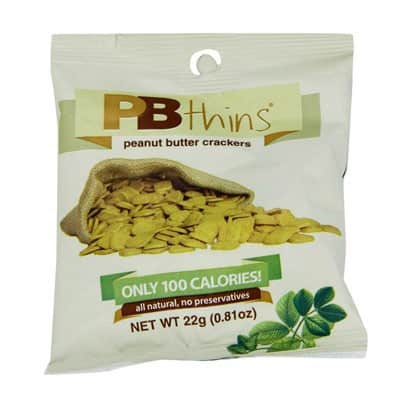 Crunchy, light and oh-so-peanut buttery…PBthins are the all-natural wholesome snack you've come to expect from Bell Plantation. We take our finest quality roasted peanuts and mix them with a few simple ingredients to deliver a deliciously addictive peanut butter cracker.
July Vegan Cuts Snack Box Sneak Peek
The Vegan Cuts July Snack Box starts shipping July 18, 2015. Subscribe to Vegan Cuts today to reserve your July vegan snack box!
Which July Vegan Cuts Snack Box vegan snack are you most excited to try?