ZBOX has announced the November 2016 ZBOX theme and box spoilers. The ZBOX November 2016 box theme is VERSUS! The Versus ZBOX will feature geek collectibles from two popular franchises – Marvel vs DC Comics!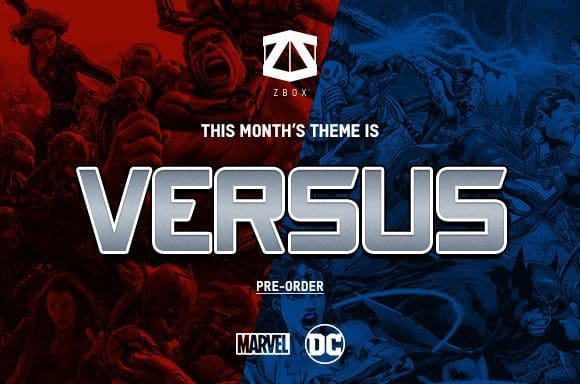 Featuring products based around your favourite Marvel & DC characters, it's the ZBOX that may finally force you to choose a side once and for all. Who will come out victorious? Discover the rightful kings of the comic book world with the Marvel vs. DC ZBOX.
ZBOX November 2016 Box Spoilers
We also have box spoilers for the ZBOX November 2016 box. A Batman item and an exclusive T-shirt are in next month's mystery box for geeks!
What do you think about the November 2016 ZBOX theme and box spoilers?
ZBOX Free Box Offer
For a limited time, get a free past ZBOX wih any new ZBOX subscription! Just click here and choose any ZBOX subscription, then click here to add a Surprise Past ZBOX to your basket. When both items are added to your cart, you'll automatically get the Surprise Past ZBOX FREE! Join today to get claim your free past ZBOX!
Offer expires October 31 2016.