The ZBOX September 2015 theme and first box spoilers have been revealed. The ZBOX geek subscription box is a monthly mystery box that features items from your favorite geeky interests. The September 2015 ZBOX theme is Renegades! 
The Renegades September 2015 ZBOX will feature geek items headlining some of Marvel and DC's most notorious characters plus ZBOX exclusives.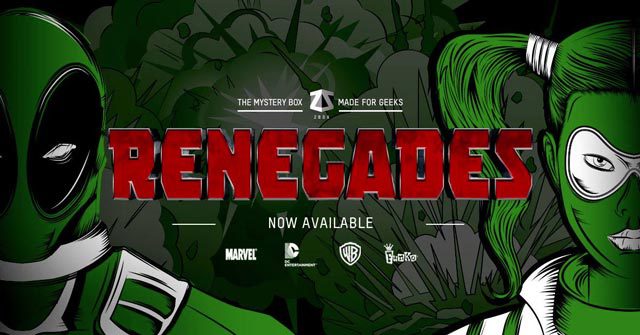 Take a walk on the wild side with some of the best anti-heroes around in this month's Renegades ZBOX. Deadly, unpredictable and always able to justify themselves, Renegades are certainly not to be messed with.
ZBOX September 2015 Renegades Box Spoilers
ZBOX has confirmed that the September Renegades ZBOX will feature BOTH Deadpool and Harley Quinn items.
Deadpool or Harley Quinn? Who gets your vote? Thankfully in this month's ZBOX you don't have to choose.
What do you think about the September 2015 ZBOX theme and first box spoilers?
ZBOX $15 Promo Code
Subscribe to a 3 month ZBOX subscription today and save $15 off when you use ZBOX promo code 3MZBOX10. Hurry, this discount offer expires soon!