MunchPak is a snack subscription box that delivers the best candy and snacks from around the world every month, week, or every other week. MunchPak subscribers can customize their snack box to have international snacks, drinks, sweets, and more. With today's MunchPak review, we're unboxing our August 2016 MunchPak box.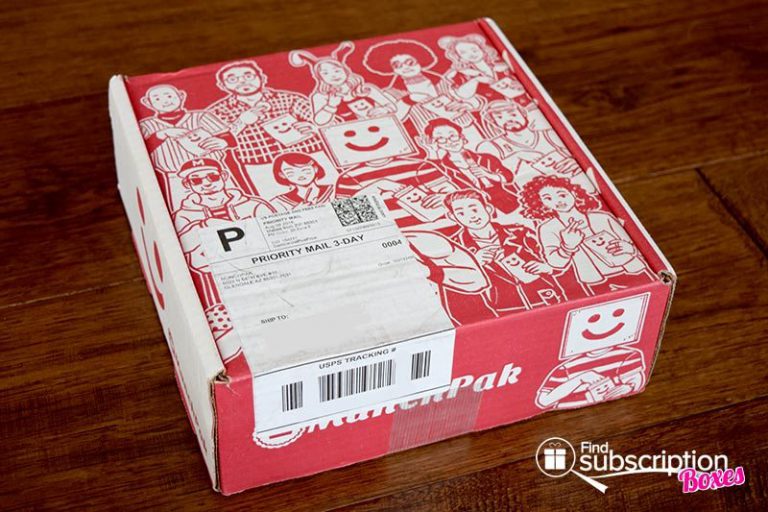 When you join MunchPak, you can choose the types of candies and snacks you want in your monthly box so you can get the perfect snack subscription box. Each month, MunchPak hand-picks a mix of snacks that match your snack preferences. MunchPak also has an app available for download to that allows you to scan the items in your box to learn more about each snack.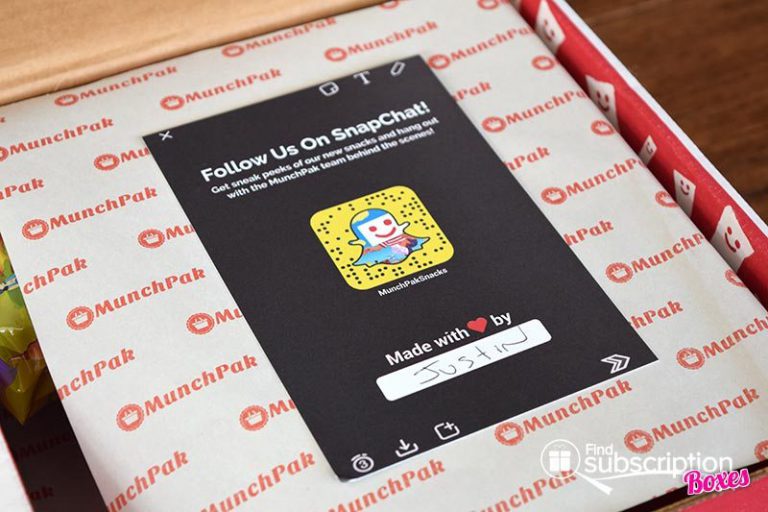 Here's a first look inside our August 2016 MunchPak snack box.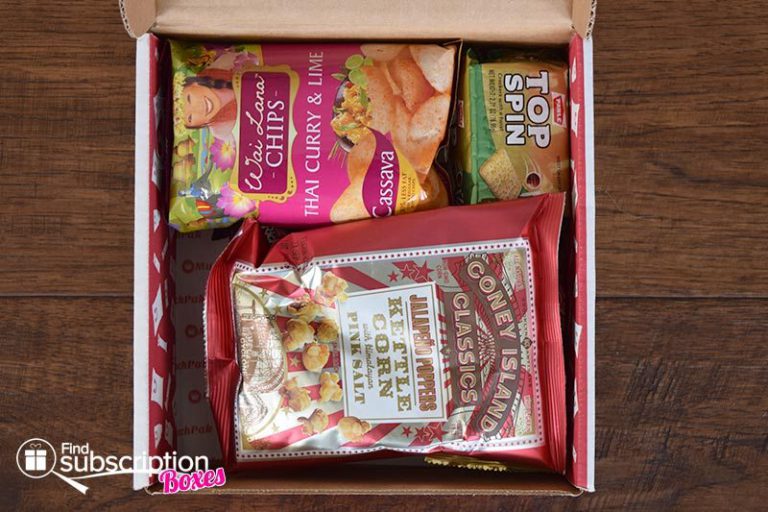 Inside the August 2016 MunchPak Snack Box
There were 10 hand-picked snacks in our MunchPak August snack box.

Coney Island Classic Jalapeno Poppers Kettle Corn with Himalayan Pink Salt (US)
Wai Lana Chips – Thai Curry & Lime (US)
Coris New Fue Ramune Whistle Candy (Japan)
Haribo Peaches Gummies (Turkey)
Sante's Nuts Cardamom Cashews (US)
Takaoka Chocolate Flakes (Japan)
Richestor Amori Chocolate (Brazil)
Parle Top Spin (India)
Oblita Coquet Wafer (Argentina)
Oblita Noir (Argentina)
August 2016 MunchPak Review Wrap-Up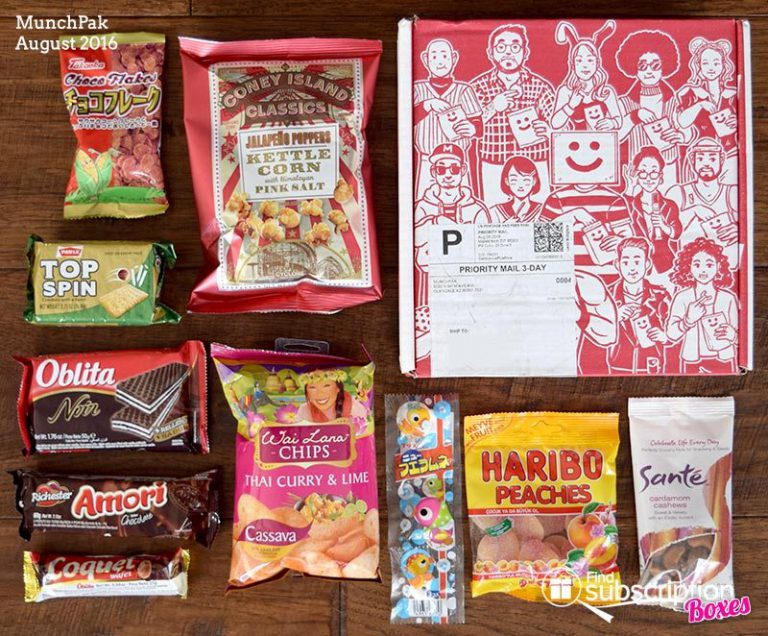 Our August MunchPak snack subscription box featured a mix of sweet treats, salty snacks, and chocolate treats from the US, Japan, Argentina and more countries from around the world. We're big fans of kettle corn so the Jalapeno flavor kettle corn was a great pick for our box. It took traditional kettle corn up a notch with the addition of spicy jalapeno popper flavor. In addition to amped up kettle corn, the cassava Wai Lana Chips added some bold curry and lime flavors. These yucca chips also have 30% less fat than regular potato chips.
Traditional roasted cashews are out the door with Sante's Nuts Cardamom Cashews. As the name suggests, they're flavored with sweet cardamom that provide a unique and exotic flavor. The Top Spin biscuits from India are a crunchy, buttery snack with a bit of zest that is perfect for tea time snacking.
Since we're chocolate lovers, we were happy to find several chocolate snacks and sweets in our box. The Oblita Noir cookies from Argentina had crispy chocolate wafers that sandwiched layers of vanilla cream for a classic flavor blend we love. Another cookie from Oblita, the Coquet wafer featured a crispy wafer, filled with a peanut creme, that was dipped in chocolate. You can't go wrong with peanuts and chocolate! The Richestor Amori chocolate cookies were a double dose of chocolate with chocolate cookies stuffed with a smooth chocolate cream. The last chocolate snack – the chocolate flakes from Japan – combined malt and chocolate for a sweet, chocolatey breakfast cereal.
The whistle candy from Japan was a lot of fun. These candy rings had a flavor that reminded us of bubble gum. You can blow through the candy circle to make a whistling sound while you snack. Finally, the Haribo gummy peaches delivered a sweet peach flavor that reminded us of Summer. The sugar coating on the outside added a bit of sweetness and texture.
What was your favorite August MunchPak snack box snack?
MunchPak Coupon
Want to get the best snacks from around the world delivered to your door? Choose your snack box and use MunchPak coupon code SNACKIN to save $2 off your first MunchPak.