If you've always wanted to try the coolest and newest snacks from around the world, consider MunchPak your favorite way to explore new treats, drinks, and treasures. Each delivery will be a collection of surprises based on your taste preferences and what kind of MunchPak experience you're hoping to have. Are you looking for something spicy? Sweet? Do you want candy, sours, or something gummy? MunchPak has it all, so you are certain to get a taste for everything!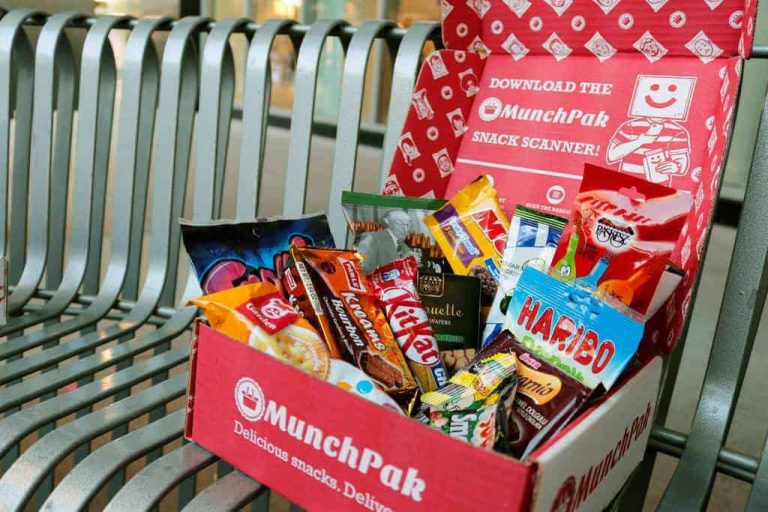 For MunchPaks, it's easy to customize your order. And since no snack is complete with some kind of beverage, you're also welcome to try a specialty tea or coffee to include.
MunchPak Minis are a simple way to try five or more of the coolest full-size snacks around. But, MunchPak is certainly the best bang for you buck. With this option, you'll get a bigger box, which means…you'll get even more of the coolest snacks from around the planet.
Look for ten or more snacks and with drink options that include soda, juice, coffee, tea, energy drinks, or water! In some boxes, we spy Pocky, Takis, Aero chocolate, Haribo candies, specialty croissants, hard-to-find Doritos flavors, and Asian candies that will sure to be your new favorite, even if you don't understand what it says on the packaging.
Family packs mean that everyone gets a taste of the fun! These include twenty or more snacks, plus a few drink options so whether you all are hitting the road for a long trip or just want to brighten up your pantry at home, this option would be perfect.
Cost totally depends on how many snacks you want, how frequently you want your box to arrive, and how much you want to pay per delivery. The choice is totally customizable. You get to call the shots. The question is…how hungry are you?
If you fall in love with something, check the MunchPak online store to stock up on your new fave.
As for shipping, check it out! MunchPak ships to all of these countries and locations: AustraliaAustria, Belgium, Bosnia and Herzegovina, Brazil, Bulgaria, Canada, China, Czech Republic, Denmark, Finland, France, Germany, Greece, Hungary, Iceland, India, Ireland, Israel, Italy, Jamaica, Japan, Jordan, Lebanon, Netherlands, New Zealand, Norway, Philippines, Poland, Portugal, Romania, South Africa, South Korea, Spain, Sweden, Switzerland, Turkey, UK, and the USA.
If you don't see your country here, contact MunchPak. It sounds like they are happy to make exceptions!