Plaid Cow Society is a subscription box for beef eaters. Every month, or every other week, Plaid Cow Society delivers a variety of drug free, never frozen, grass-fed beef cuts to your door. With today's Plaid Cow Society review, we're unboxing our August 2016 Plaid Cow Society box.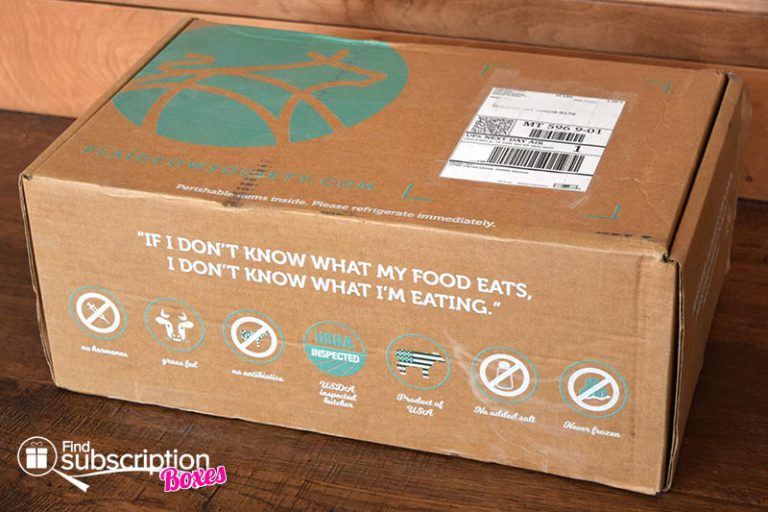 Plaid Cow Society includes info sheets for each of the beef cuts in your box. They provide a diagram of a cow to let you know where your cut of beef is from. They also have suggested cooking instructions.
Here's a first look inside our August Plaid Cow Society box.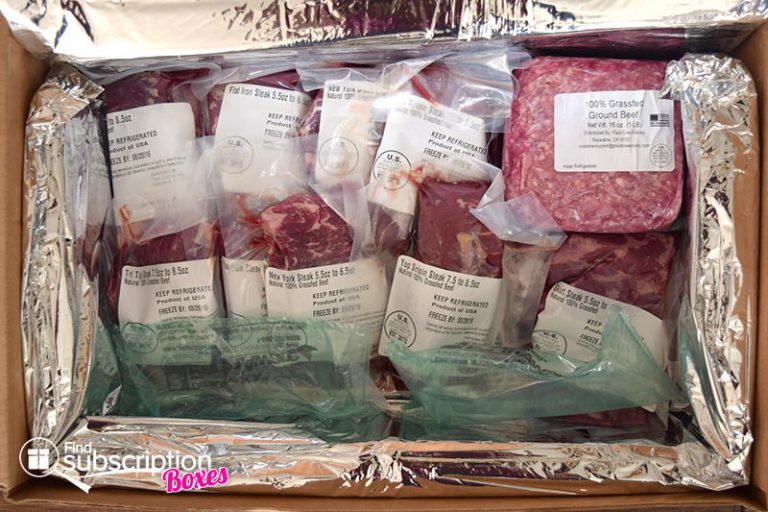 Plaid Cow Society beef is vacuum sealed and individually packaged. You can keep the beef in the fridge if you're cooking it soon, or put it in the freezer for cooking later. The dates when the beef was packaged and the recommended freeze by date are printed on each package of beef.
Inside the August 2016 Plaid Cow Society Box
There were 2 packages of 6 different cuts of beef in our August Plaid Cow Society beef subscription box.
Ground Beef
Flat Iron
Outside Skirt
Tri-Tip
New York Strip
Top Sirloin
Plaid Cow Society keeps their recipes simple – the beef, olive oil, salt and pepper. We decided to use their recipe suggests for some cuts and used the beef for our own recipes as well.
We cooked the Flat Iron Steaks with olive oil, salt, and pepper as suggested. After just a few minutes per side in a pan on the stovetop, we had two perfectly cooked flat-iron steaks. Paired with fries and green veggies and this was a gourmet lunch.
For a dinner, we cooked the Top Sirloin Steaks with garlic and butter. Once again, these were pan seared, then finished with garlic and butter. The steaks were so tender and juicy. We could really tell that this was some high-quality beef.
For another lunch, we went with the Outside Skirt. Skirt steak in general can be tougher than other cuts, so we marinated our skirt steak before throwing it on the grill.
You can do so much with ground beef, but one of our favorite preparations is our own meat sauce for spaghetti. We cooked the ground beef with onions, garlic, and spices, then added in a jar of store-bought pasta sauce.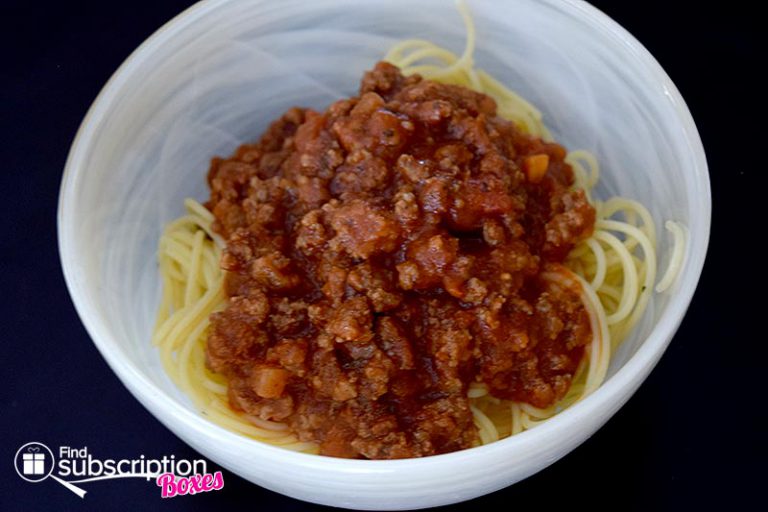 Finally, we have the Tri-Tip. For this beef cut, we made BBQ Tri-Tip. The beef was brushed with BBQ sauce and then cooked on the grill.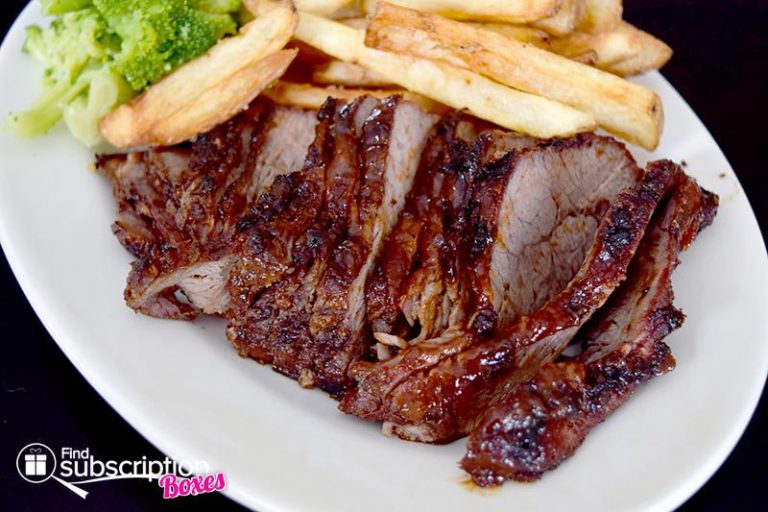 August 2016 Plaid Cow Society Box Review Wrap-Up
Plaid Cow Society makes it easy to cooked up your favorite beef dishes with high quality beef. All of Plaid Cow Society's beef comes from ranches in California, Oregon, Montana, and other US ranches. The cattle have eaten grass their whole life and are antibiotic and hormone-free. We really appreciate being able to eat beef sourced from ranches that raise their cattle humanely, in nature. None of the cattle are raised in feed lots.
Each package of beef has a generous portion size. Steaks were 5.5-6.5 oz, up to 8.5 oz, and the ground beef was in 1 lb packages for a total of 6-7 lbs of beef. The 12 packages of beef can make up to 16 meals.
One of our favorite things about Plaid Cow Society is peace of mind about the quality of meat. It's hard to tell where store-bought beef is sourced from and with Plaid Cow Society, we know we're eating quality, drug and hormone-free beef. We like that they delivered a variety of beef cuts, some of which we don't cooked with very often. This allowed us to try new recipes and enjoy different beef dishes.
Have you tried Plaid Cow Society beef deliveries?
Plaid Cow Society Coupon
Through October 3rd, 2016, new Plaid Cow Society subscribers can save 20% off their first beef subscription box. Join today and provide your email to claim your 20% discount!