We're excited to share our August GLOSSYBOX Stay Cool beauty box review! GLOSSYBOX is a monthly beauty subscription box for beauty lovers. Each GLOSSYBOX is a beauty and makeup subscription the delivers 4-5 deluxe and full size beauty products every month. Beauty and make products are from popular and emerging luxury and niche beauty brands like Doucce, benefit, Biossance, bang beauty and more. With today's GLOSSYBOX review, we're unboxing the August 2017 GLOSSYBOX. The August GLOSSYBOX was their Stay Cool beauty box!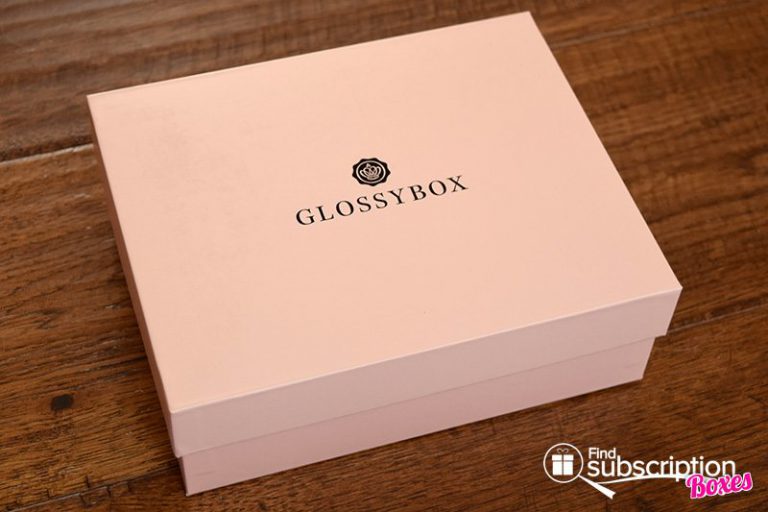 Every GLOSSYBOX beauty box includes a colorful fold out brochure with descriptions for each of the beauty products in the box. There are also useful tips and tidbits of information for using the beauty treats in the box.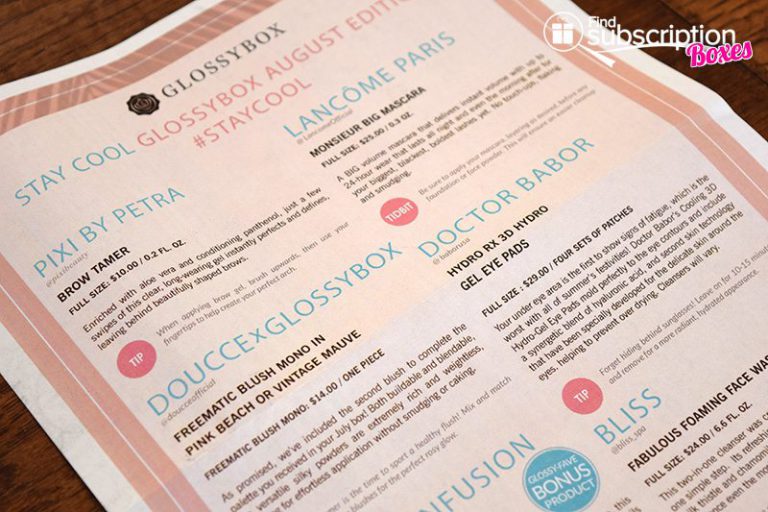 Here's a first look inside our August GLOSSYBOX.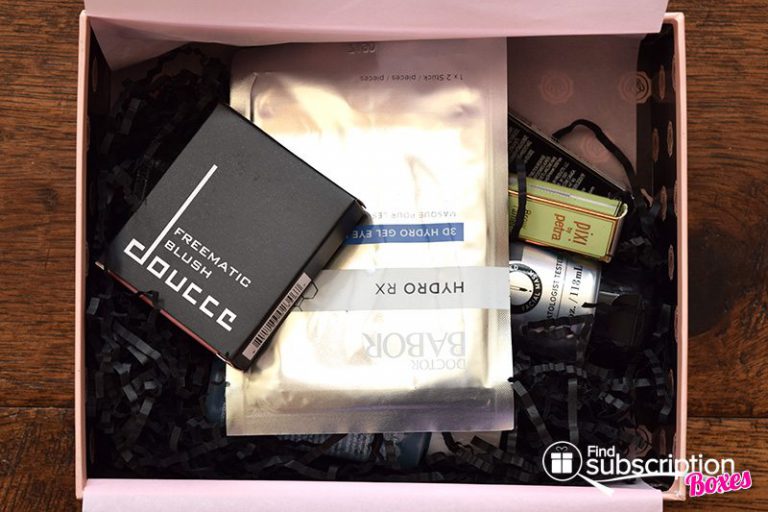 Inside the August 2017 GLOSSYBOX
Our August 2017 GLOSSYBOX had 6 makeup and beauty products.

Lancôme Paris Monsieur Big Mascara
Get instant volume that lasts up to 24 hours with the new non-flaking, non-smudging mascara from Lancôme.
Bliss Fabulous Foaming Face Wash
Cleanse and exfoliate in one simple step with this refreshing face wash from Bliss Spa.
Pixi by Petra Brow Tamer
Instantly perfect and define your brows with this clear, long-wearing gel enriched with aloe vera and conditioning panthenol.
doucce x GLOSSYBOX Freematic Blush Mono in Pink Beach
This is the second blush to complete last month's Doucce Frematic Blush Palette. This silky powder is rich and weightless for easy and smooth application.
Freeman Beauty Infusion Charcoal & Probiotics Cleansing Clay Mask – GLOSSY-Fave BONUS Product
Detox your skin with this purifying, charcoal-packed Cleansing Clay Mask that's packed with nutrients and probiotics.
Doctor Babor Hydro RX 3D Hydro Gel Eye Pads
Combat signs of fatigue and hydrate the delicate skin around the eyes with these perfectly contoured Hydro-Gel Eye Pads.
August 2017 GLOSSYBOX Review Wrap-Up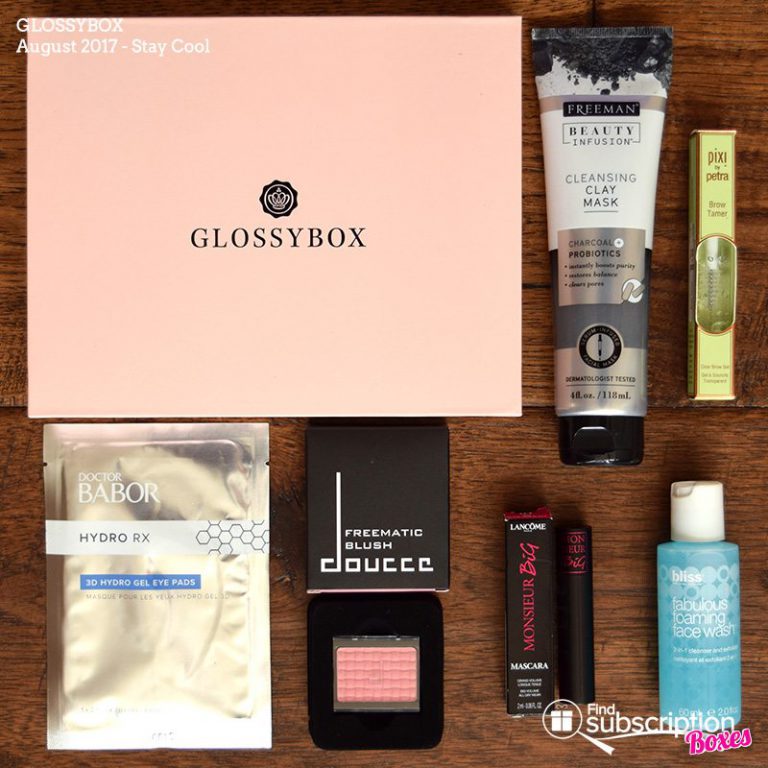 We are so in love with August's Stay Cool GLOSSYBOX products! They always seem to deliver just what our skin needs at just the right time. This month there were 3 amazing skin care products. First up is the Bliss Fabulous Foaming Face Wash. This gel cleanser has teeny tiny beads that you can't see but you will feel as you massage it over your face. It has a fresh, clean scent and washes away easily. The Bliss face wash leaves the face feeling clean and refreshed. It's now part of our daily beauty routine.
Another skin care winner in the box is the Beauty Infusion Charcoal & Probiotics Mask. Charcoal beauty is "in" so it's exciting to try this cleansing mask that's also infused with probiotics. (Apparently they aren't just for your gut!) The smooth, creamy formula makes it easy to apply the mask to your skin and neck. It dries pretty quickly and the dark gray fades into a lighter gray as it dries. One big thing we noticed is that our face didn't feel that face-mask-itchiness you can sometimes get. We definitely felt the mask getting tight but it didn't dry out the skin. This is one of those charcoal masks you don't have to worry about taking off – it washes away easily to reveal brilliant and radiant skin.
The Gel Eye pads from Doctor Babor are such a luxurious treat for your eyes. These contoured eye pads provide an instant cooling feeling as soon as you put them on. You can chill the pads for 10 minutes for a stronger cooling effect. Once you put them pads on, just sit back and relax for 10-15 minutes. After just one treatment, our eyes felt revitalized and the eye area looked more hydrated and youthful.
Moving on to the 3 makeup products in the August GLOSSYBOX. First up is the new mascara from Lancôme Paris. If you've been following our reviews, you may recall that we're big mascara fans and we were excited to see the BIG volume that this mascara promises. What makes this mascara awesome is that you can add layers for more volume. Each layer goes on smoothly, without any clumping. They promise up to 12x more volume vs. regular lashes and they really deliver.
Last month, GLOSSYBOX sent subscribers a limited edition doucce Freematic Blush Duo. Subscribers got to log-in to their accounts to choose the second blush for their doucce palette. We received the shade Pink Beach – a lovely pink color that adds a lovely rosiness to your cheeks when applied. You can also combine it with the Summer Sunset to create new shades.
Finally, we received the Brow Tamer by Pixi by Petra. While our brows generally keep their shape, we always have a rogue hair here or there that needs taming. The Brow Tamer is the perfect solution, allowing you to keep your perfectly shaped brows with just a few swipes. We were concerned that our might look like our brows were shiny or glossy, but not the case. It looked natural and kept unruly eyebrow hairs in check.
What was your favorite August 2017 GLOSSYBOX Stay Cool beauty treat?
GLOSSYBOX August 2017 Free Gift Offer
Get a free beauty gift when you join GLOSSYBOX today! Get a FREE Perfect Formula Pink Gel Coat in your 1st GLOSSYBOX when you use GLOSSYBOX promo code PINKGEL at checkout!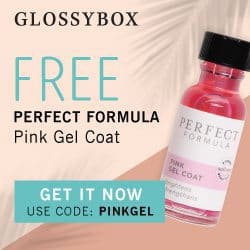 You can click here and use code FREEJOSIE to get a FREE full-size Josie Maran Argan Illuminizing Powder – a $30 free gift value!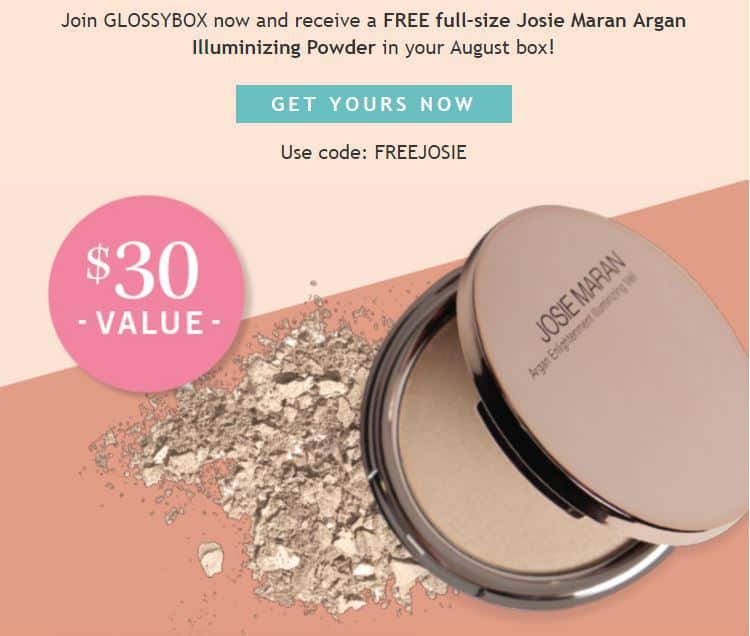 *Offer valid through August 31st, 2017, 11:59 pm ET. Valid only on the purchase of any new recurring subscription (Monthly, 3-Month, 6-Month or 12-Month). New plans will begin the date they are created and cannot be combined with an existing subscription/order. Apply code in the Enter Promotion Code section at checkout. If code does not apply successfully before checkout, it cannot be added at a later time. One code per customer. Available while supplies last.