Today, my lovely sister in law Alicia is reviewing Birchbox!
Birchbox is a monthly subscription box that provides samples and occasional full size makeup and skin care items. It costs 15 dollars a month. For your money you get 4-5 samples and 1-2 full size items in a very pretty decorative box.  Unlike some services though, Birch Box allows you to take a survey that tells them about your skin care, make up, and hair care preferences and your skin tone in order to send a box that is best suited to you.
Over all my first box was a good experience. I was slightly perplexed about why my box was shipped in a separate box. Also, I wasn't super sure what to do with the decorative box after I took my goodies out.  It's too pretty to throw away, maybe I will use it to house a birthday present in the future. My favorite part though was that it send a fact sheet on each product telling me how to best use each product, which is perfect for novices like me. This month they sent me a full size Roller Lash mascara, a full size Grande Lips lip lipstick, and samples of Juara Candlenut Body Crème, Georgette Klinger Vitamin C cleansing gel, Amika: Undone hair texture spray, and Wander Lip retreat oil.
The Wander Lip Retreat Oil
This was my absolute favorite item that came in this box. This oil applies like a lip gloss with a beautiful berry tint. As the oil soaks into your lips the shine reduces but the tint stays and it leaves my lips soft and well moisturized, which is difficult in rapidly changing VA weather.
The Juara Candlenut Body Crème
I really appreciated this nice lotion. It doesn't really have a smell, which I guess could be a pro or a con. However, the crème applied really smoothly and didn't leave a greasy film like many lotions do. It left my abnormally dry skin soft and hydrated for an entire night of work. I definitely would use this lotion again.
The Georgette Klinger Vitamin C Cleansing Gel
This Cleansing Gel was very nice. I prepared myself for an overwhelming citrus scent as most products have. However, it had a very pleasant subtle orange and grapefruit scent. The cleanser was very soft and gentle on my sensitive skin. It left my face feeling rejuvenated and bright.
Amika: Undone Volume and Matte Texture Spray
This product was very true to its description.  As a dry shampoo, I did not really enjoy this product. In my fine hair, the texture felt sticky like hair spray. However, as a styling tool to provide volume for an updo this product was fantastic. It took away some of the oil from a busy morning without time to wash my hair and gave my hair a small volume boost. While it still felt sticky in my hair, it helped hold the updo in place and reduce frizz (which is impressive for the humid VA summer weather).
Benefit: Roller Lash Black Mascara
This mascara is a solid 8/10. It elongated my lashes and makes my eyes pop even behind glasses. My only complaint is that this mascara is not water or sweat proof. I love the way it makes my lashes look and feel, however after a couple hours of dancing or half a shift of running as a nurse it tends to give me raccoon eyes. However, if you're going for a low-key event and want a solid mascara I would definitely recommend it.

Grande Lips: Hydraplump Liquid Lipstick
I am sad to report that I am not in love with this product. The hydraplump effect left my lips tingling and didn't have a real noticeable effect on the plumpness of my lips. Additionally, it only lasted for about two hours before requiring reapplication. Lastly, the color was not really the best color for me. It was too silvery and purple. Maybe it would be appropriate for a special event with the perfect dress or Halloween, but it wasn't really something I would wear on a day-to-day basis or even for a night out on the town.
For month two of birch box, I was quite excited for the surprise. This box came with many more hair care products.  In this box, I received Davines: OI All in one milk, Davines: OI Shampoo and Conditioner, Embryolisse: Lait-Crème Concentre, Number 4: Jour d'automne Smoothing Balm, Marcelle: Xtension Plus Skyline Mascara, and Juara: Coconut Illipe Hand and Nail Balm, and a sticker. This box took longer to explore and discover because one can only use so many hair products at a time. However, I did enjoy the self-care vibe that came with this box. I was disappointed though because the box had listed that it included and eyebrow pen that was not in the box.
Davines: OI Shampoo and Conditioner
I really enjoyed this shampoo. It had a very light fruity scent and was light and creamy to massage into my scalp. It left my hair super soft and shiny with a light airy texture. Despite enjoying the sample, I do not think that it would be worth 28 dollars a bottle, So I probably will not be using this again.
Davines: OI all in one milk
Unlike the shampoo, I did not love the all in one milk. I seemed like no matter how little I used, my hair felt greasy and over conditioned. For someone with coarse or dry hair, I think this would be a fantastic product. However as someone with fine hair it was a little too conditioning.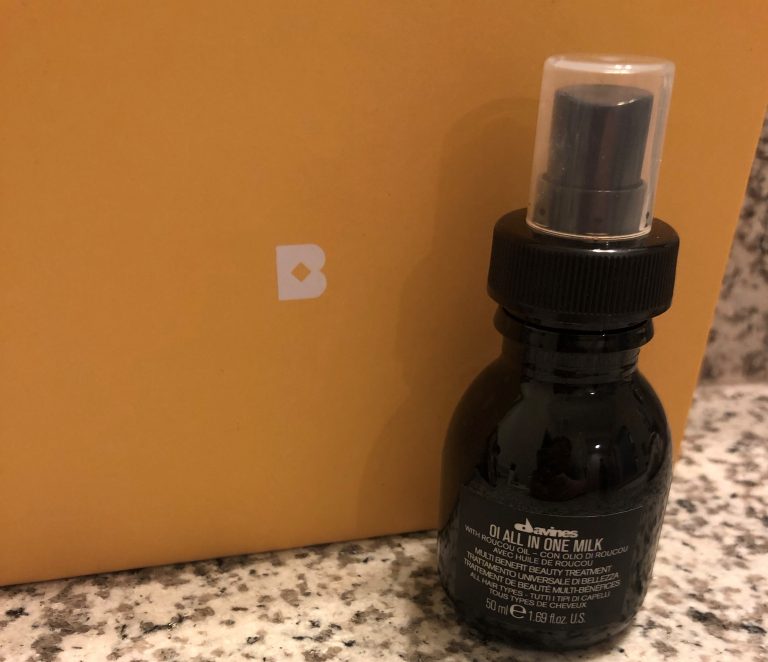 Embryolisse: Lait-Crème Concentre
What an interesting product! The description for this product states that it is a moisturizer, primer, and make up remover. Intrigued I tried it for all three. As a moisture 9/10. It left my face soft and smooth. It also did wonders for my eczema spots that reside next to my eyes. As a primer, it was a solid product. My makeup lasted all day and applied smoothly over my facial imperfections. Acting as a makeup remover was not really this products' strong suit. The texture was too sticky/ creamy. It didn't spread well and did not foam when I tried to rinse it off.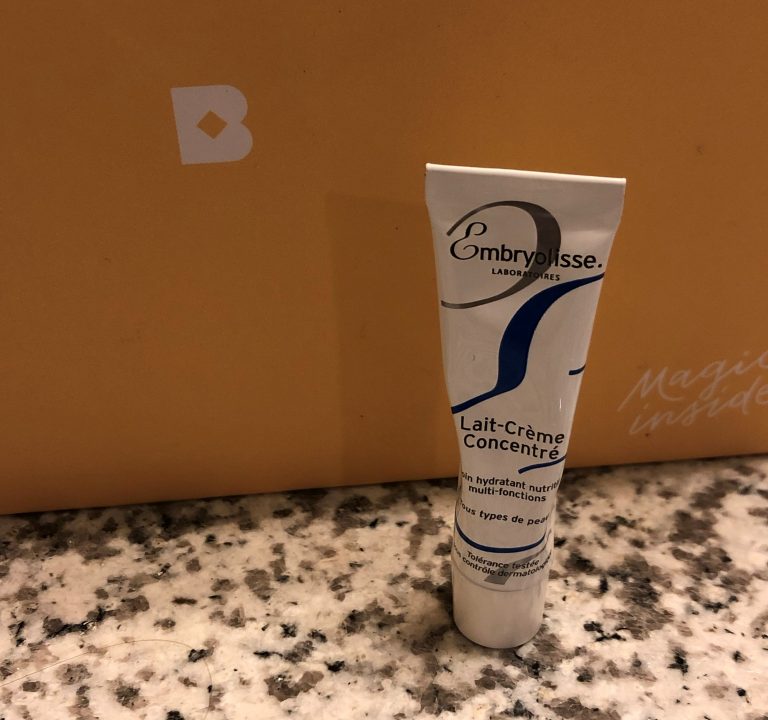 Number 4: Jour d'automne Smoothing Balm
This product worked miracles with my hair. Using it as a heat protector it left my hair soft and shiny, while helping keep my hair healthy. When used on my natural hair it really reduced the frizz associated with high humidity and temperatures of the summer. I would definitely use this product again, and was very thankful to be introduced to it by Birchbox.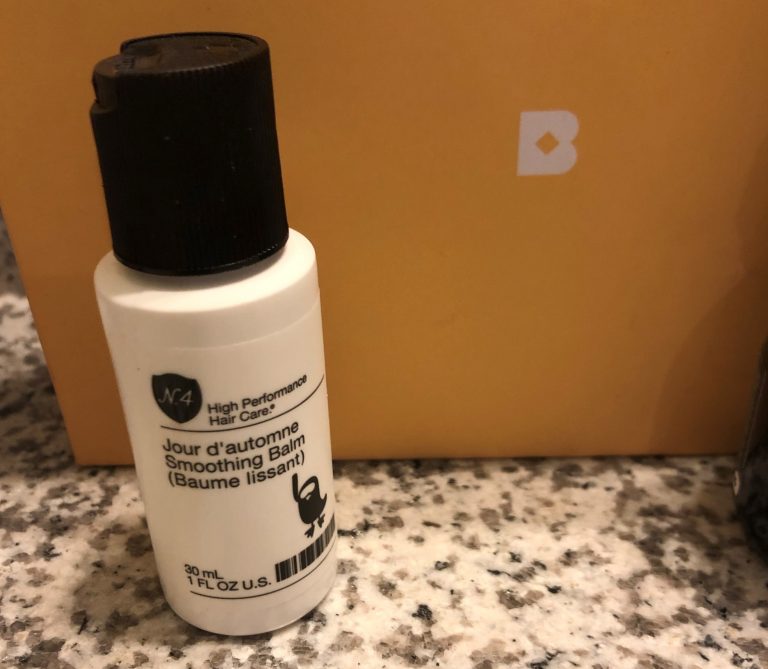 Marcelle: Xtension Plus Skyline Mascara
This mascara was a decent mascara, though not as nice as the Roller Lash from the first box. It made my lashes look noticeably longer but did not give them enough volume. It left a my lashes looking thinner and lacking.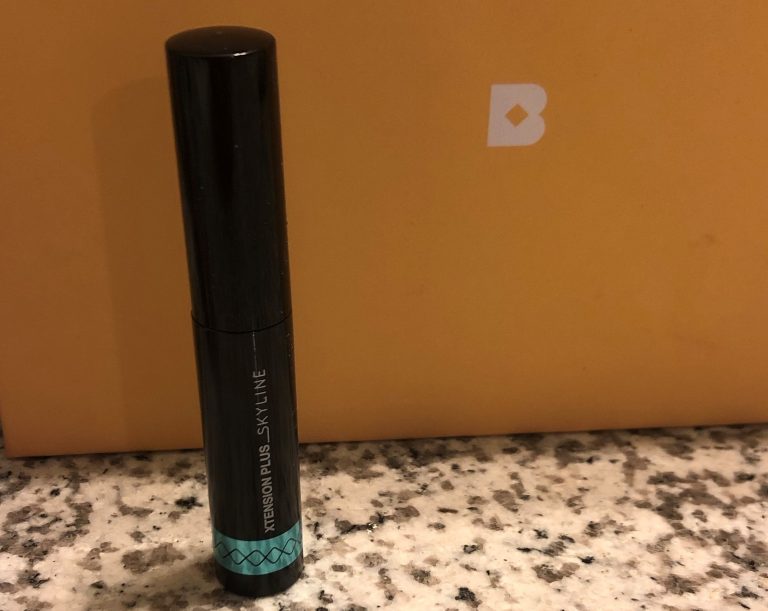 Juara: Coconut Illipe Hand and Nail Balm
Another Juara product! Unlike the first lotion, this one has a fruity piña colada scent which was light and refreshing. Otherwise though the two lotions were un-differentiable. This lotion too was a very high-quality light lotion that left my permanently dry hands refreshed. It surprisingly held up pretty well when facing hospital hand sanitizer, which is no small feat.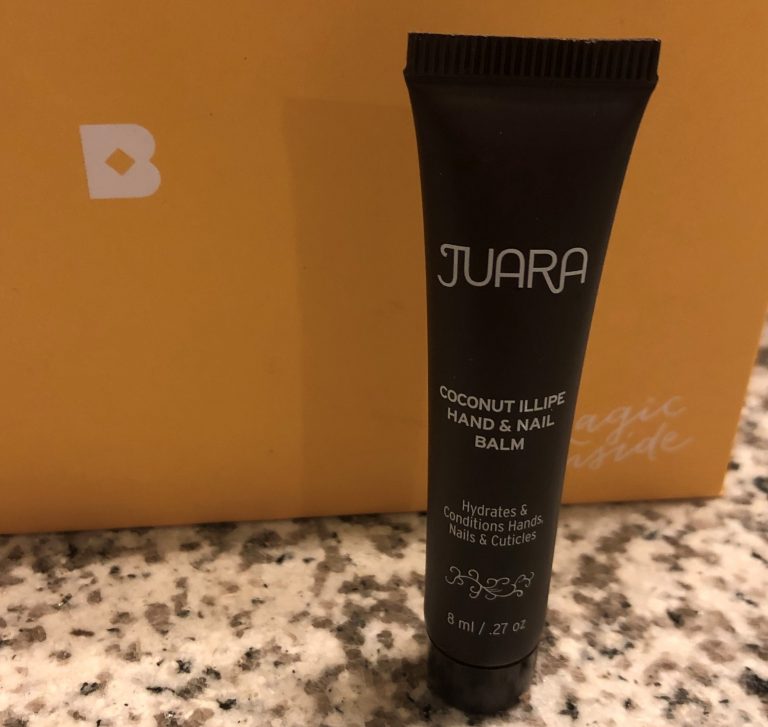 Box three came in this beautiful colored box. All of the products have a fresh bright look. The box even came with a note encouraging self-care and listed healthy activities for someone to practice to reduce stress and improve mental health. As a nurse, I really enjoyed that the box encourages healthy habits for women. It's very easy in a busy life of working and family to forget to take time for yourself. In accordance with the goal listed for this box, the products are geared toward healthy skin and hair. This box came with Amika: Perk up dry shampoo, Coola: Mineral Sunscreen, Air Repair: Moisturizer, Arrow: Boost Color Enhancing Lip Balm, Winky Lux: Frothy Eye Shadow, and Luxie: 239 Precision Shader.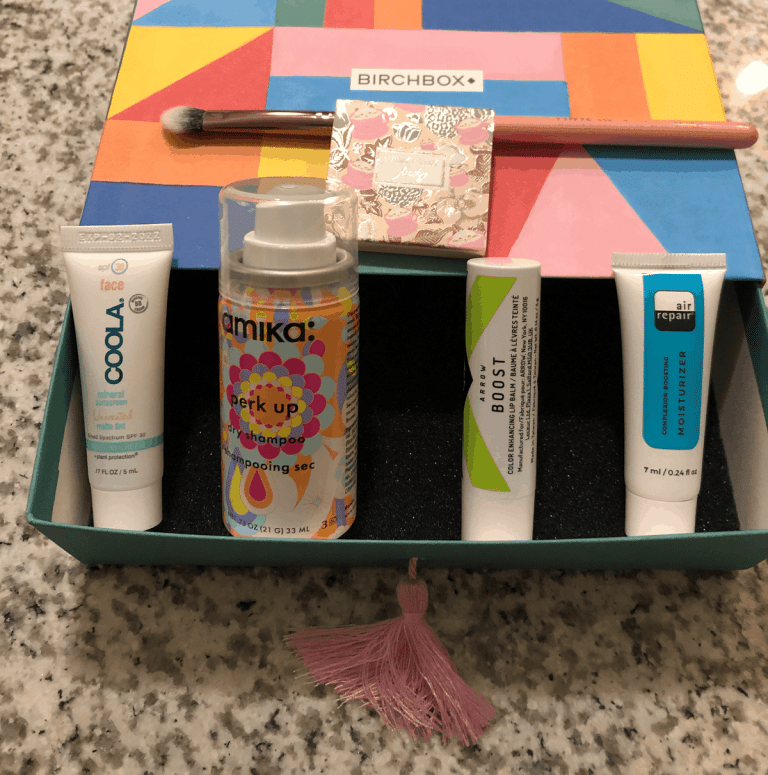 Amika: Perk Up Dry Shampoo
Even though I wasn't a huge fan of the other dry shampoo by Amika, I Love this dry shampoo. It doesn't leave my hair feeling dusty or with that weird grimey feeling provided by lower quality dry shampoos. The clean feeling lasts at least 12 hours, getting me through a long day at work. Plus, who has time to wash their hair every day? 10/10 for this dry shampoo.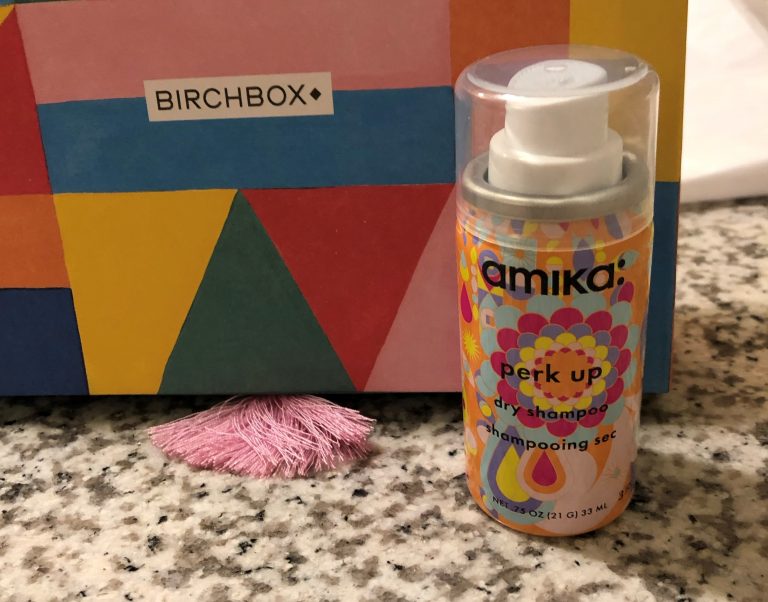 Coola: Mineral Sunscreen
In the true interest of self-care, sunscreen is a must for anyone who spend time outside. It keeps your skin looking young for a while. This Spf 30 is tented with a pale cream color that looks matte on the skin like a foundation. It blends in smoothly and doesn't leave a greasy feeling like normal sunscreen. However, even as a very fair skinned person I feel like the tint leaves my skin looking a little pasty, I am not sure if they care multiple shades of this sunscreen, however with a little bronzer it looks okay. I would definitely double check the shades before purchasing the $28 sunscreen if I had a darker skin tone or even a more olive or red based pale skin tone.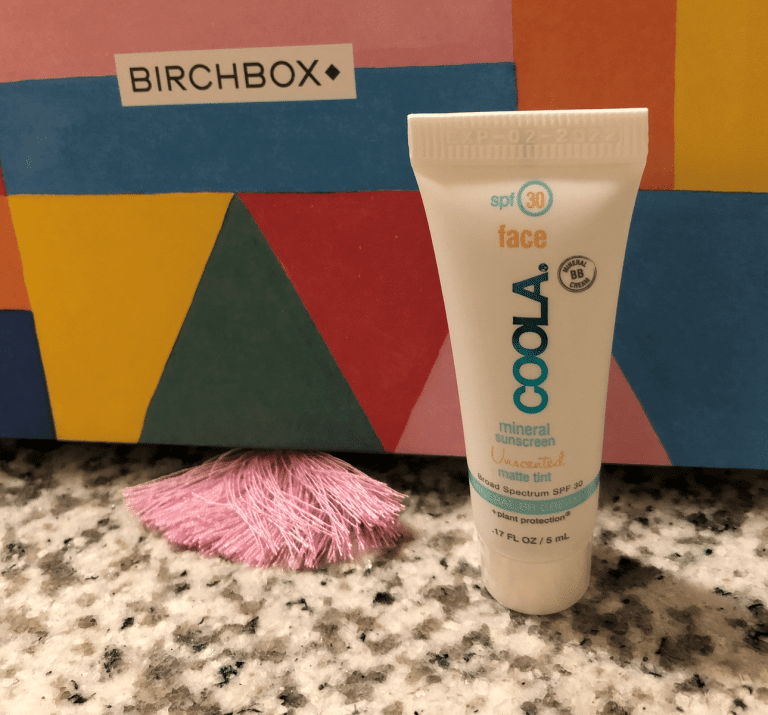 Air Repair: Complexion Boosting Moisturizer
This is maybe my favorite facial moisturizer that I've tried so far. It is very light and airy feeling but leaves my skin lightly moisturized, perfect for daily use! I will definitely be investing in this product when my sample runs out.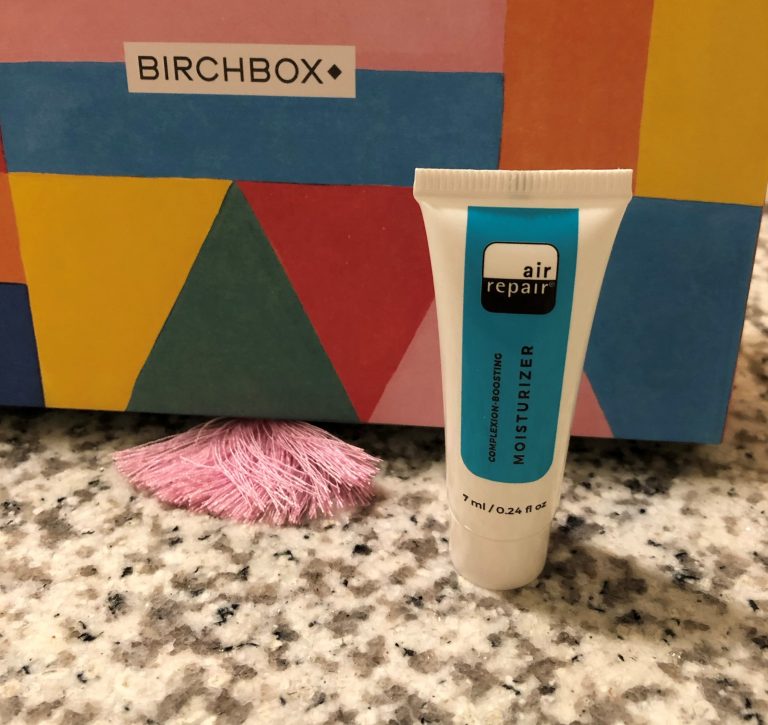 Arrow: Boost Color Enhancing Lip Balm
As a color boosting lip balm, I haven't really seen a significant difference in color. However, this lip balm does leave my lips plumper and very well moisturized. Would I pay $15 dollars for it? Maybe not, I've definitely had lip balms that work just as well for a cheaper price. Also, if we are being honest I would definitely put my money on the Wander Lip Oil from box 1 instead.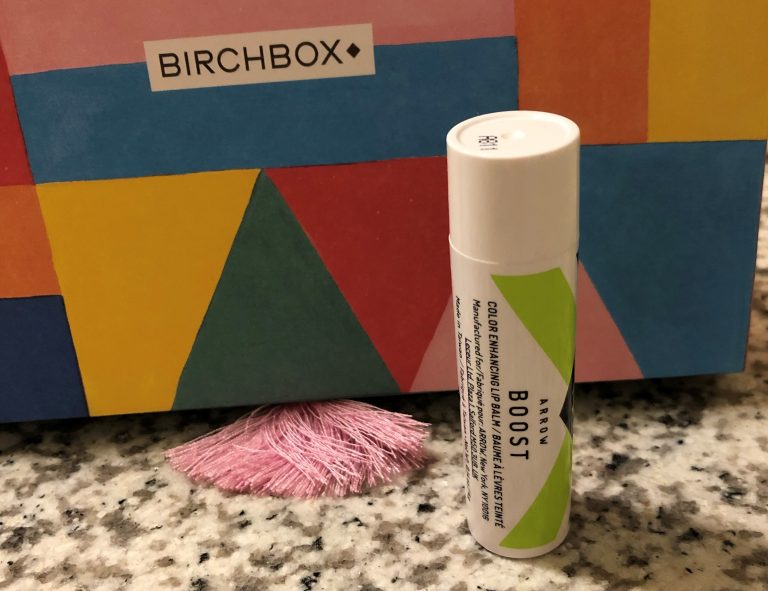 Winky Lux: Frothy Eye Shadow Mini Palette & Luxie 239 Precision Shader
Points to Birchbox for nailing my color preferences this time. I love LOVE this champagne colored eye shadow. It applies very smoothly and builds well with other eye shadow colors. Plus, with my fair skin, the champagne color is perfect for building a natural toned eye look. After seeing the quality of this eye shadow, I would definitely be interested in a full palate.
As far as the eyeshadow brush, what a fun bonus for this box. This is a super soft but firm brush. The size is a little big for my eyes, but it does precision surprisingly well. If all Luxie brushes are this nice, It would be worth the investment.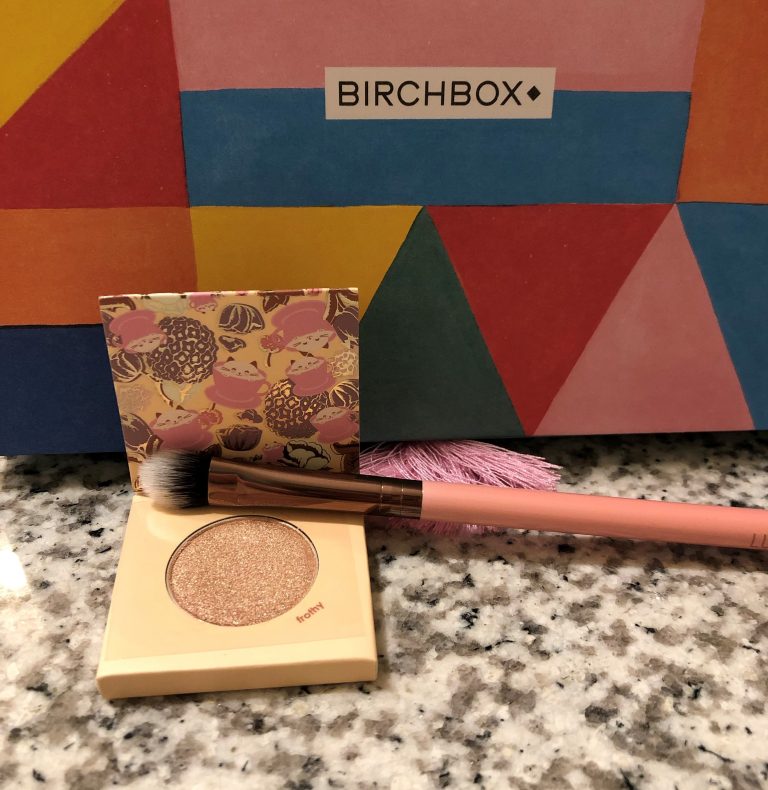 Overall, I have very mixed feelings about Birchbox. If you are looking to try new products to determine what you like, I think a couple months are definitely worth trying. However, after three months, I've found that Birchbox tends to stick with the same few brands and the products are very hit or miss. A lot of the products are from brands that I haven't heard of, but some of the products are solidly very good. At $15.00 a month, the boxes are reasonably inexpensive, and it's always a fun surprise. I've definitely found several products that I absolutely love which was the goal when I signed up. I've also ruled out some products that I wouldn't necessarily try again, but that is the good part about samples. If I don't like, I don't have to buy it again. I would definitely say that Birchbox is worth trying!