Degustabox is a monthly subscription plan which contains 10-15 surprise food products with each box. The items are carefully selected from name brands, will contain new flavors, and give you a new option to think about the next time you're looking for a break in your eating routine.  It's a no commitment subscription plan for only $19.99 per box which includes shipping; you'll receive a lot of goodies at a price which is less than what you would see in the stores. With today's Degustabox review, we're unboxing the Degustabox June 2016 box.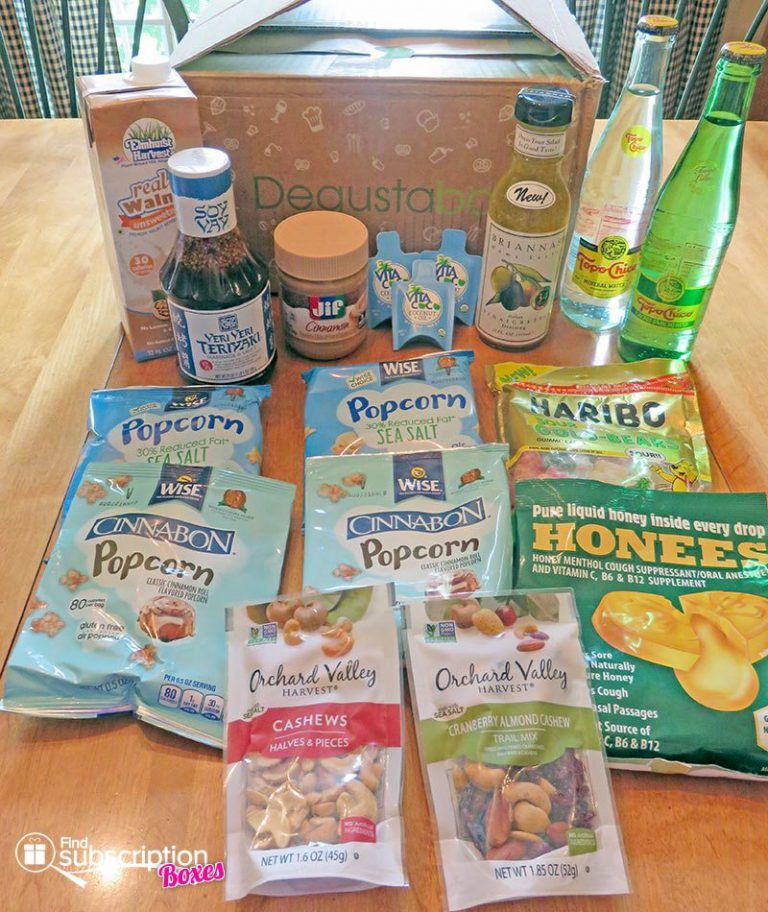 Here's a first look inside our June 2016 Degustabox.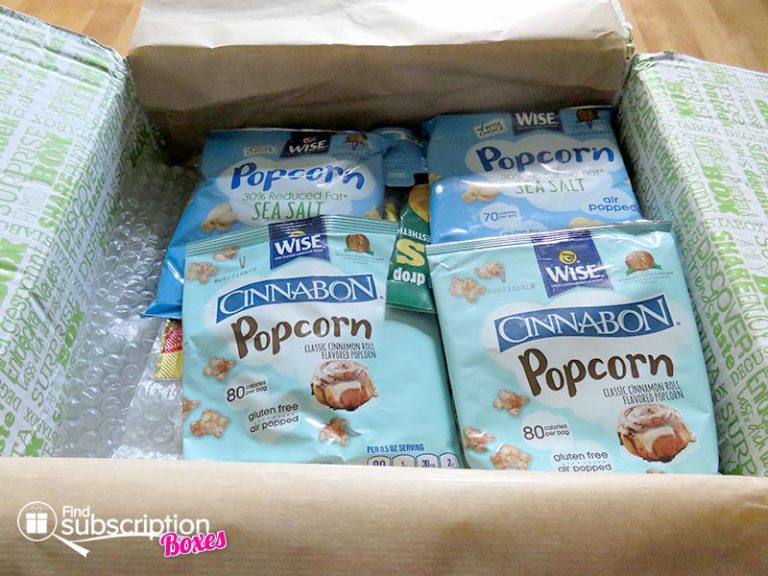 Inside the Degustabox June 2016 Box
In our Welcome Box, we received 10 brands of items, and some of the brands had more than one variety included.

Briannas Full Size Italian Homestyle vinaigrette, free of HFCS and gluten.
The Product of the Month: Topo Chico. Two bottles, one Mineral Water and the other is Sparkling Water in the Twist of Lime flavor. This Mexican company has been in business since 1895.
Haribo Sour Gold-Bears, a twist on the Original Gold-Bears with "just the right amount of sour," fun fruit flavors of lemon, orange, pineapple, raspberry, and strawberry.
Jif Cinnamon flavored peanut spread in a 12 oz. jar. Your favorite peanut butter combined with cinnamon flavor, perfect for breakfast or anytime you want a snack.
Soy Vay, Full Size Kosher Teriyaki. The Soy Vay brand is known for bold, Asian flavors with no preservatives and no additives.
Wise Popcorn, 4 snack size bags: 2, 30% reduced fat Sea Salt flavor bags; and 2, Cinnabon cinnamon roll flavored bags.
Honees Cough Drops: Pure honey fills each piece. Contains essential oils of eucalyptus, peppermint, and lemon and a great source of vitamins C, B6, and B12. No artificial flavors or colors. Safe for pregnant and nursing moms.
Orchard Valley Harvest, two snack bags: one Cranberry Almond Cashew Trail Mix and one Cashew Halves and Pieces. Non-GMO, no artificial flavors, colors, or preservatives.
Vita Coco coconut oil which is 100% organic, virgin, cold-pressed, and unrefined in 3, one-time use pods to use in cooking and baking. There are also some health and beauty suggestions listed in the accompanying brochure.
Elmhurst Harvest milk-alternative: we received the walnut milk-alternative fortified with vitamins A, E, B12, and D; they have the equivalent calcium to 2% cow's milk, and they're carrageenan-free. Unsweetened, GMO-, lactose-, and gluten-free.
The Degustabox is new to the US, and you can earn Degusta points toward free boxes by spreading the word by referring friends, surveys, and gifting box subscriptions. They even included recipe ideas for using products included in the box. It's a great value of food items, a surprise in each box, in a no commitment plan.
What was your favorite food or snack from the Degustabox June 2016 food surprise box?
Degustabox Coupon Code
Discover new flavors and delicious foods with Degustabox food subscription boxes! For a limited time, new box subscribers can use Degustabox promo code AERHM to save 50% off your 1st Degustabox.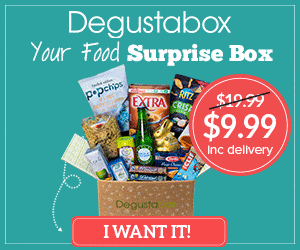 Degustabox Giveaway
Enter below for your chance to win your own Degustabox filled with 10-15 food surprises!