Degustabox is a monthly subscription plan which contains 10-15 surprise food products with each box. The items are carefully selected from name brands, will contain new flavors, and give you a new option to think about the next time you're looking for a break in your eating routine.  It's a no commitment subscription plan for only $19.99 per box which includes shipping; you'll receive a lot of goodies at a price which is less than what you would see in the stores. With today's Degustabox review, we're unboxing the Degustabox November 2016 food and snack box.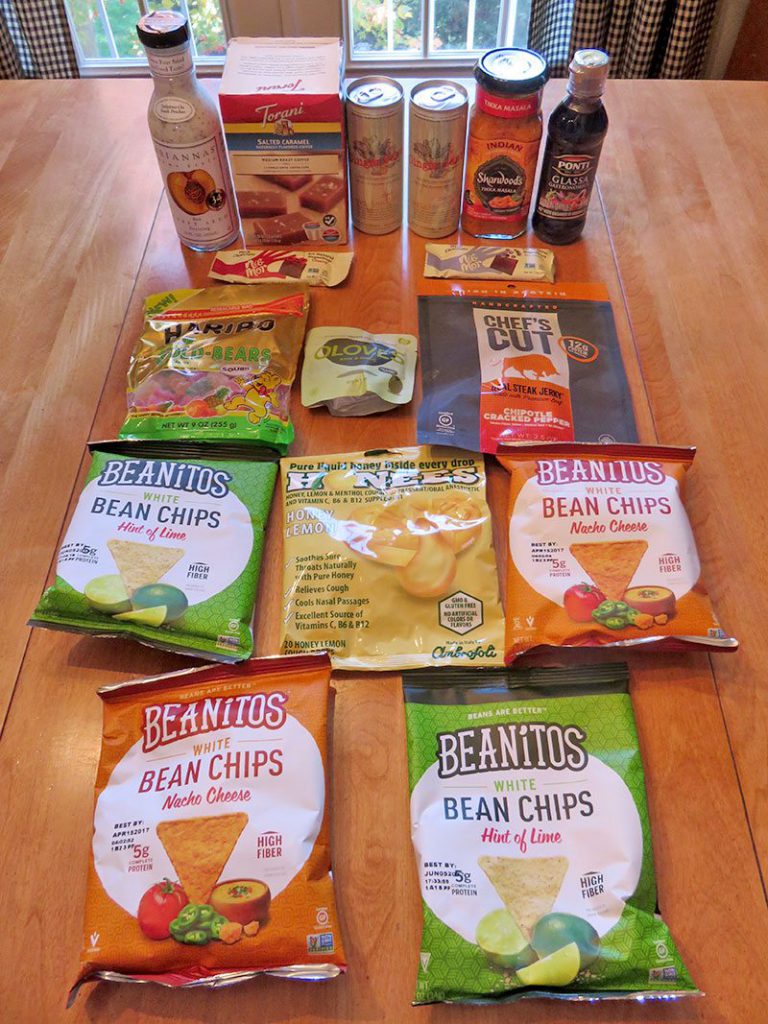 Inside the Degustabox November 2016 Snack Box
The November Degustabox contained ten featured items, one bonus item featured in a previous box, plus some of the items contained multiple flavors.

1. Bruce Cost Ginger Beer (non-alcoholic) uses 100% fresh ginger; it's unfiltered and spicy, but only contains four ingredients. Ginger sediments are in the can—no ginger extract—and real cane sugar. Two 8.4 oz cans.
2. Beanitos chips made with white beans, protein, and fiber. Gluten-free, Non-GMO, 0 trans-fat, and no artificial ingredients. Four 2 oz bags, we received Hint of Lime and Nacho Cheese.
3. Sharwood's Tikka Masala Simmer Sauce to create your own dish in 20 minutes. With coconut and a hint of black cardamom. One 14.1 oz jar. Made in the United Kingdom.
4. Torani Single Cup Coffee pods compatible with 2.0 brewing systems. Naturally flavored Arabica coffee. 12-pod box of either Salted Caramel or French Vanilla.
5. Ponti Glaze with Balsamic Vinegar of Modena. Made from cooked grape must and Aceto Balsamico di Modena I.G.P., it's perfect for recipes and desserts. One 8.82 oz bottle. Made in Italy.
6. Briannas Poppy Seed salad dressing. Free from HFCS, Gluten, MSG, and it's VEGAN. Great for salads or as a condiment or dip. One full-size bottle.
7. Chef's Cut Real Beef Jerky is made with premium beef, Gluten-free, low in fat, and contains 12g of protein in each serving. One 2.5 oz pouch. Flavors vary.
8. Honees Cough Drops. Soothing drops contain liquid honey, menthol, Vitamins C, B6 and B12. Non-GMO and Gluten-free. Made in Italy.  20-count package.
9. NibMor, Dark chocolate with real fruit. Non-GMO, Project Verified, ethically responsible and Gluten-free. Two 1oz bars. We received Blueberry and Cherry.
10. Oloves Healthy Olive Snack in Basil & Garlic, natural green pitted olives for snacking. Gluten-free, Non-GMO, VEGAN, Kosher, low carb, low sodium. One 1.10z snack size.
Bonus: Haribo Sour Gold-Bears, a twist on the Original Gold-Bears with "just the right amount of sour," fun fruit flavors of lemon, orange, pineapple, raspberry, and strawberry. One 9 oz pouch.
Degustabox November 2016 Box Review Wrap-Up
Degustabox is a great box of snacks each month, and you can earn Degusta points toward free boxes through spreading the word by referring friends, surveys, and gifting box subscriptions. They even included recipe ideas for using products included in the box. Occasionally, there are coupons to purchase featured items at your favorite retailer. It's a great value of food items, a surprise in each box, in a no commitment plan.
What was your favorite food item from the Degustabox November 2016 box?
Degustabox 50% Off Coupon Code
Try new flavors and delicious foods and drinks every month with a Degustabox monthly subscription box! For a limited time, new Degustabox subscribers can use Degustabox promo code AERHM to save 50% off your 1st Degustabox.