Degustabox is a monthly subscription plan which contains 9-14 surprise food products with each box. The items are carefully selected from name brands, will contain new flavors, and give you a new option to think about the next time you're looking for a break in your eating routine.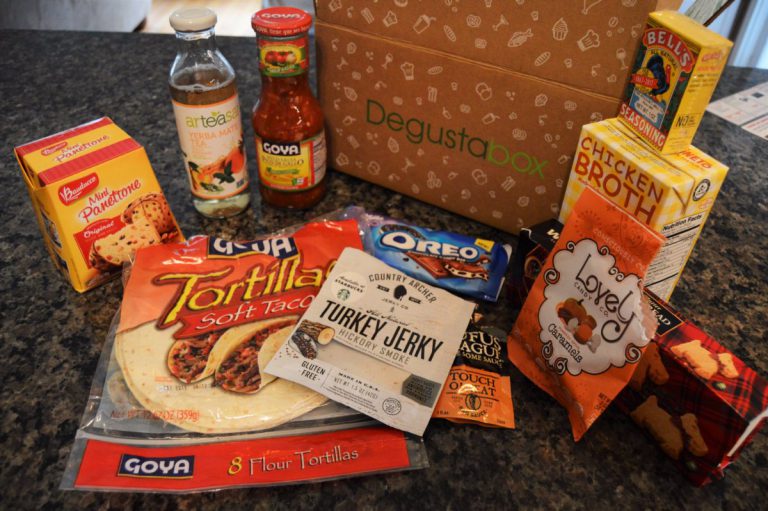 This being my first Degustabox I wasn't quite sure what to expect, but when the box arrived at my door I was surprised to see how big it was, and as I opened it up I was again surprised at the number of products inside. There is a total of eleven products in this months box a couple of which I have tried before, but I'm happy to see them again because they are old favorites.
Without farther ado let take a closer look at what's in the box!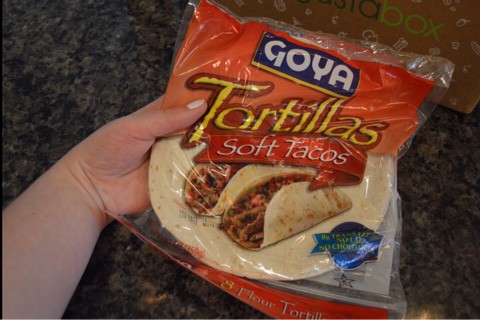 GOYA Soft Taco Tortillas-$1.99
I have yet to use these tortillas, but tacos always go over well to my house. I love the fact that these contain no cholesterol, lard or trans fat, and I think I will have to try the grilled fish taco recipe that is on the back of the package.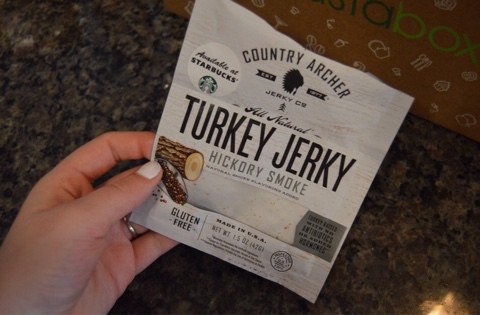 COUNTRY ARCHER JERKY CO. Turkey Jerky-$5.99
Oh my goodness! I can't say enough good things about this jerky! This is by far the best turkey jerky I have ever tasted since receiving this box I have purchased two full-sized bags of this and both were devoured within minutes. Between my two brothers, I hardly got to eat more than a few bits myself, but boy were they good bits.
This jerky has no preservatives added, no nitrites, and no MSG, plus its gluten-free.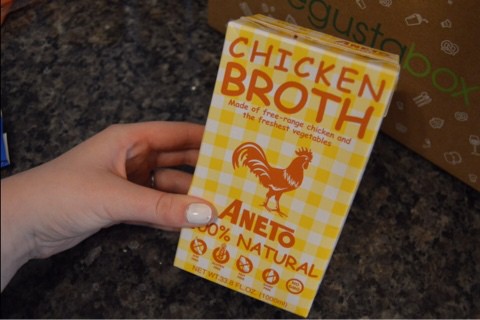 ANETO NATURAL Chicken Broth-$6.99
This broth is soy free, gluten free, nut free, dairy free, and is none GMO. I am so excited to use this in a recipe, now that the colder weather is here all I want is soup.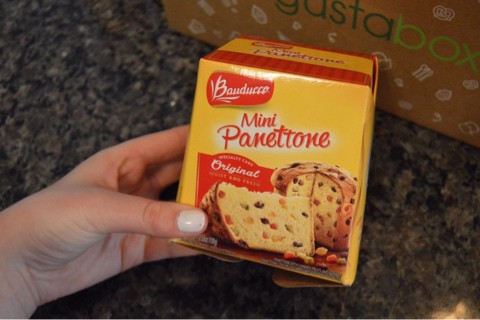 BAUDUCCO Mini Panettone-$2.75
Okay, complete honesty here, I don't like dried fruit, so this was not a big hit with me, but I shared it with my mom and my brother, and they both really liked it.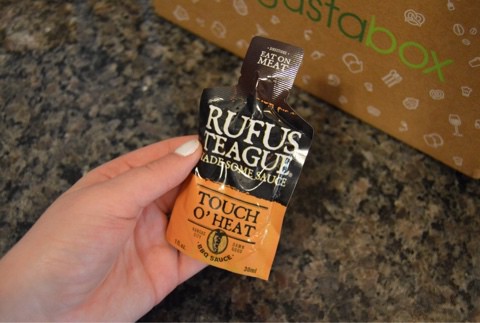 RUFUS TEAGUE Barbecue Sauce -free sample
I'm not a big fan of BBQ sauce, but I will be finding a way to use this for sure. This is said to be "kinda hot, kinda not" so sounds like something I will like because I like a little spice, but I like to be able to enjoy the flavor of the sauce.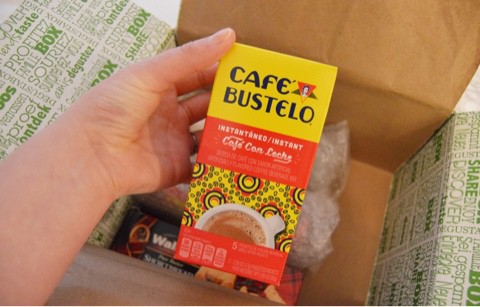 CAFE BUSTELO Cafe Con Leche Instant Coffee Sticks-$2.99
I love the idea of this coffee, you have everything you need to have a perfect espresso style coffee. My mom really likes this, but as I don't take cream in my coffee, I find the non-dairy creamer not quite to my taste.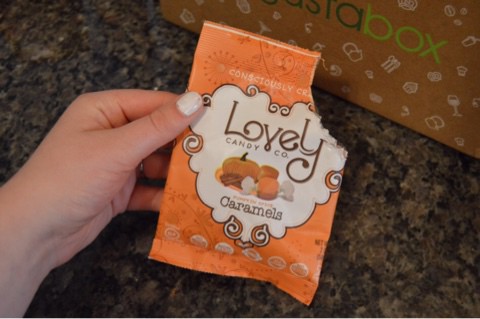 THE LOVELY CANDY COMPANY Pumpkin Spice Caramels-$2.50
I was so excited to see these in the box, apparently the I could have gotten any of three flavors but as I love everything pumpkin spice this was perfect. These caramels are kosher, gluten-free, non-GMO, and have no high fructose corn syrup, but they still taste amazing.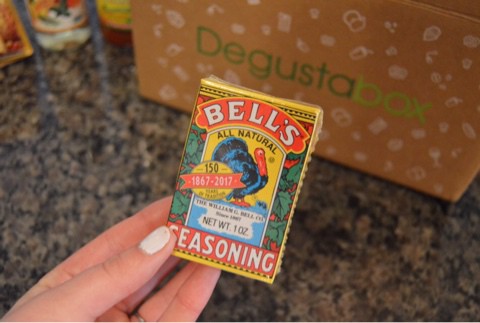 BELL'S SEASONING salt-free-$2.99
My family has been using Bell's Season for at least three generations, it just wouldn't be Thanksgiving without it. The ingredients are very simple just rosemary, oregano, sage, ginger, marjoram, thyme, and pepper.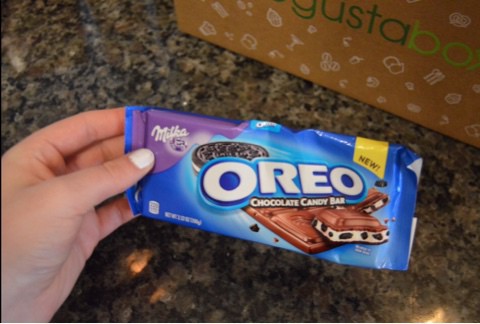 MILKA Oreo Chocolate Candy Bar-$1.79
This was such a yummy candy bar! I absolutely love anything oreo, and this bar was so sweet and creamy, I think Milka makes there chocolate sweeter then I'm used to, but I'm not complaining.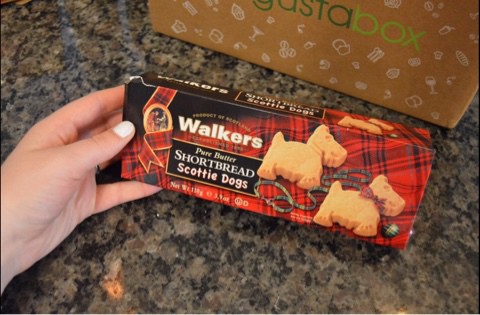 WALKERS SHORTBREAD Scottie Dog Cookies-$4.49
Walkers shortbread cookies have been a favorite of mine for I don't know how long, they are so sweet and butter they just melt in your mouth. The fact that they made these in the shape of little Scottie dogs makes me really happy because they are adorable. These cookies are OUD kosher and suitable for vegetarians.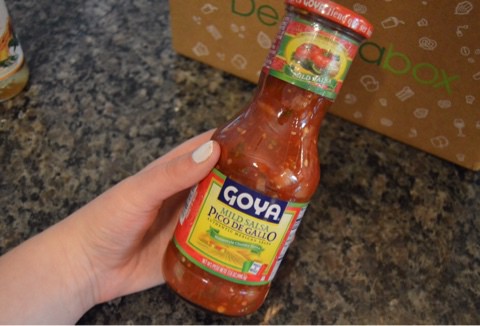 GOYA Pico De Gallo Salsa-$2.19
Salsa is a big staple in our house, I don't think I have ever used Goya's before, but it sounds really good.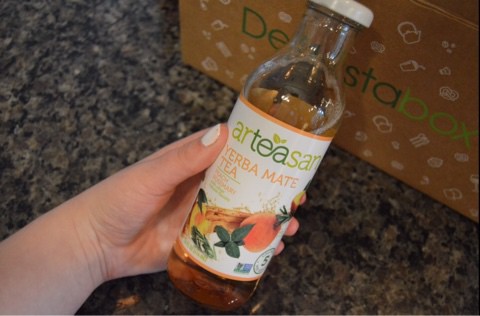 ARTEASAN Yerba Mate Tea-Peach Rosemary-$2.50
I thought peach and rosemary sounded really good, crisp and refreshing, and it was the flavor was really nice. However I do have a small problem with this tea, and that is the artificial sweetener, it leaves a bit of an odd aftertaste.
That's it for the November Degusta box! Overall I'm really happy with what came in this months box, there were a couple products that I'm not as fond of but they will get used by my family for sure.