Degustabox is a monthly subscription plan which contains 10-15 surprise food products with each box. The items are carefully selected from name brands, will contain new flavors, and give you a new option to think about the next time you're looking for a break in your eating routine.  It's a no commitment subscription plan for only $19.99 per box which includes shipping; you'll receive a lot of goodies at a price which is less than what you would see in the stores. With today's Degustabox review, we're unboxing the Degustabox October 2016 food and snack monthly box.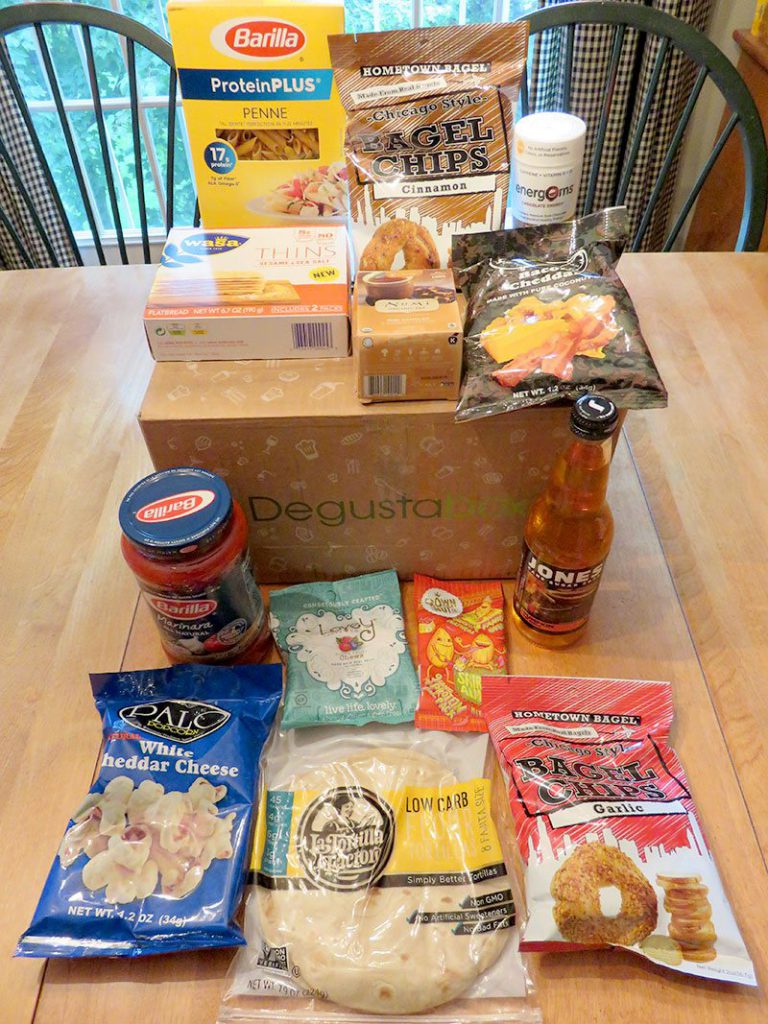 Inside the Degustabox October 2016 Snack Box
In our October Degustabox, we received 11 featured items of different brands, and several included multiple flavors.

Palo Popcorn
Made with coconut oil, non-GMO popcorn, and real cheddar cheese. 2 single serve packages in 2 different flavors. No trans fats, no preservatives, and gluten-free. USA.
Lovely Candy Superfruit Chews
All natural, gluten-free, non-GMO, vegan, kosher, no hfcs or artificial ingredients. Bits of real fruit in each chew, multi-flavor package of cranberry, raspberry, and blueberry. Made in USA. About 2 servings in each bag.
Jones Soda in a Pumpkin Pie flavor, one serving bottle.
Perfect for the Fall season, Jones brand is made with cane sugar. Made in Canada.
Crown Nut
Flavored almonds are grown, processed, roasted, and flavored in-house. 100% natural, 9 grams of protein per single serving package, Sriracha flavor. Made in USA.
Energems
Bite-sized chocolate energy supplements made with dark chocolate and caffeine. Contains Vitamins B and D. Perfect for a little boost of energy in your day. 7 servings (one week supply). Made in USA.
Barilla Marinara Sauce
Made with vine-ripened tomatoes, aromatic herbs, and extra virgin olive oil. Perfect for an authentic Italian meal. 1 full-sized jar. Made in USA.
Barilla ProteinPlus Pasta
Wholesome pasta with protein, 17g per serving of a 100g cooked portion from all natural vegetarian ingredients, ALA Omega-3, great taste and texture, available in 7 varieties. 14.5oz box, 1 received. Made in USA of USA and imported ingredients.
La Tortilla Factory tortilla shells
The first non-GMO low carb tortilla. Unbleached wheat flour with 4g net carbs, 3g of protein, and 24% of daily recommended fiber. 8-pack. USA.
Hometown Bagel
Bagel chips from real bagels which are non-GMO. 2 single serve packages in 2 of 3 flavor options. USA.
Numi Organic Tea, mini sampler with 8 different tea bags.
Fair trade sourced teas and tisanes, tea bags are non-GMO and biodegradable. Manufactured in a facility which lowers and offsets carbon emissions through solar power.
Wasa Thins, flatbreads in Sesame & Sea Salt flavor
8g of whole grains and 80 calories per serving. Great for snacking, and the packaging is recyclable. Made in Sweden.
Degustabox is a great box of snacks each month, and you can earn Degusta points toward free boxes through spreading the word by referring friends, surveys, and gifting box subscriptions. They even included recipe ideas for using products included in the box. It's a great value of food items, a surprise in each box, in a no commitment plan.
Which was your favorite Degustabox October 2016 food or snack?
Degustabox 50% Off Coupon Code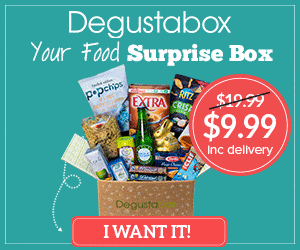 Try new flavors and delicious foods and drinks with Degustabox! For a limited time, new box subscribers can use Degustabox promo code AERHM to save 50% off your 1st Degustabox. Your first box is just $9.99 + FREE shipping!