Degustabox is a monthly food surprise box that sends out 9 to 14 full sized products. You will receive a mix of tried-and-true favorites, as well as new food that hasn't hit the shelves yet. And the best part? You get to save money while trying out new foods! The value of each box is higher than the cost of the subscription. A monthly subscription costs $19.99, and each box usually contains about $30 worth of food products.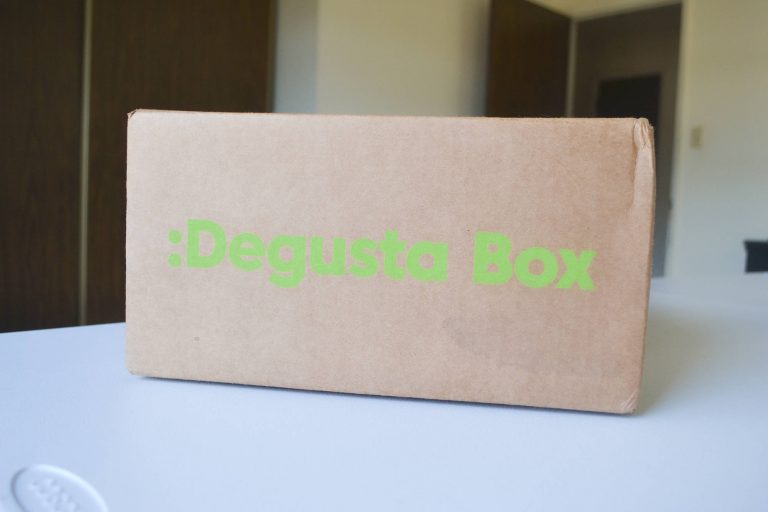 Degustabox includes an insert with photos and information about each product.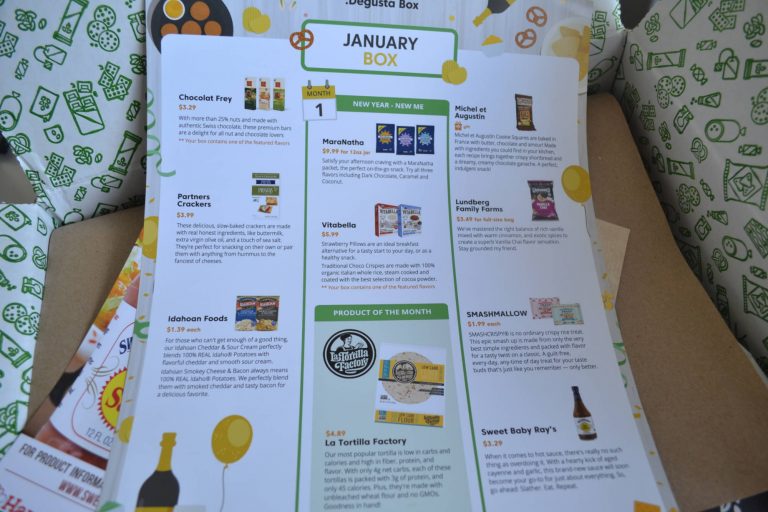 This month's box also included a coupon for a FREE Sweet Baby Ray's Hot Sauce, which is one of the products included in the box.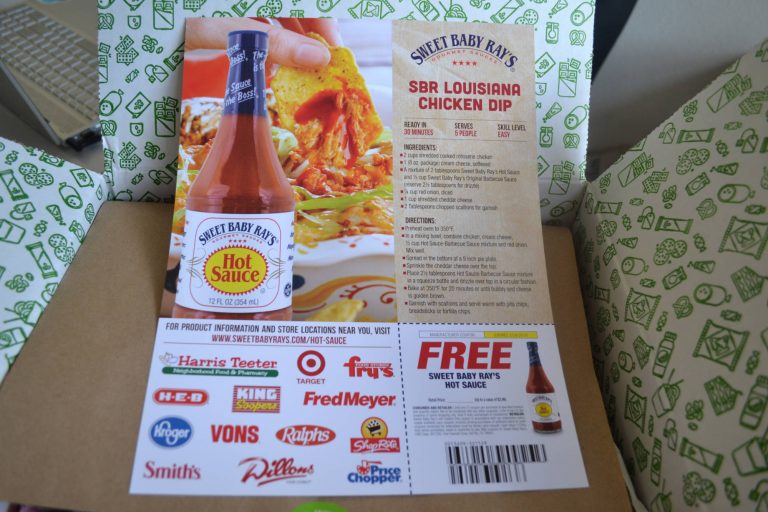 There were 14 items in January's box – most of which were pretty large!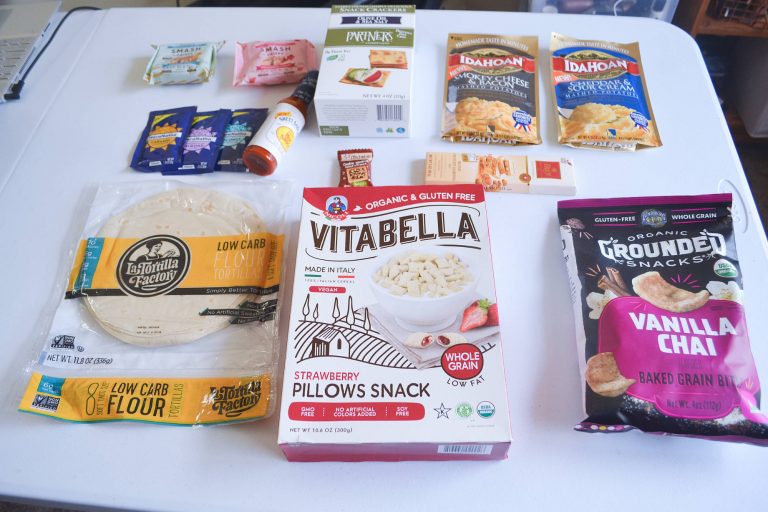 Vitabella – Strawberry Pillows Snack ($5.99)
This whole grain, organic cereal has a crunchy exterior and a delicious, strawberry flavored filling. You can enjoy it with milk or eat it like I do – by the handful! Subscribers received either this variation of cereal, or Vitabella Choco Crispies.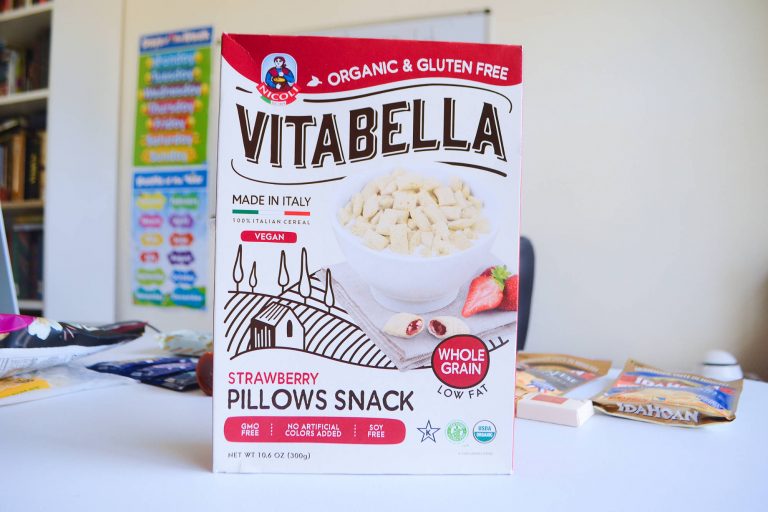 Organic Grounded Snacks – Vanilla Chai Baked Grain Bites ($3.49)
Okay, these vanilla chai-spiced bites are addictive! Crunchy and sweet – but not sweet enough to put you off. They are SO good with a cup of coffee. And, you can snack in peace knowing that these bites are gluten-free, whole grain, and vegan.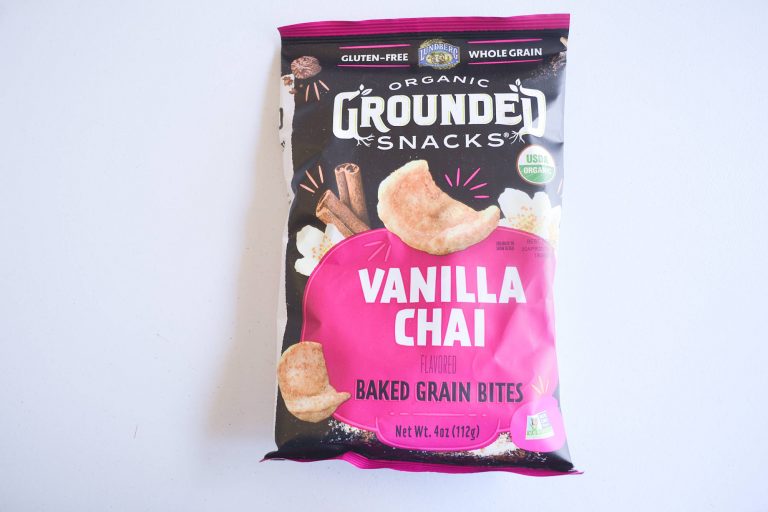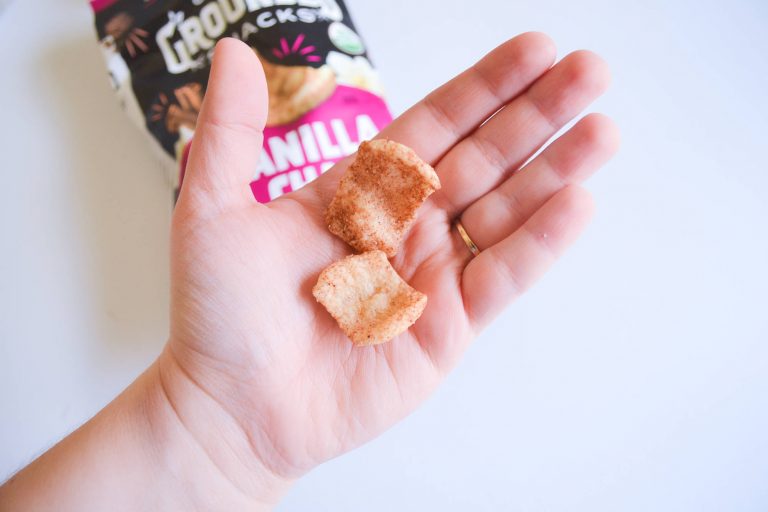 Sweet Baby Ray's – Hot Sauce ($3.29)
I LOVE sauces. If you take a look in my fridge and pantry, you are met with plum sauce, sriracha, sweet chili sauce, and dozens of other kinds. It's mostly due to subscription boxes, but also just because a sauce can bring a dish up to the next level. Normally I put sriracha on my breakfast frittatas, but I've been swapping that out for a few drops of this hot sauce. It's pretty standard as far as hot sauce goes, but the mouth-watering heat is delightful.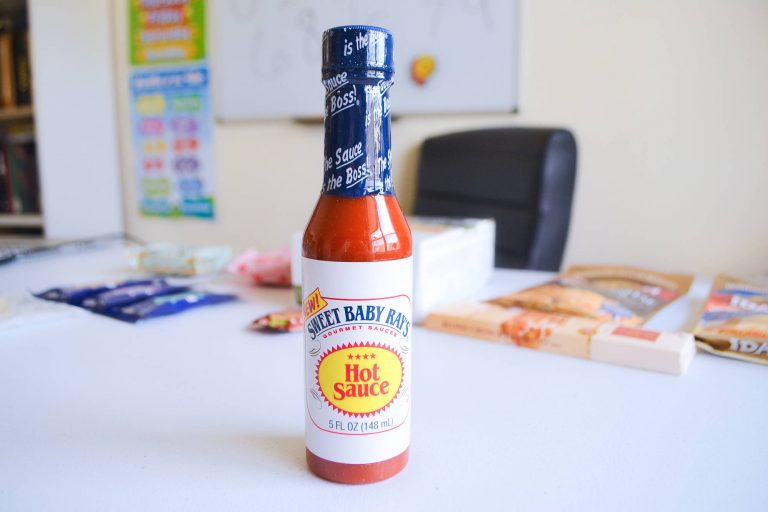 La Tortilla Factory – Low Carb Flour Tortilla ($4.89)
I used these tortillas to make quesadillas, and I was surprised by how soft they are! I'm used to cooking with tortillas from Aldi that are usually a bit rubbery. These were on the delicate side, and had a mild, sweet flavor. And, they were only 70 calories each!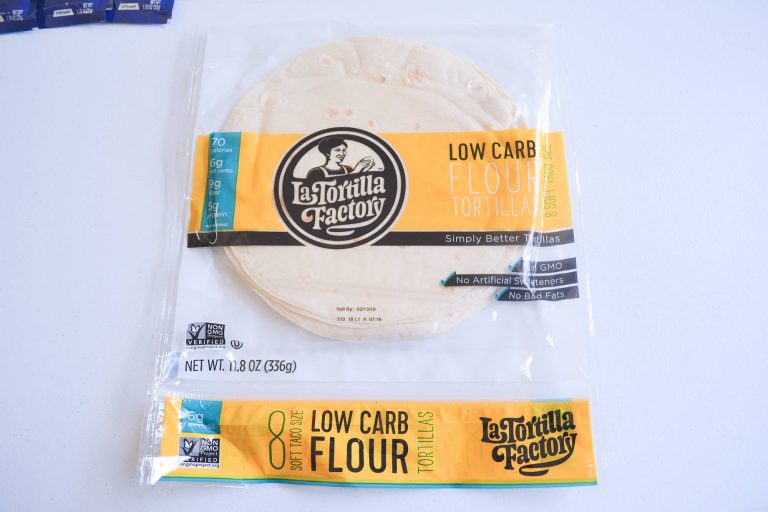 Maranatha – Almond Butter x3 (estimate: $1)
These packets of flavored almond butter have a smooth, velvety texture and are packed with protein! I occasionally put a spoonful of peanut butter in oatmeal as a sweet treat, but I will use these instead. I'm not a huge fan of the coconut flavor, but the caramel flavored butter is to die for!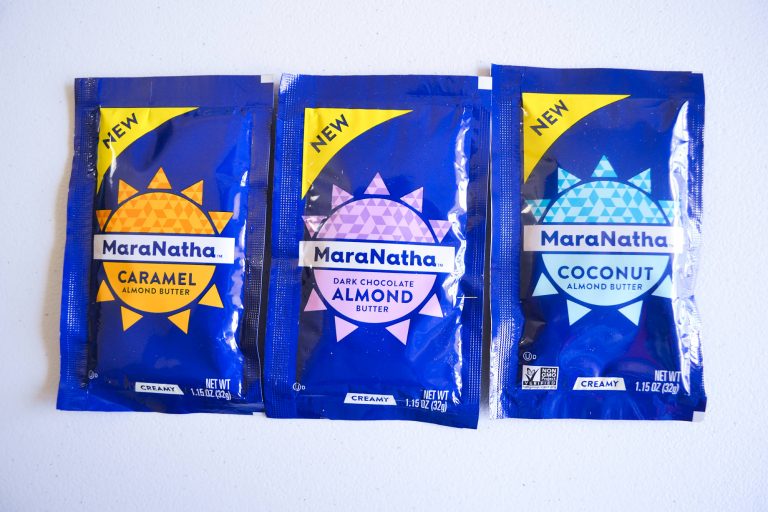 Smash Crispy – Marshmallow Rice Treats x2 ($4)
Okay, these are basically the grown-up version of rice krispie treats. Crunchy, gooey, sugary, and so darn delicious. The strawberries & cream one is my personal favorite, and actually has little flecks of strawberry all throughout it! The churro treat, on the other hand, is sprinkled with a generous coating of cinnamon sugar.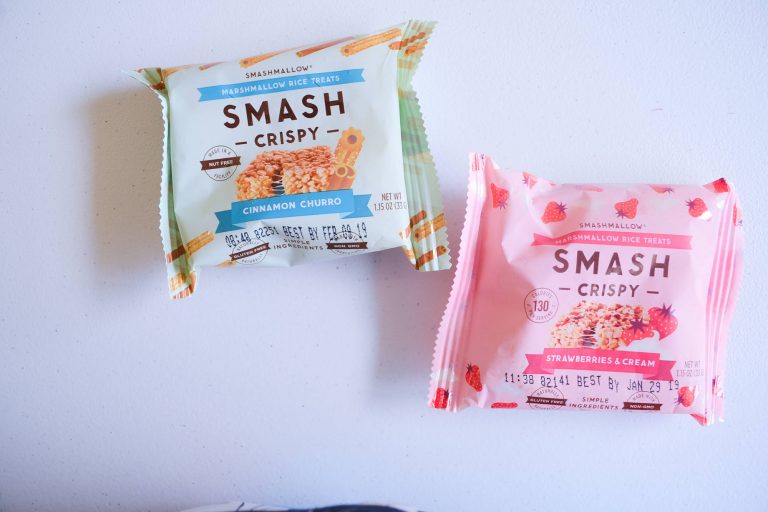 Michel et Augustin – Chocolate Hazelnut Cookie Square (estimate: $0.50)
Degustabox included this little cookie as a free gift. It's absolutely tiny, just a little bigger than my thumbnail. However, they managed to pack a whole lot of flavor into such a small treat. The chocolate is dark and rich, and the cookie is crisp and buttery. I tried to make this last as long as possible so I could enjoy the decadent flavor, but it was just too small to stretch out!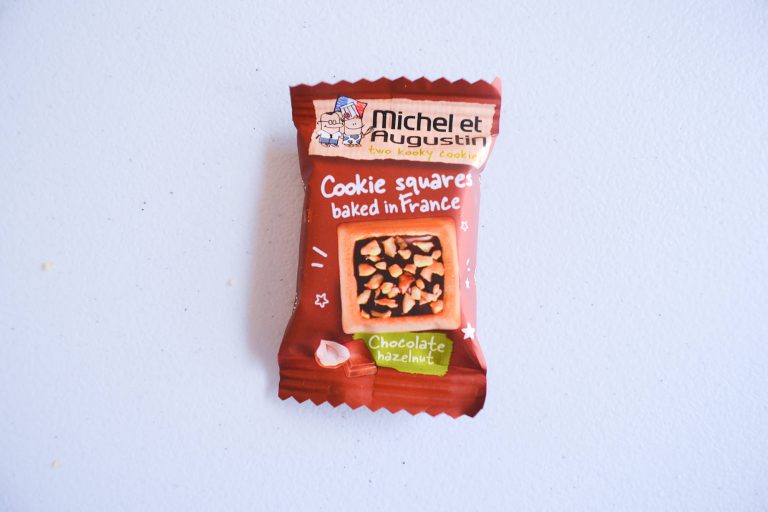 Partners – Olive Oil and Sea Salt Crackers ($3.99)
These crackers are seasoned with just a touch of sea salt, and would go very well with gouda, herbs, or perhaps even nut butter. I have actually tried these crackers before, so I am holding off on opening them until I have a wine & cheese night. I would put these on a board with some gouda, cheddar, and grapes.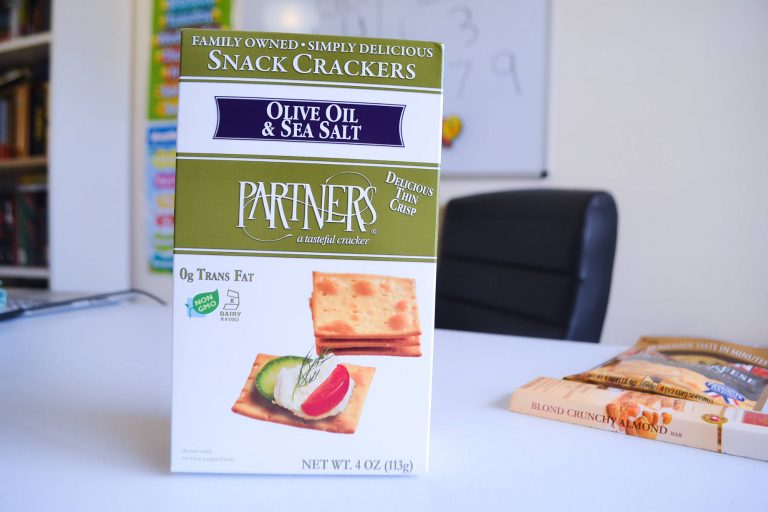 Frey – Blond Crunchy Almond Bar ($3.29)
I have a mild almond allergy (every time I have almonds, my throat gets itchy and my lips swell a little). Almond butter and almond milk don't affect me, but I usually avoid eating anything with whole almonds in them. I wasn't planning on eating this because the chocolate encases many almonds, but I took just a nibble off the side. And then… I ended up eating the whole bar. Well, it took me a few days to eat the whole thing.. But still! That's how good it was! The blond chocolate is buttery and rich, and the almonds give it a delightful crunch.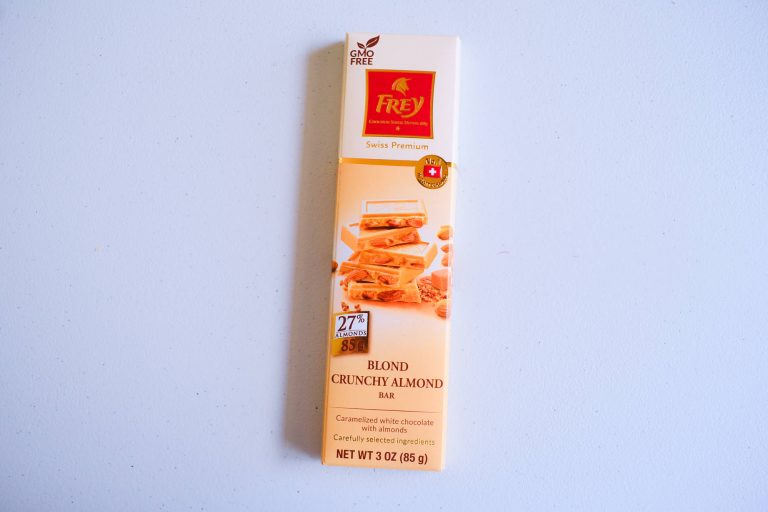 Idahoan – Instant Mashed Potatoes x2 (2.78)
Bleh. I'm a little bummed about receiving instant mashed potatoes again.. Mashed potatoes are the only food in the world that will actually make me barf after just one bite. It's been that way since I was a baby, and I don't think that will ever change. To the food pantry they go!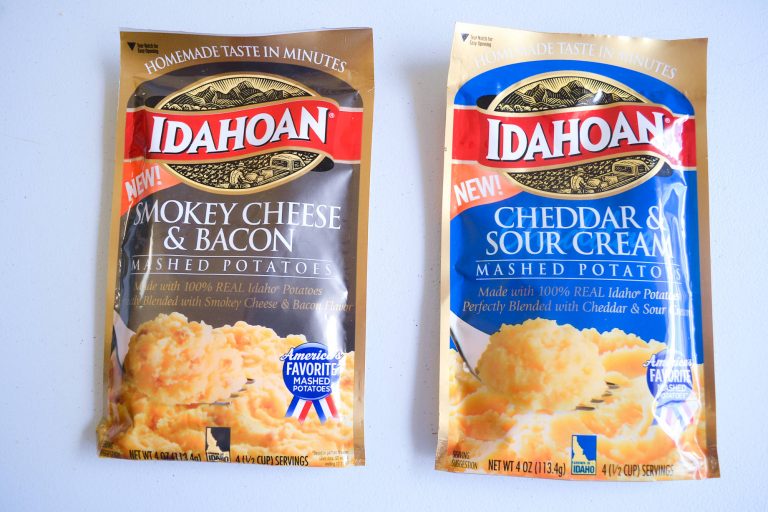 January's box was worth $33.22, which is quite a bit higher than the subscription cost of $19.99. This month's curation included a good mix of snack foods and products you could use to cook. I was a big fan of pretty everything except for the mashed potatoes. The almond blondie bar and the marshmallow rice treats were the stand-out items for me. This month's box leaned towards the sweet side, but I am totally okay with that! Degustabox is such a great way to try out new snacks, while also saving some money.