It's time to share our June Loot Crate DX review! Loot Crate DX is the premium geek subscription box from Loot Crate.  Every month, Loot Crate DX delivers $100+ worth of "next level loot" like exclusive pop culture collectibles, lifestyle gear, premium apparel, and more. With today's Loot Crate DX review we're unboxing the June 2017 Loot Crate DX crate. The June Loot Crate DX theme was ALTER EGO.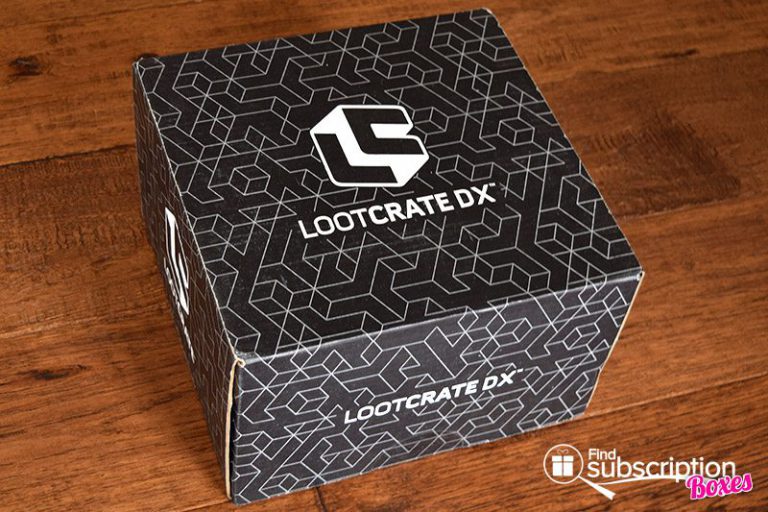 Loot Crate DX includes a nice fold-out brochure with pictures and descriptions for each of the premium geek collectibles in the box.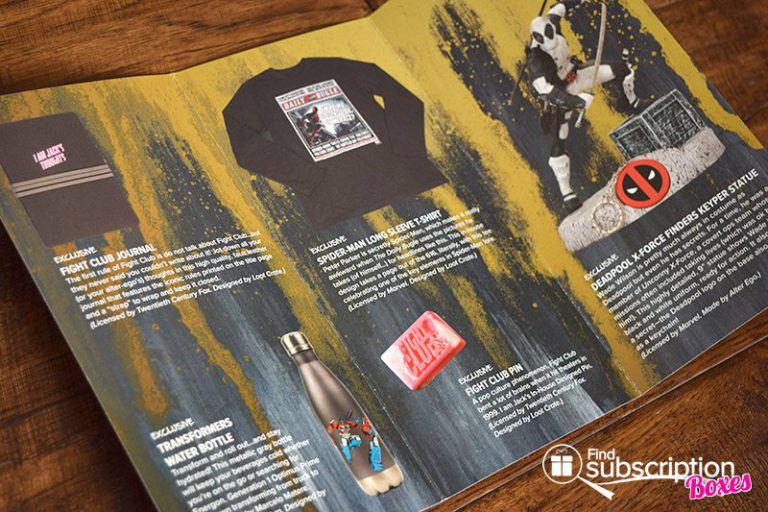 Here's a first look inside our June 2017 Loot Crate DX Alter Ego crate.
Inside the June 2017 Loot Crate DX Alter Ego Crate
There were 5 premium collectibles in the June Alter Ego Loot Crate DX subscription box.

EXCLUSIVE Deadpool X-Force Finders Keyper Statue
Keep track of your keys with this highly detailed 9″ Deadpool statue showing Wade Wilson in his black and white uniform, ready for action.
EXCLUSIVE Spider-Man Long Sleeve T-Shirt
Take a page out of The Daily Bugle with this long-sleeve tee celebrating one of the key elements in Spider-Man lore.
EXCLUSIVE Fight Club Journal
Use this exclusive faux leather journal features the iconic rules printed on the title page and a "strap" to wrap it and keep it closed.
EXCLUSIVE Transformers Water Bottle
Stay hydrated with this gray, metallic bottle that will keep beverages cold when you're ready to transform and roll out.
EXCLUSIVE Loot Crate DX Fight Club Pin
June's Loot Crate DX pin is designed after a bar of soap from Fight Club.
June 2017 Loot Crate DX Review Wrap-Up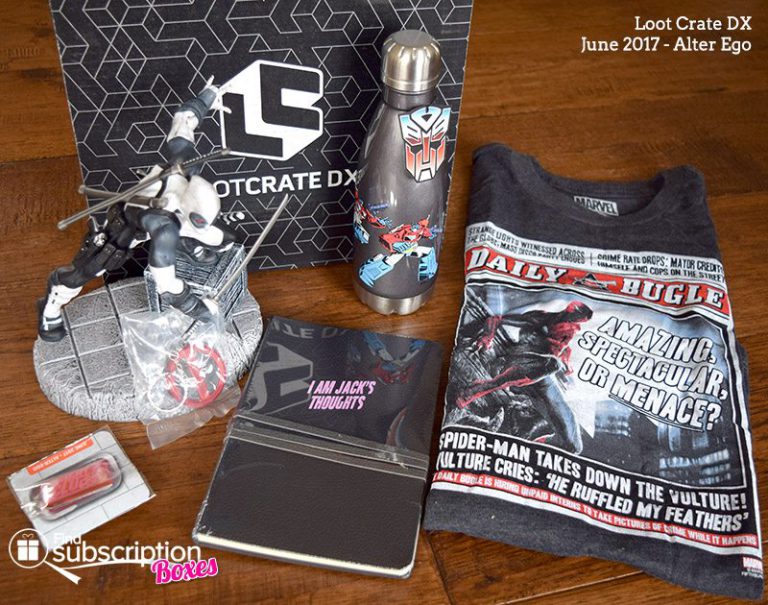 The June 2017 Loot Crate was all about characters with two sides. They kicked off they box with a long-sleeved shirt featuring our favorite web-slinger. This charcoal gray, long sleeve shirt has a the front page of They Daily Bugle printed on the front. We love how it reads like actual headlines from the Bugle.
Our favorite item from June's Alter Ego Loot Crate DX was the Transformers Water Bottle. This water bottle is the perfect size for keeping in your bag. We took it out for some golf and it did a great job keeping the water cool. It's a sturdy metal bottle with a classy  design showing a Generation 1 Optimus Prime transforming. (A t-shirt with the same design was in the June Alter Ego Loot Crate!)
There were two collectibles from Fight Club. The Fight Club journal is a sturdy bound journal with blank, lined pages. The first thing you see are the Fight Club Rules "written" out. Fortunately, you aren't breaking any rules by using the journal for your own notes. You wrap the strap around the journal to keep it closed when you aren't using it. The second Fight Club collectible is June's Loot Crate DX pin. Designed after the Fight Club pink soap bar, it's a nod to the "soap business" from the film.
Finally, the June Loot Crate DX figure was a 9″ tall Deadpool Finders Keyper Statue. This figure definitely makes a statement on the shelf, showing Wade with his sword drawn and ready for battle. The decorations are highly detailed, plus it's a multi-purpose figure. The included Deadool logo keychain holds onto the base so you'll always find your keys.
What was your favorite geek collectible from the June Alter Ego Loot Crate DX crate?
Loot Crate DX Coupon Code
Use Loot Crate DX coupon code LOOTR3 for $3 off any new Loot Crate DX subscription. Use code SAVE10 for 10% off your subscription. Join today!