Every month, Loot Crate delivers a themed mystery subscription box for geeks and gamers. Each Loot Crate box has at least $40 of geek and gamer gear, accessories, collectibles, and other epic loot. With this Loot Crate review, we're taking a closer look at the Loot Crate August 2015 box.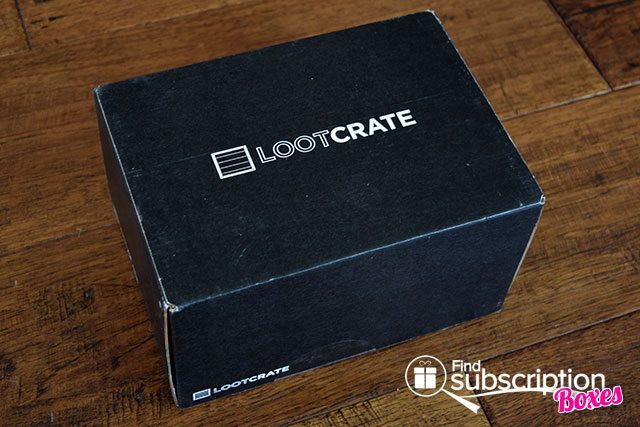 Loot Crate includes a Loot Crate Mini Magazine that features geek culture articles related to that month's theme and with detailed products descriptions about that month's geek loot. A follow-up to last month's Heroes 2 crate, the August 2015 Loot Crate theme was Villains 2.
Here's a first look inside the August Loot Crate Villains 2 crate.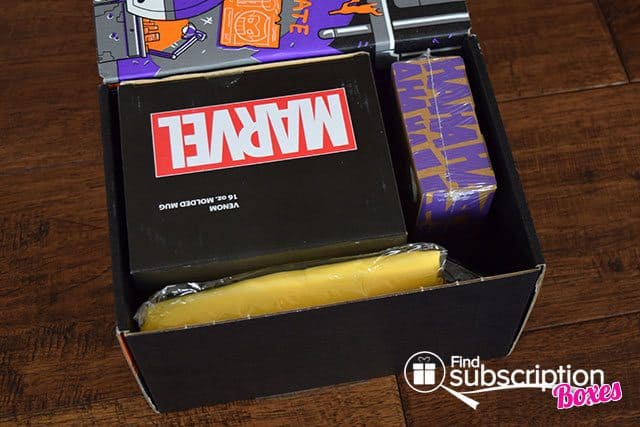 Inside the Loot Crate August 2015 Villains 2 Crate
There were 4 geek + gamer products and a bonus item in the August Villains 2 Loot Crate.

1. Los Pollos Hermanos Apron
Something delicious is always cooking at Los Pollos Hermaons… Breaking Bad fans can use this apron while they cook up something to eat.
2. Captain America Hydra Pin
This authentic hand-crafted replica pin was made using the original digital files of the actual screen prop.
3.EXCLUSIVE The Joker Wooden Figure
Made from eco-friendly wood, this exclusive DC Collectibles figure has interchangeable heads and posable arms.
4. Venom 3D Mug
This 3D mug features a "smiling" Venom. Looters received either a Venom or Carnage mug.
BONUS: Loot Crate Villains 2 Collectible Pin
Loot Crate August 2015 Villains 2 Crate Review Wrap-Up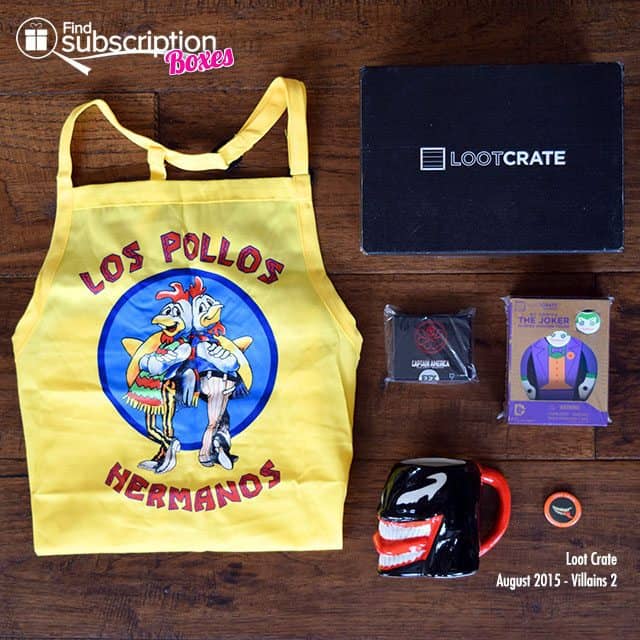 The Loot Crate August 2015 Villains 2 crate was packed with villain-themed items from popular comic and pop culture franchises. This was our first time seeing an apron and a wood geek collectibles in one of our monthly geek boxes.
What did you think of the Loot Crate Villains 2 August geek + gamer box?
September Loot Crate subscriptions close 9PM September 19, 2015! The Loot Crate September theme has been revealed!