The Loot Crate subscription box for geeks and gamers is one of our most popular subscription boxes. Each Loot Crate box has a unique theme and is filled with cool gadgets and collectibles for that month's theme. The theme of the May 2014 Loot Crate box was ADVENTURE.
After opening the box, we got our first look at the collectibles in the May Adventure-themed Loot Crate.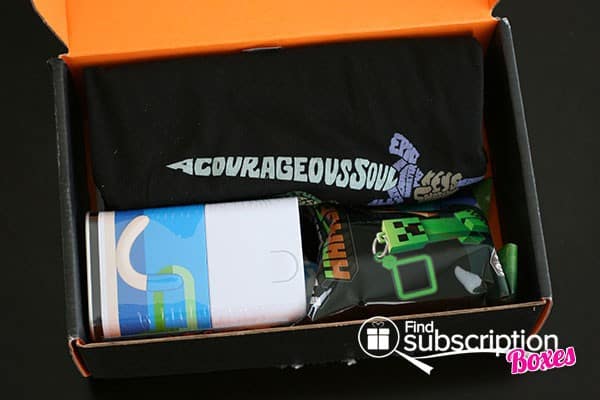 This month's box did not include a Loot Crate Mini-mag but instead will have a new, digital interactive Loot Crate Magazine.
Inside the May 2014 Loot Crate Box
There were 9 items inside the May Loot Crate Box:

1. The Legend of Zelda T-Shirt, Estimated Retail Value: $18.00
Wear The Legend of Zelda t-shirt on your adventures.
2. Funko Adventure Time Figural Tin Mystery Minis, Retail Value: $6.99
Start your collection of Cartoon Network's Adventure Time mystery minis.
3. Minecraft Hanger, Retail Value: $5.99
Clip this collectible Minecraft Hanger Figure on your backpack belt, or use it as a key chain to show off your Minecraft pride.
4. FriendZone Soundtrack Limited-Edition CD, Retail Value: $10.99
Jam to 11 tracks of original chiptune music, including the FriendZone theme song with this limited-edition FriendZZone Soundtrack CD.
5. The Legend of Zelda Keychain Bottle Opener, Estimated Retail Value: $5.99
It's dangerous to go alone! Take this Legend of Zelda Bottle opener on your journeys.
6. Loot Crate May 2014 Adventure Collectible Pin, Estimated Retail Value: $0.50
Show off your Loot Crate loyalty with this collectible pin.
7-9. Exclusive Curator Sticker Set, Captain Sparklez Stickers, Markiplier Temporary Tattoos, Estimated: $1.50
Loot Crate gives a nod to the curators of this month's box with fun stickers and temporary tattoos.
May 2014 Loot Crate Box Wrap-Up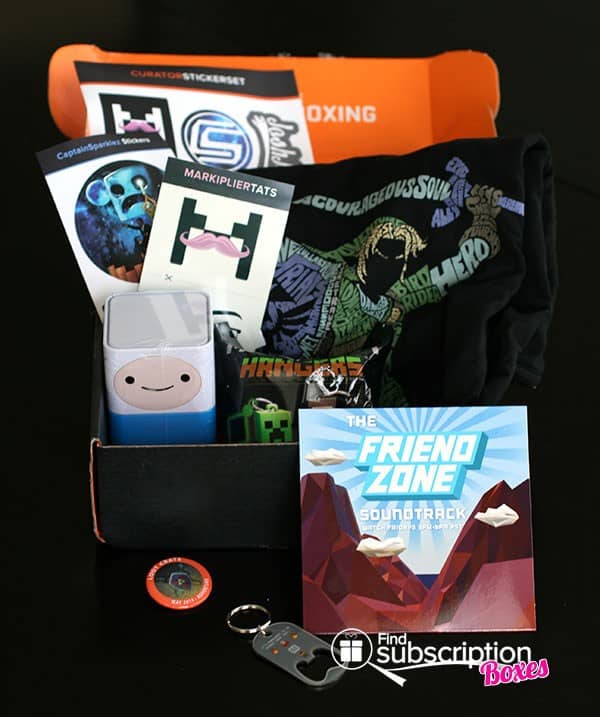 From journey attire (Zelda t-shirt) and tools (bottle opener) to inspirational music (FriendZone soundtrack), the May 2014 Loot Crate box definitely had a variety of items for both the online and RL  adventurer. The total estimated value of the May 2014 Loot Crate box is $49.95 – more than double the price of a Loot Crate box!
Do you want to get your own monthly Loot Crate? Use Loot Crate coupon code FINDBOXES to save 10% off your Loot Crate subscription or use code JUNELOOT to save $3 off.