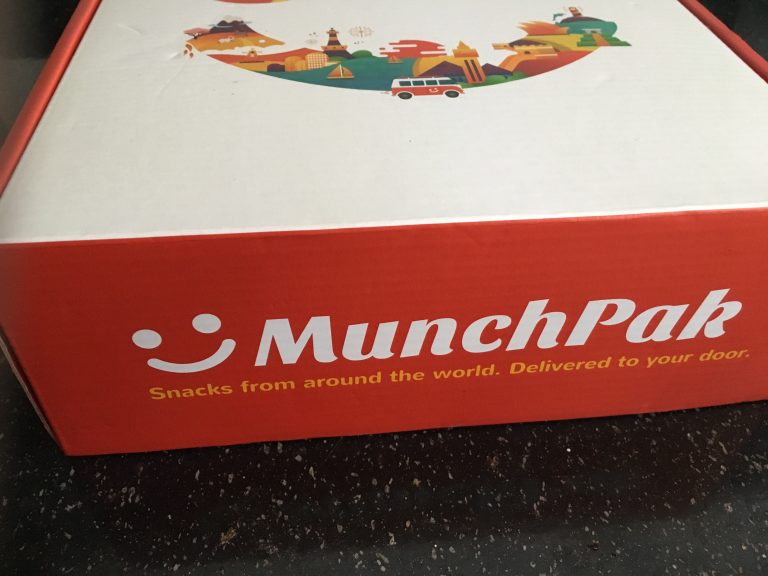 Munchpak is a delicious international snack subscription box. You have the option of choosing the number of snacks you want, whether it be 5+, 10+, or 20+ snacks a month and then varying lengths of subscription each providing more of a discount. The one I will specifically talk about is the Original which comes with at least 10 items per box. The month by month subscription is $23.95 a month, the three month for $68.85, the six month for $131.70, and the annual subscription for $239.40 ($19.95 a box).
Today I will be reviewing the August pack I received. I did get it in September however. Normally it ships really fast and the box did arrive in incredible shape. The snacks were safely packaged in with a piece of paper separating them from the lid. the snacks that had heat were a bit melty but nothing a good fridge couldn't fix.
The top of the box has a little brochure detailing each snack and the  area of the world it comes from. It includes details of the snacks in every possible pack and clearly outlines what is included in each box. I think its a clever way to show you more about what you are trying, especially if oyu like the snack.
First up in the snack box is Abba Zaba's Sour Taffy. This taffy actually comes from the USA, although I have never seen or tried it before. It was one of the more melty items from the heat, however that did not diminish the flavor at all. I tend to be partial to berry blue, or blue raspberry flavors and this was no exception. It is not sour enough to really contort your face, but it is enough to really let you enjoy the flavor. I really enjoyed this snack.
Next up was more of multiple snacks in one. The Mieszko Zozole Green Power Jellies Mix comes from Poland! These are a variety of lemon and apple jelly snacks made with real fruit juices! I love bite sized fruity gummies so these were pretty perfect for me. I also love the packaging on these. The mascot seems really fun and it draws your eyes.
Doritos are basically a staple of american snacks, however I had never had these from Mexico. Suffice to say I will need to order these with amazon or something because Pizzerolas Doritos are now my favorite flavor out there. So incredible words cannot describe. The flavor of pizza really comes through with the solid crunch of the chip.
Then there was the LU Milco Lu Double Milk Sandwhich from Pakistan. This one is a lot like an oreo, but with a different bit of flavor. This cookie comes from an older time period and is supposedly making a come back! I can not say I am a huge fan of this particular snack, but I was able to give these to my girls and they personally loved them!
My other favorite snack in this, coming from Canada. Like I mentioned earlier I love sour things so sour patch kids are a big yes for me on a regular. However, Canada gives us the special and unique Cherry Blasters! These fall under more sweet than sour, but it fits their overall goal not to mention they are absolutely delicious. This is another treat I will be going on amazon to purchase in bulk!
The minute my girls saw this Pei Tien Energy 99 Rice cake from Taiwan, they wanted it, if only for the packaging. It comes in adorable Hello Kitty packaging and is bright and catches your eye. The flavor of this treat is egg yolk which might sound a bit off putting but was actually delicious. The outside is like a hard wafer and the egg yolk inside is a creamy creamy custard which makes for a fantastic mix of textures and flavors!
While it may just be me I see Matilde Vicenzi and immediately think Italy. Good news is I was right on the money! This Italian pastry reminds me of an eclair. Its crunchy and fresh and has the yummy custardy filling. The only thing in my mind keeping it from eclair status is the lack of chocolate cover. However, that does not take away from this delicious treat. It is amazing without.
  Nutella B-Ready hails from Poland, and it is a shame its not near me. I could eat nutella right out of the jar plain. However, adding a wafer makes it like an upgraded version of my favorite snack ever the nutty bars. Its gooey, chocalately, nutty goodness all around with an added crunch to give it even more appeal. This is a definite yes.
I saw this snack from Israel and imagined Funions. Onion flavored Osom Bissli are kind of similar but denser. They are small crispy wheat snacks that are the perfect bite size and definitely pack a flavor punch with the onion. Even opening it up you can smell the goodness right away. It is a good thing Israel created these!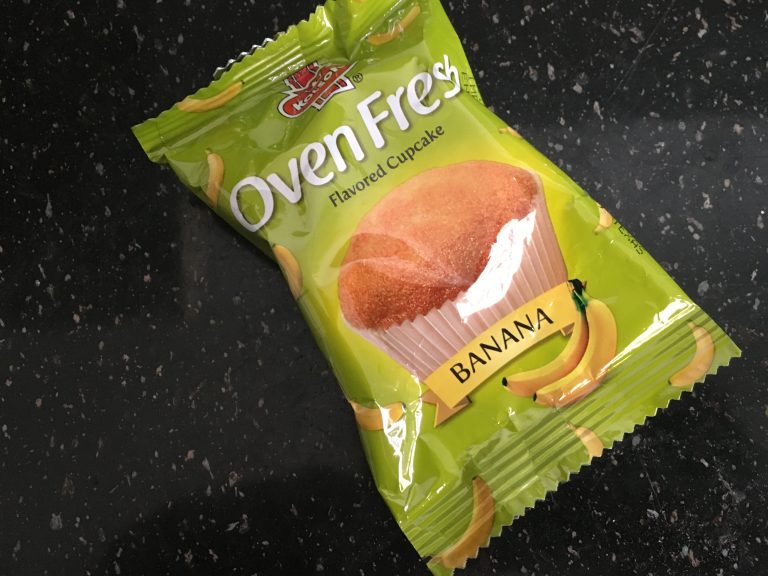 The banana Kolson oven fresh cupcakes are the last snack related item in the box. Coming from Pakistan these are little moist muffins basically! I was happy because they reminded me of banana nut muffins without the nut which instantly made them a million times better. I love the fact that they also came not squished which may sound ridiculous but it was a whole intact muffin!
Now I know I said the last one was the last snack, that is because I would argue that this Mountain Dew from Japan does not count as a snack, but rather as a refreshment.We have nothing like Mountain Dew Violet here. I wish we did. Grape soda is the closest we can get. The elderberry juices mixed in may be the thing that make this drink stand out in every sense. It is bubbly. The flavor is intense and amazing. And even typing about it now I want more. Can I have some more please?
Munchpak delivered so many amazing snacks and an incredible drink. The price was factastic of course, but the best part was that the enjoyment just kept coming because of how many good snacks there were. I highly recommend giving this a go by clicking here!