For just $24.95/month (or less with 3 and 6 month subscriptions) The Handy Box delivers $40+ worth of handy tools and gadgets to your door. This November, The Handy Box is giving away a The Mega Handy Box! One The Handy Box subscriber will be randomly selected to receive The Mega Handy Box prize IN ADDITION to their November The Handy Box!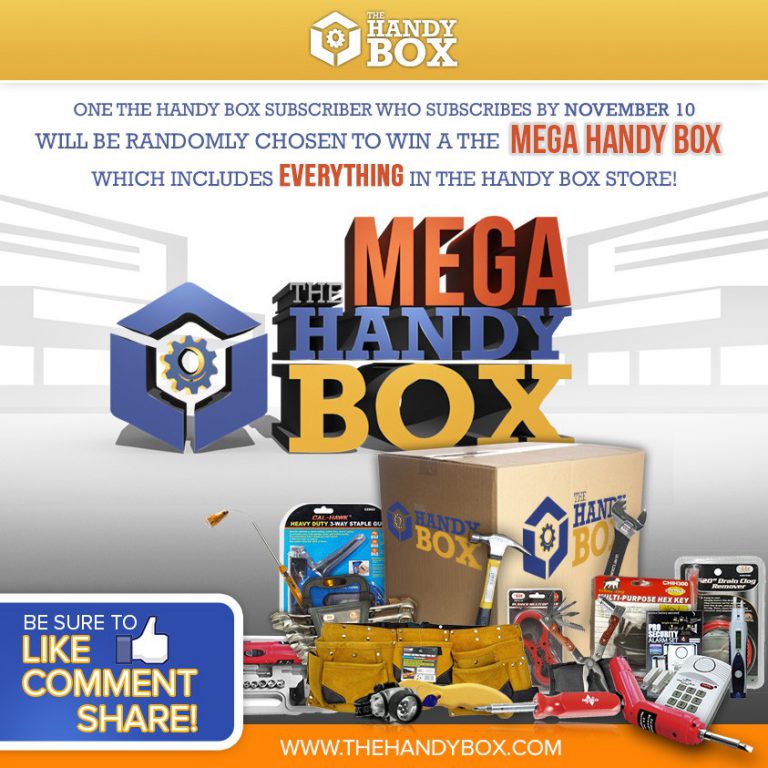 November's The Mega Handy Box includes one of EVERYTHING in The Handy Box store including:
41 Piece 3.6V Cordless Screwdriver Kit
Multi-Function Tool with LED Light
Double Leather Pouch Tool Belt
Secure Pro Keypad Alarm System
Magnetic Pickup Flex Head Telescopic LED Flashlight
Cal Hawk Heavy Duty 3 Way Staple Gun + included Staples
10″ Adjustable Rapid Wrench
5-Piece Combination Wrench Set
7 LED head Lamp
16 oz Rip Fiberglass Hammer
Neiko 6 in 1 Acetate Screwdriver
Multi-Purpose Pocket Tool
Dual Blade Package Opener
Multi Purpose Hex Key
Rubber Multi Opener
20″ Drain Clog Remover
The total retail value of the November The Mega Handy Box is over $245!
You have to be a The Handy Box subscriber for your chance to win. Subscribe to The Handy Box by November 10, 2014 to be eligible to win the November The Mega Handy Box. Use The Handy Box coupon code 2HANDY to save $2 off any The Handy Box subscription.
Want to see what's in a The Handy Box? Read our review of the September 2014 The Handy Box to see what tools and gadgets were in our September box!