I love cooking, but sometimes it can be easier to just go out to eat. However, going out to eat too frequently can be hard on your wallet and your health. So this week, I tested out Plated – a subscription service that provides both the convenience you need and the taste you crave!
How It Works
Plated has an extensive menu to choose from, with several vegetarian and pescetarian options. Every week, the menu is updated with 20 new options to choose from! Each meal is made from high-quality ingredients such as responsibly sourced meats, sustainable seafood, and seasonal produce. You can pick which meals you would like to receive, and they will send you the ingredients and recipe cards. These are Plated's current subscription options:
2 Serving Meals ($11.95/serving)
2 nights per week: $47.80
3 nights per week: $71.70
4 nights per week: $95.60
3 Serving Meals ($9.95/serving)
2 nights per week: $59.70
3 nights per week: $89.55
4 nights per week: 119.40
4 Serving Meals ($9.95/serving)
2 nights per week: $79.60
3 nights per week: $119.40
4 nights per week: $159.20
Plated is running an offer that is good until May 31, 2018. First time subscribers will receive 25% off each of their first four qualifying orders. This is a great deal that will help you save a significant chunk of cash!
My Box
My Plated box arrived around noon on my chosen delivery day. I was home to bring it inside, but it would have been fine sitting outside for a few hours. It was packaged well, and was filled with insulation and an ice pack over the meat.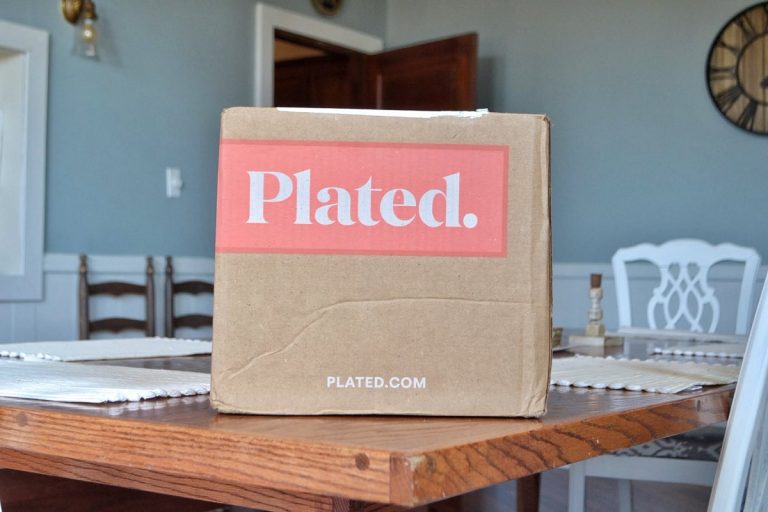 As with all food subscription boxes, I get a little sad when I see all of the packaging material. However, the box is recyclable and my jute insulation is compostable. Some boxes contain denim lining made from materials that have been recycled numerous times. Denim lining can be reused, or donated to a textile exchange in your area. Leftover perishable ingredients that are not shipped out are donated to local food banks and organizations. I love seeing that Plated is trying to reduce their environmental footprint!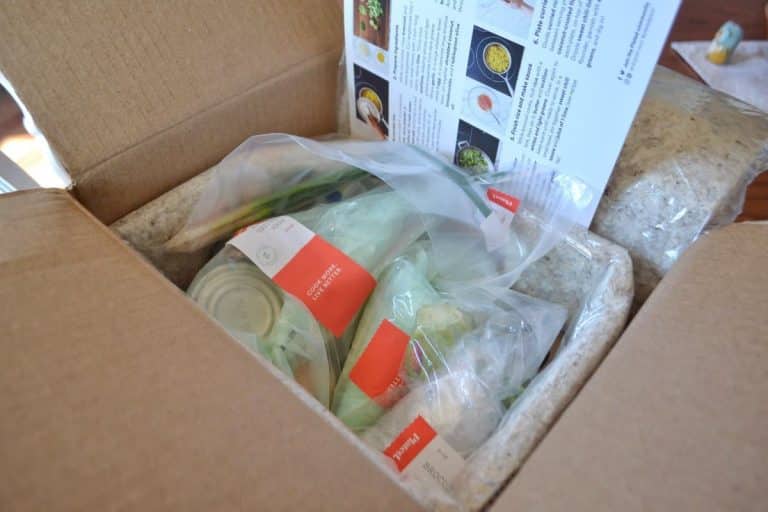 This week, I chose to make Coconut Crusted Flounder and Beer Braised Chicken. In the photo below, you can see everything they sent: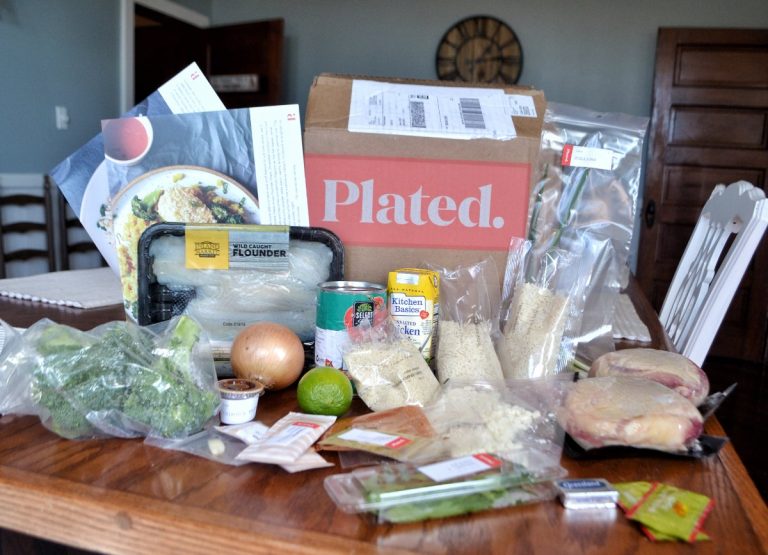 The first night, I made Coconut-Crusted Flounder with Curried Rice and a Sweet Chili-Lime Sauce. I received all of the ingredients needed to make it, except for one egg. I was a little confused when I saw that, because I have received eggs from other food subscription boxes. However, I had eggs in my fridge so it was not a big deal. All of the produce was fresh, which was especially impressive considering they had sent green onions. I know how quickly green onions can turn slimy, but these were perfectly crisp!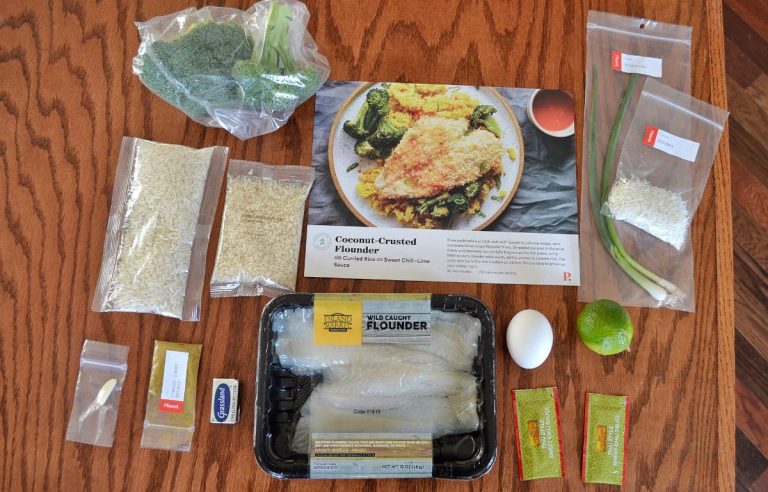 First, I prepped my produce. There weren't too many vegetables in this dish, so it only took a couple minutes.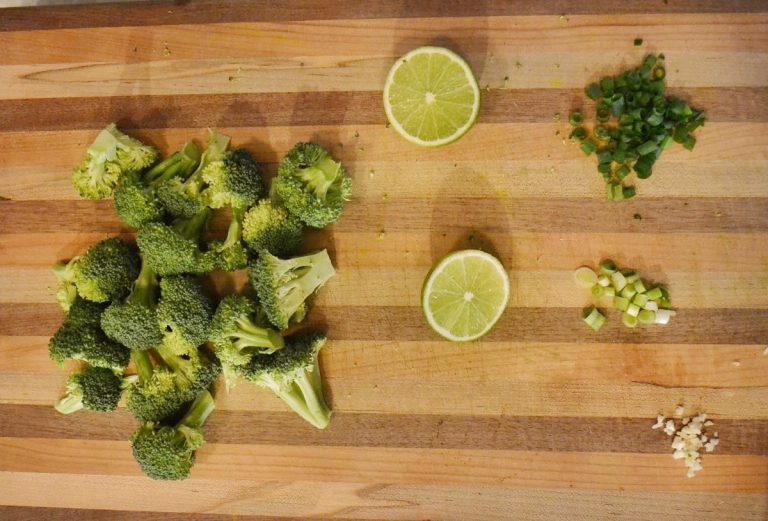 Next, I worked on the curried rice. Oh my goodness, this smelled so good while cooking! The fragrant smell of curry powder was filling my kitchen.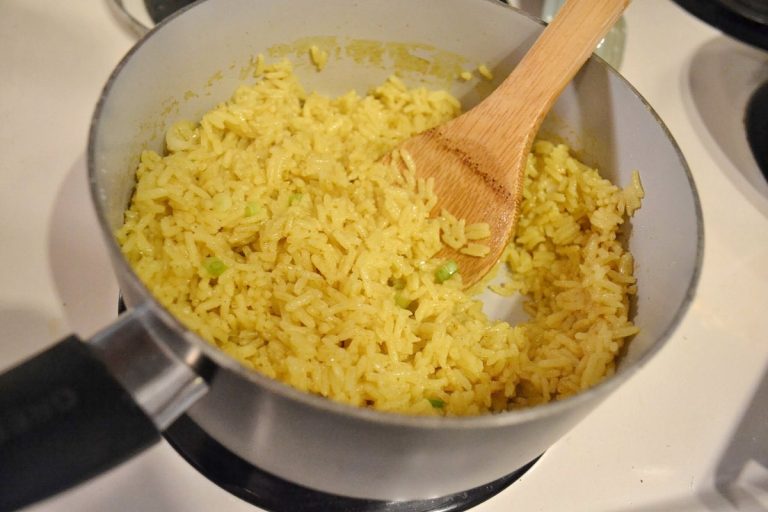 While the rice was cooking, I dipped the flounder fillets in eggs, breadcrumbs, and dried shredded coconut. Into the oven it went!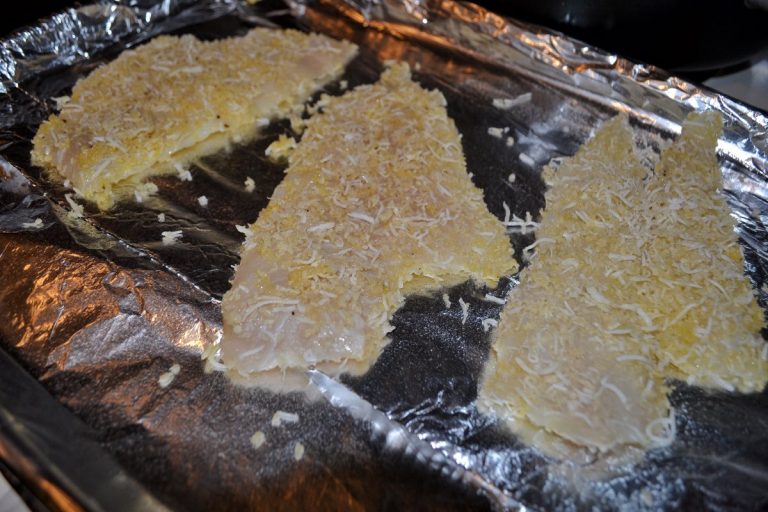 On the stovetop, I browned some broccoli, along with a little garlic, salt, and pepper. While it was cooking, I made an easy chili lime sauce by mixing the juice of one lime with Thai Style Chili Paste.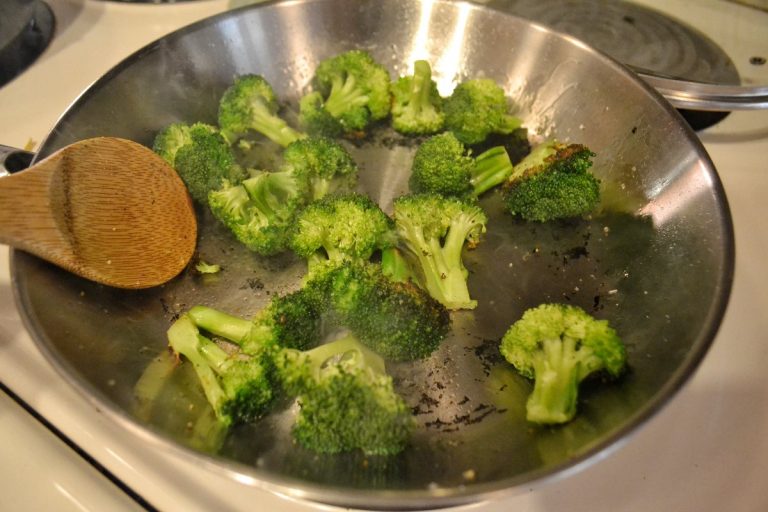 This recipe was planned out very well, because the fish, rice, and broccoli were all ready at the same time. I plated the flounder on top of the rice and broccoli, and drizzled the Thai Chili Lime sauce on top. Oh my goodness, it was so good! It didn't taste like coconut whatsoever, but the coconut flakes gave it a very crisp and crunchy crust. The flounder itself was moist and flaky.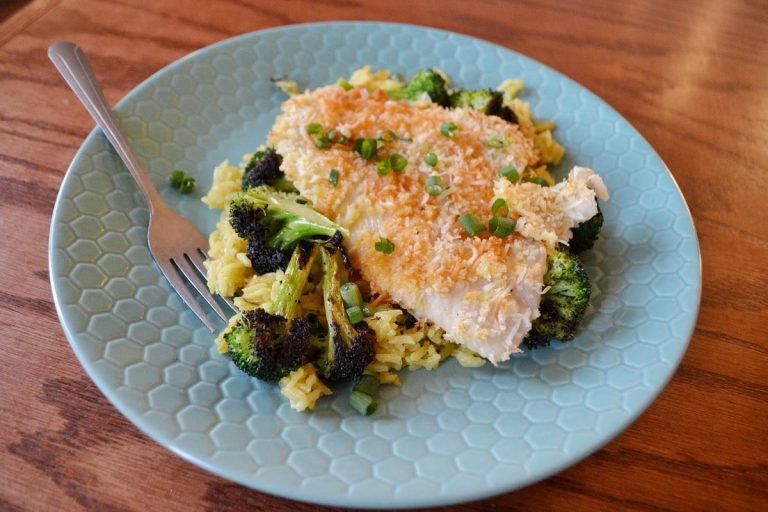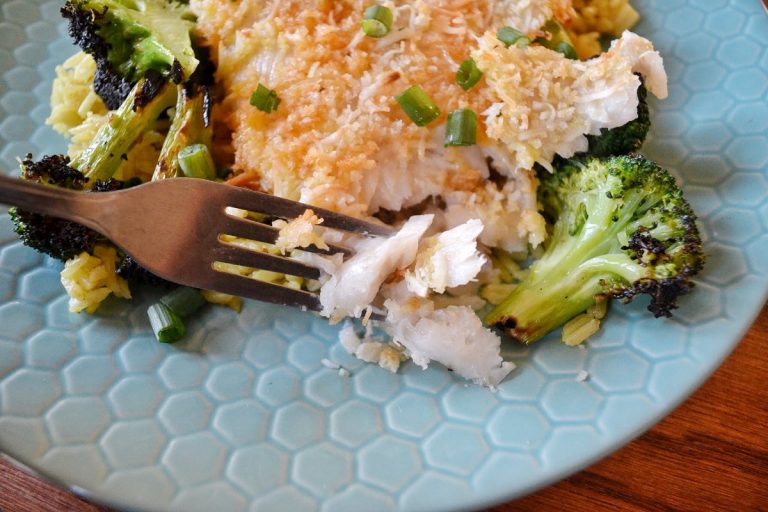 The next night, I made Beer Braised Chicken with Rice and Queso Fresco. I normally don't make chicken, so I was a little nervous about undercooking or overcooking it. I was hoping that this recipe would help it come out perfectly done! Let's see how it goes.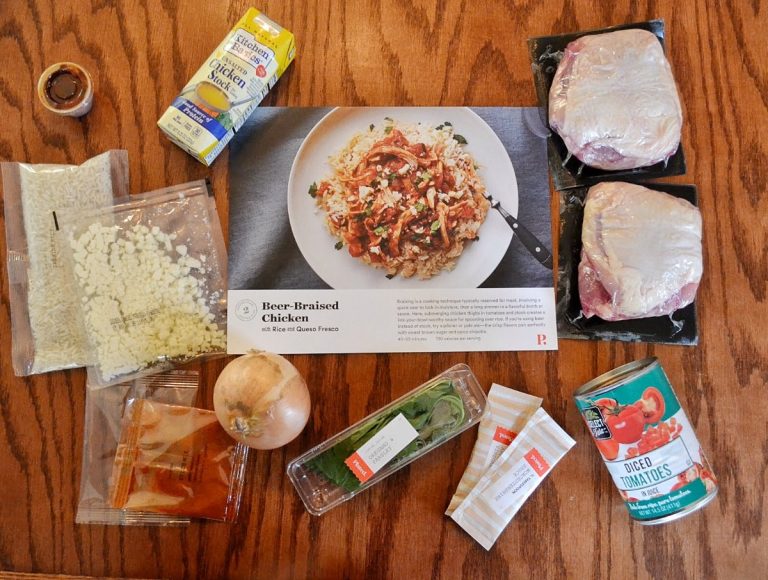 First, I chopped an onion, parsley, and some oregano.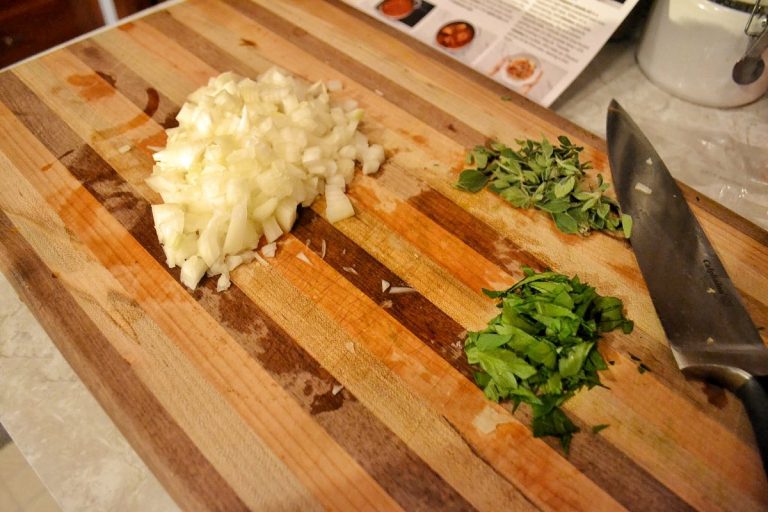 I sprinkled the bone-in skin-on chicken thighs with a spice mix and salt. I seared the thighs, and removed them from my pan. While the thighs were searing, I made a batch of rice on the stove.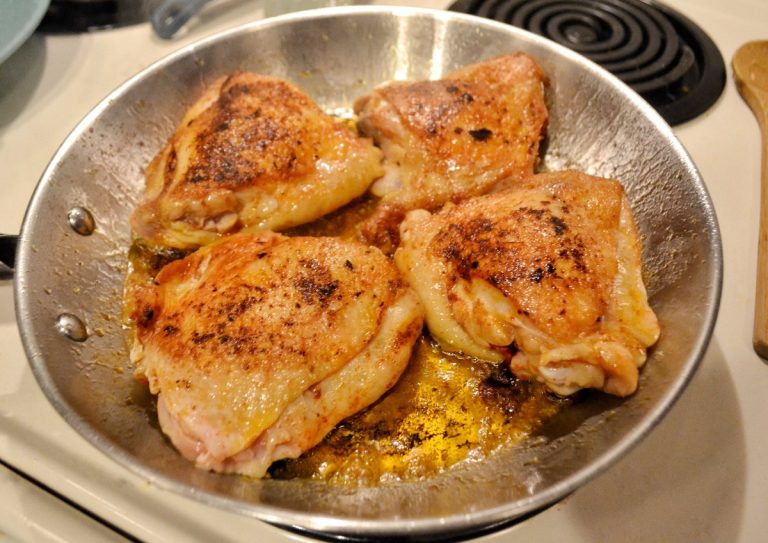 Next, I sauteed the onion with some oregano until it was nice and soft. This part smelled so good!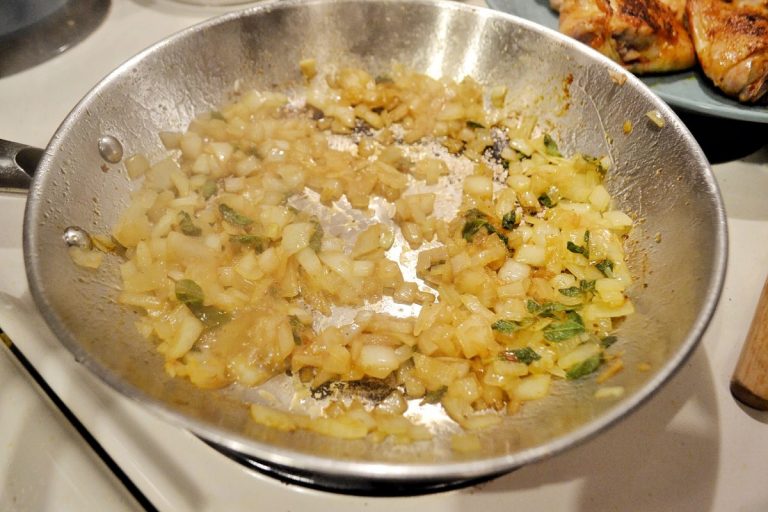 I then added apple cider vinegar, Worcestershire sauce, brown sugar, diced tomatoes, and chipotle paste to the pan.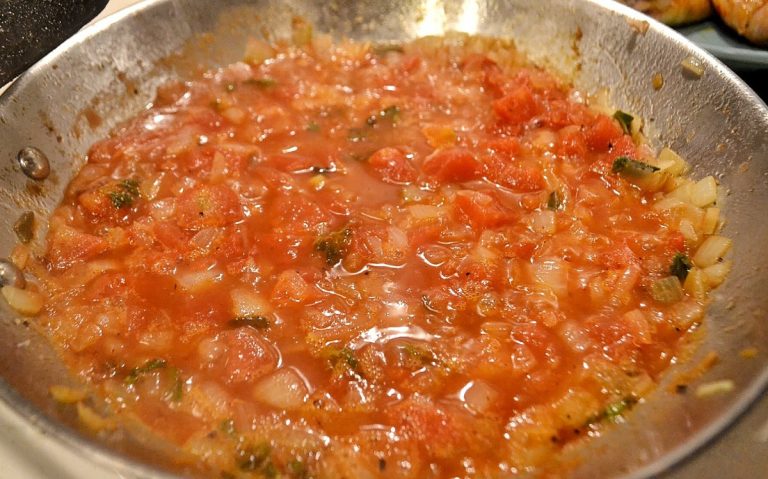 Next, I added 1/2 cup of Bud Light Lime to the pan. This was the only beer I had on hand, and I figured the lime would go well with the other ingredients.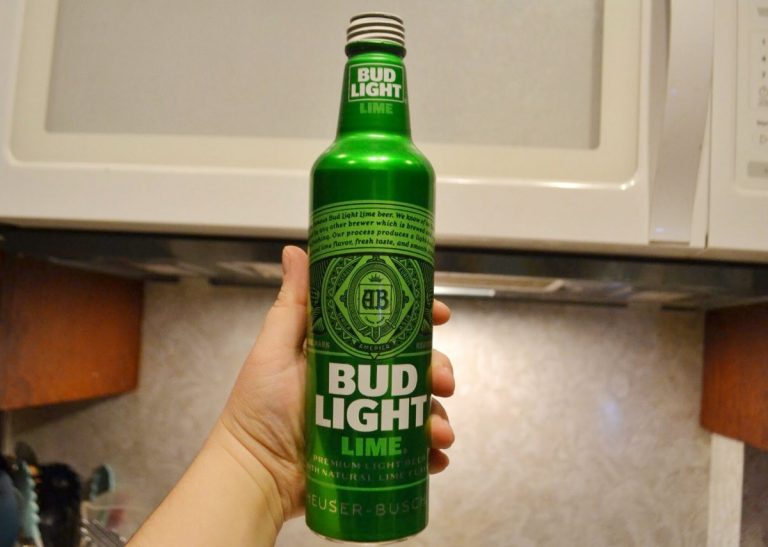 When the sauce was finished, I returned the chicken thighs to the pan and placed it in the oven for 20 minutes. When the chicken was done cooking, I shredded it and thoroughly coated the meat in sauce.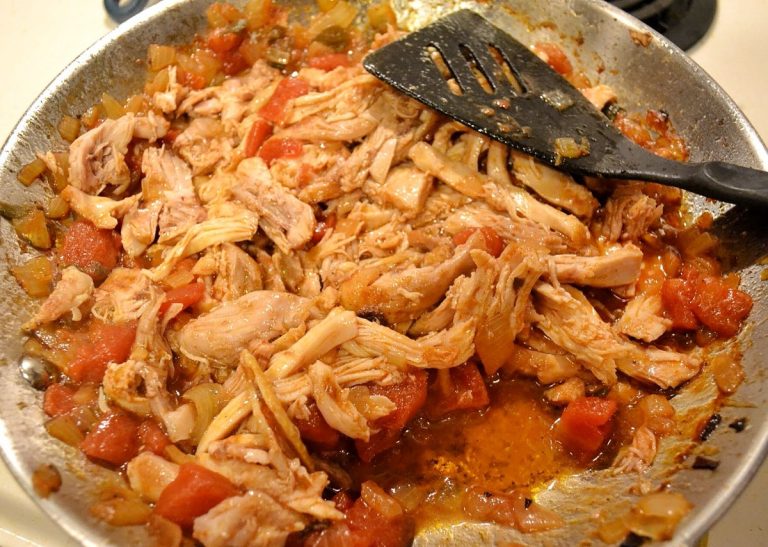 I plated the chicken on top of a bed of rice, and topped it with parsley and queso fresco. The chicken was incredibly tender and flavorful, and this was my favorite meal out of the two. My boyfriend loved it as well! This recipe took me nearly an hour to make (they have a lot of lower-prep-time options as well), but I enjoyed every second of it.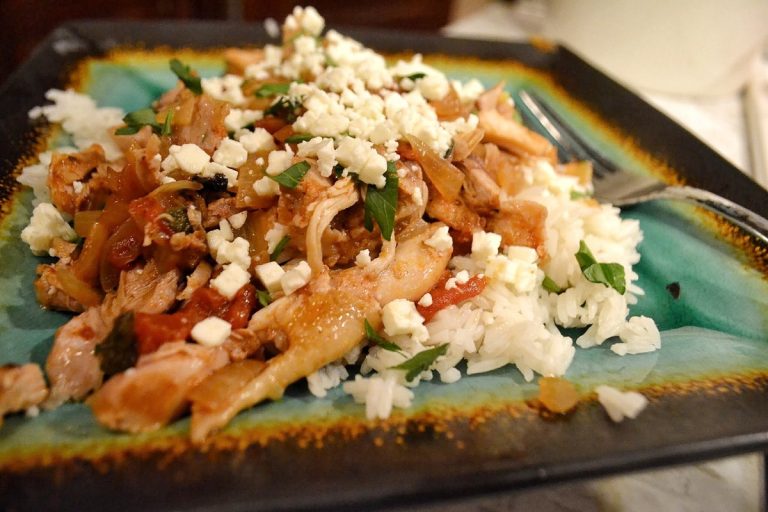 Wow! Both meals turned out fantastic, and were definitely better than what I make on a normal night. Keep reading for my final verdict: