Tired of asking that dreaded question, "What's for dinner?" Whether you're on the asking-end or the receiving-end of that question, one thing is for sure: planning creative, delicious meals everyone looks forward to every night of the week is exhausting.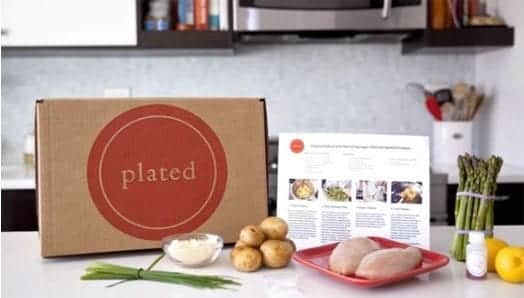 Thankfully, you can skip the exhaustion and frustration with one simple solution: Plated.
Plated is designed for people who love food and who want to love it even more. With chef-designed menus featuring global inspiration, Plated is the easiest way to make preparing and cooking meals fun again.
What makes Plated unique when compered to other meal subscription plans?
20 recipes to choose from each week
Customize serving sizes for your family and gatherings
Mix and match dishes to curate your meals
Dessert is included!
Each Plated box comes complete with perfectly portioned, precisely prepared fresh ingredients so that you can spend your time enjoying your home-cooked food. Offering some of the finest ingredients you'll find in subscription plans, Plated is the premium foodie brand for a reason.
In-season produce
Healthy meats without antibiotics
Artisan ingredients
Sustainable fish
Trusted partners
Plated allows you to choose how many meals you want delivered each week (2, 3 or 4) and how many servings you want for each meal (2, 3, or 4). Giving you the option to customize which days you want your meals to arrive each week, Plated offers flexibility that other meal subscription boxes don't. Starting as low as $9.95 per serving, Plated offers you quality, home-cooked meals at a price that is still less than most take-out or restaurant options.
Featured in Money as "the best meal-kit service on the market," experts estimate that a subscription to Plated can save you 12% (or more) on your monthly meal expenses.
Insulated, organized, fresh, and easy, the meals you've been craving are waiting for you at Plated.