Gwynnie Bee is a monthly clothing rental subscription box for women sizes 10-32. It helps women discover and experience new clothing without limitations. Gwynnie Bee sources 150+ brands and 2000+ styles from the best plus size designers to provide you with an amazing fashion journey for any occasion and any style.
To get started, log into Gwynnie Bee and add styles into your virtual closet. Select how many items you would like to rent, at any time, with your Gwynnie Bee subscription—from 1-10 items. Gwynnie Bee will send you the item(s) for you to wear as long as you want. Return it when you want a new style or buy it to keep. Enjoy unlimited free shipping and clothing exchanges every month.
After you log and set up an account, add items, and pick your plan, the items are shipped quickly—I received my first shipment within three days of completing my Gwynnie Bee Closet. A shipping notice is emailed, so you can track with an estimated arrival.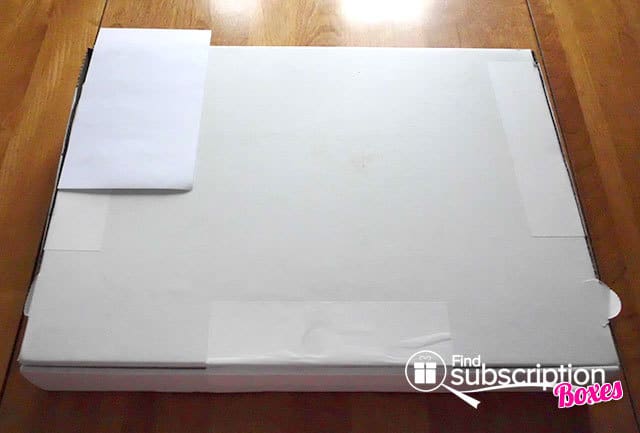 My first Spring Gwynnie Bee box — which was gift-wrapped in tissue — included three tops in great condition and an envelope with cards explaining how it works. Items are tagged so I knew which items were dry clean only (the items are cleaned before sending to the subscriber.) The Gwynnie Bee box also includes blue bags for exchange—prepaid US postage included.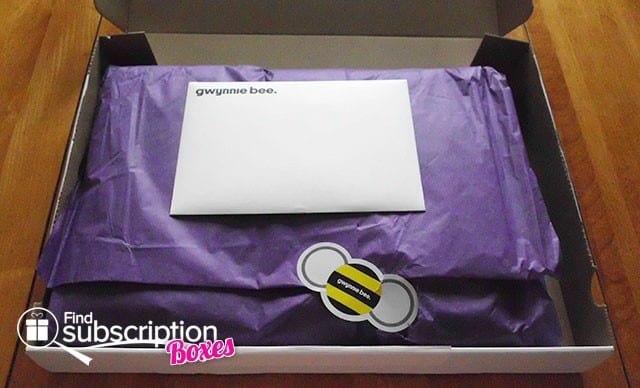 My first item was the Karen Kane Leopard Print top, which I liked a lot, but after wearing it a few times I decided to return it. The second top was the Karen Kane Cheetah Print Mesh Top. This top was a bit sheer for my taste and had a handkerchief hem that wasn't my style, so it immediately went into the blue bag. I loved the last top, the Karen Kane Mix & Match Contrast Hem Tunic, but it was similar to a black top I already own, so I decided to return it as well. There's no need to launder or dry clean the items before returning—Gwynnie Bee does that for you! Just pop it in the postage-paid bag and return by placing in your home mailbox (if it's big enough) or drop it at the post office. How easy is that?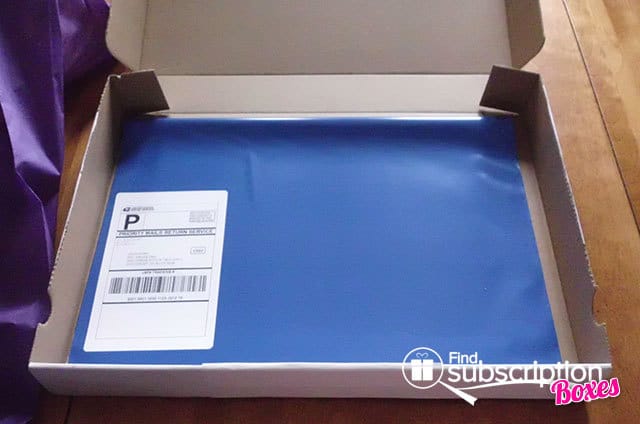 Items are constantly being added to the website, so you can add and delete items to your closet at any time. When you have a shipment, you can see the cost of an item should you choose to keep and buy it. The item is discounted, sometimes up to 50% off retail. The credit card you use for the flat rate subscription is billed after you click "buy."
There was a very quick turn-around time for my second shipment, and this time there were four items: two skirts and two dresses. I received the Spruce & Sage Navy Mesh Insert Ponte Dress. It had a nice ponte fabric but it just wasn't quite the fit I wanted, so I decided to return it.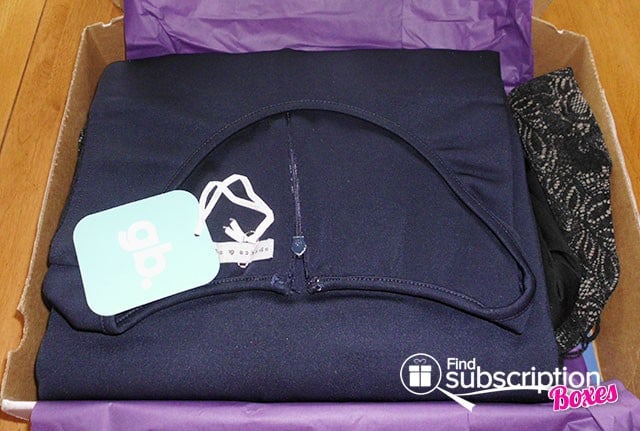 The second item in the box was a Pink Clove Floral Pencil Skirt I really wanted and had hoped it would come before an event—yay! I decided to keep it for now and will probably buy it. And, it has an unbelievable price—a big factor in keeping the skirt for now.
The second skirt was a favorite in my closet, the Poppy & Bloom Pencil Me In Houndstooth Skirt in Black & White. Unfortunately,  the fit wasn't quite right, so I decided to return it. The final dress in the box was a London Times Scroll Lace Faux-Wrap Dress, and again the fit wasn't quite my style, so I'm returning it. The last two items were nicely lined pieces.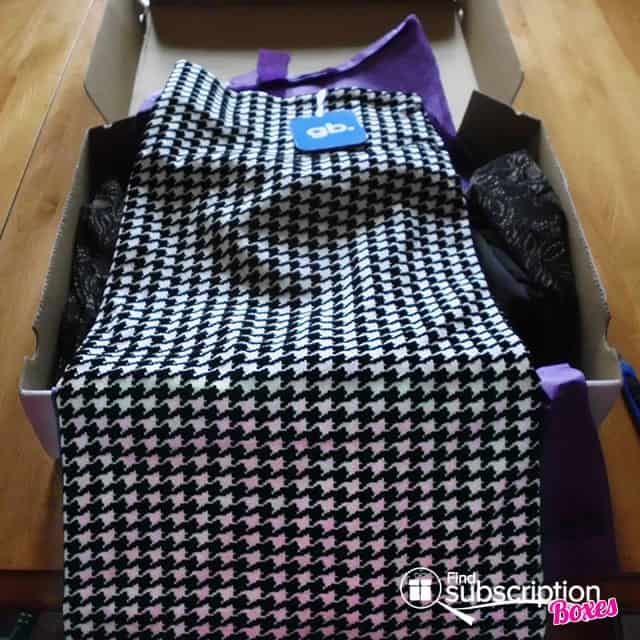 I like how Gwynnie Bee explains the sizing on the site, since it can vary by brand. The tags which let you know whether or not an item is washable or dry clean-only are very helpful. The pictures and item description on the website really give the subscriber a good idea on fit, drape, length, if the item has special characteristics such as a keyhole opening on the back, a fan back, zipper over the mock button-up front, etc…
Another helpful tool on the site is the comment section from other subscribers which give a good idea on how true-to-size an item is, if you should wear a camisole with it, and other helpful hints and feedback. In addition, the Gwynnie Bee site is set up so you can look and fill your closet with the "lookbook" feature like a magazine layout, by collection, by new arrivals, clothing, by body shape, and there are sub-sections under those, too. You can eliminate sizes, colors, prints, or do a variety of each to narrow your choices. The models are real-size women in various sizes, and the clothing has a lot of variety for day, evening, casual, dressy, and most any occasion. In addition, there's a blog which has some member submitted photos. It's really easy and user-friendly.
Gwynnie Bee is a fun way to have a varied wardrobe and to change clothing for the seasons without a huge financial commitment. You can choose your closet 24/7 from home—it's good to keep a large selection in the closet for the next shipment. Notifications for shipments and exchanges or purchases are right in the closet, and if you need a personal consultation—you can email for a chat with a stylist for recommendations.  There's also a very helpful FAQ section which can answer many questions.
There's no limit to how many time you exchange or keep items as long as you're subscribed. I am really happy with the Gwynnie Bee subscription services and am looking forward to my next shipment.
Do you have a favorite Gwynnie Bee Spring style? 
Try Gwynnie Bee for Free!
For a limited time, get your first month of Gwynnie Bee for FREE! Subscribe to the Gwynnie Bee Free Trial and get 30 days of unlimited swaps for free. Subscribe to Gwynnie Bee today!