Gwynnie Bee is a monthly clothing rental subscription box for women sizes 10-32. It helps women discover and experience new clothing without limitations. Gwynnie Bee sources 150+ brands and 2000+ styles from the best plus size designers to provide you with an amazing fashion journey for any occasion and any style.
To get started, log into Gwynnie Bee and add styles into your virtual closet. Select how many items you would like to rent, at any time, with your Gwynnie Bee subscription—from 1-10 items. Gwynnie Bee will send you the item(s) for you to wear as long as you want. Return it when you want a new style or buy it to keep. Enjoy unlimited free shipping and clothing exchanges every month.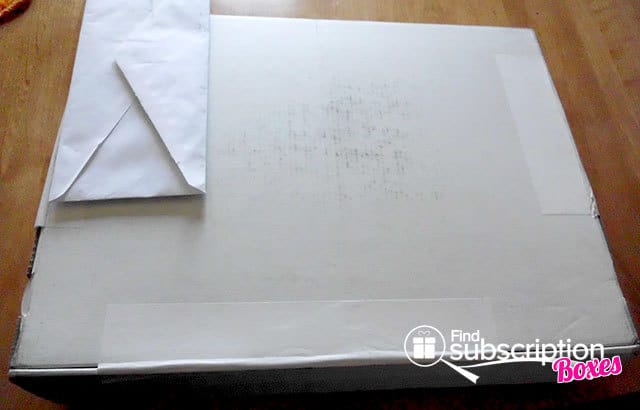 I've received several shipments, and I was excited to receive my latest—it had lots of floral prints which was nice for Spring. As a recap, the items in your closet are sent randomly, so the florals were a nice surprise. Per usual, clothing arrives in a nice box, wrapped in tissue, and care instructions are attached to each item. In addition to the three floral tops, there was one solid sweater. Even though my subscription is for three items, there was a promotion for a bonus item as a free upgrade.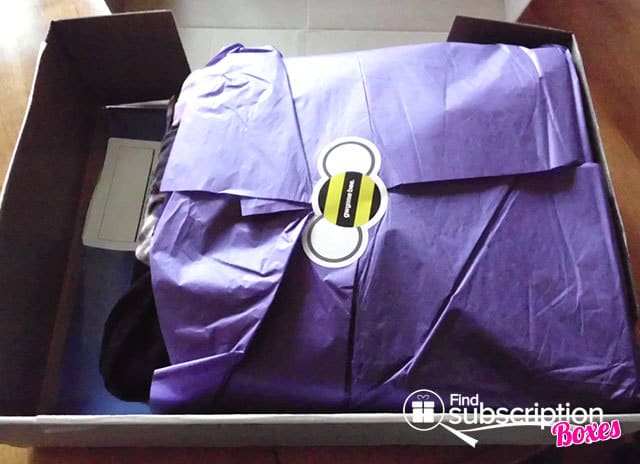 My favorite was by XTWO–Bevlyn, a floral tunic in jersey knit, with a tie at the collar which made a small keyhole when tied. One of the most recently added items to my closet, it's very comfortable, and there was a limited-time opportunity to buy with an extra discount, so I bought it. I've received several compliments on it, too.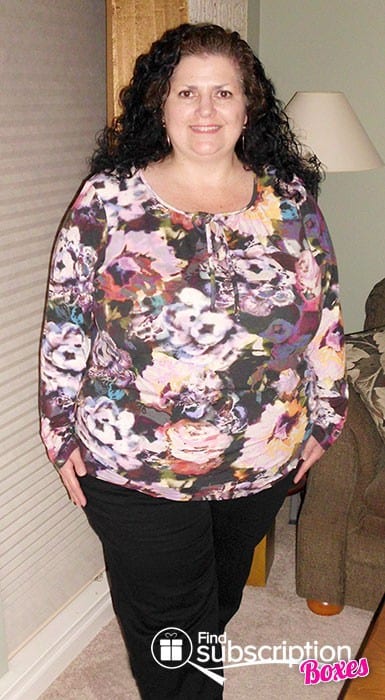 The next floral was also by XTWO—Belladonna, a longer jersey tunic with a black band at the bottom. I think it had the same floral pattern as the Bevlyn, but more of an a-line shape. It's the kind of top which can be worn with jeans or paired nicely with leggings. Since I already bought the Bevlyn, I returned the Belladonna.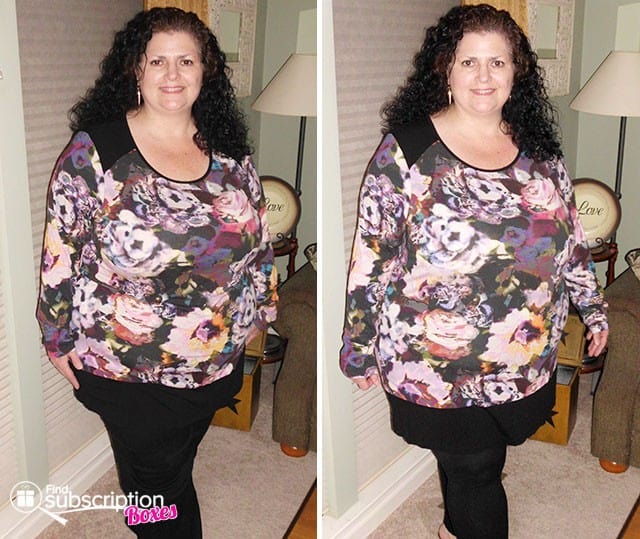 Another floral top was by BB Dakota—Lilac, a French terry knit. It was a relaxed fit with a slightly boxy shape—more casual than the other two floral tops. I also returned it after wearing it a time or two.
The fourth item was also by BB Dakota—Mallen, a black lightweight sweater in a waffle knit. It was very nice for the cooler days of Spring. I was very tempted to buy it, but ultimately, I decided to return it with the other two items in one of the postage-paid blue bags included with each shipment.
Since it's Spring, a nice feature Gwynnie Bee offers is the option to put a "Hold" on items. Go to the closet, and if you decide to leave an item there which may be suited for another season—a sweater or long-sleeved item, etc…–you can click "Hold," and the item will remain in your closet, but it won't be shipped until you release the hold.
Another feature I noticed when purchasing the Bevlyn is Gwynnie Bee has a section called "Shop"—an exclusive, members-only online store to buy favorite, limited items outside of the regular subscription plan before they disappear. The items usually have a 70% or more discount.
As always, Gwynie Bee is adding new items to the online collection, so I find myself looking for new items to add to my virtual closet. It's very fun to look through all the selections and chose items for the closet with no obligation to buy. I look forward to each shipment—you never know what you'll get, but you know it's something you've selected. I love trying on the clothes in the comfort of my own home and, as always, you can keep and buy or return for free!
Gwynnie Bee Free Month Offer
For a limited time, sign-up for the Gwynnie Bee free trial and get your first 30 days of Gwynnie Bee free!