Full-size beauty items instead of tiiiiiiny little samples is what BOXYCHARM is all about. Makeup. Skincare. Beauty tools. Color cosmetics. Look for a curated box of goodies on your doorstep each month as you grow your collection of items that transform the everyday into something a little more beautiful.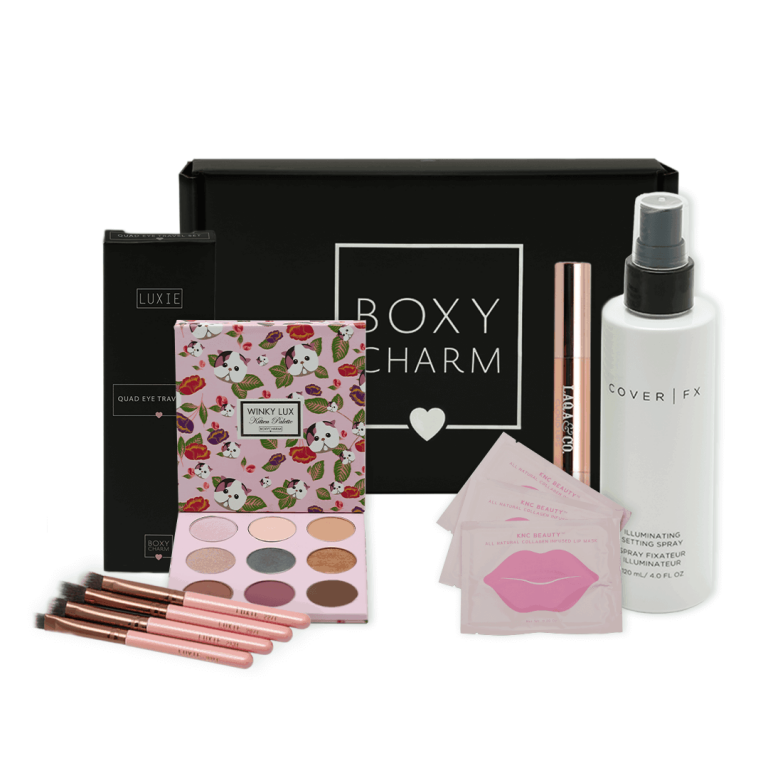 Become a Charmer and cash in on the savings, for each Boxycharm has a value of $100+. Brands range from those you've probably heard of like tarte, bareMinerals, Colour Pop, Smashbox, and OFRA to brands that are just now hitting the market and making their way into the more mainstream. Look for a few new favorites in each Boxycharm that arrives. Past Boxycharm have included makeup palettes, lip glosses, lotions, compact mirrors, highlighters, makeup brushes, and accessory kits, but anything is fair game in the world of Boxycharm.
In addition to a monthly subscription, Boxycharm comes with tutorials and a whole community of Charmers who are ready to talk about skincare and geek out about makeup in the same way that you do. Members-only offers is another way you can score the best brands in beauty. You can up your chances of winning free products through BOXY-Giveaways and receive rewards to redeem in the Charm Shop.
Prices for Boxycharm depends on how many boxes you're hoping to score. For just one month, the cost is $21, but if you're hoping to have ongoing deliveries throughout the year the deal gets sweeter and sweeter. For 3 months, the price is $19.66/month; for 6 months, the price is $19.33/month; and for a whole year, with one box coming each month with a wide range of beauty products to add to your blossoming collection, you only pay $19.25/month. That's less than $20/month for a box that has more than $100+ of product value! Monthly subscriptions automatically renew, but if you find that you have more than enough beauty items to last you a lifetime, you can cancel at anytime.
As of now, Boxycharm only ships to the contiguous US, but their community on Facebook, Twitter, and Instagram is available to anyone anywhere who wants to chat about beauty and makeup and the latest trends in both.