If you've been looking for all the right tools to have the best date month after moth, Datebox has everything you need. This box isn't for a single person, it's for your very own relationship.
Datebox perfectly suits the needs of you and your partner. How? Magic. No really, no matter if you love to go out or you two prefer to stay at home all curled up on the couch, the experts at Datebox have a wide range of creative ideas to deliver the perfect date to you (in a box) month after month. Quality time together matters. Make your love a priority.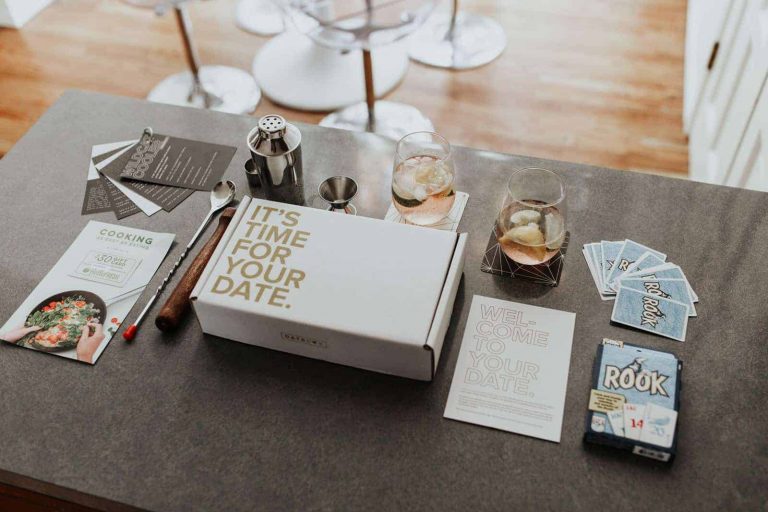 Your date will arrive on the 15th of every month and your date can be in-home or one that gets you two out and about. If your date arrives and it is one to be celebrated in your home, look for specially curated activities, snacks, and items that can have romantic flair, international accents, or a little bit of the artistic.
If you prefer to go out and have a date on the town, you'll receive in your Datebox a downloadable Date Guide which will give you two unique voucher codes to redeem at specific date locations, conversations starters to talk (and laugh!) through, custom Spotify playlists, and even free rides and directions.
With subscriptions, everything is paid for and prepped just for you two. You can pay per month or per date, depending on how you want to run the show. Boxes range in prices from Digital Only ($7.99/mo.), Flirting ($39.95/mo.), Steady ($36.45/date), or Serious ($32.96/date). Plans automatically renew and it's easy to cancel anytime.
Bring back the romance into your relationship and light the fire with these budget-friendly and easy ways to have a little unexpected fun. You can choose when you want to have the date. Are you two thinking of something mid-week or a little whop-dee-do on Friday? Quality time together is one way to make your relationship strong and built to last. Make your love a priority again.
Datebox is available in all 50 U.S. states, though local dates may not be available in all cities. Datebox Digital is available worldwide!