The best of ireland delivered to your door!
Irish at Heart scour the Emerald Isle to pack each box with a truly unique collection of 5-7 Irish gift. These boxes are sure to delight you, or someone you love.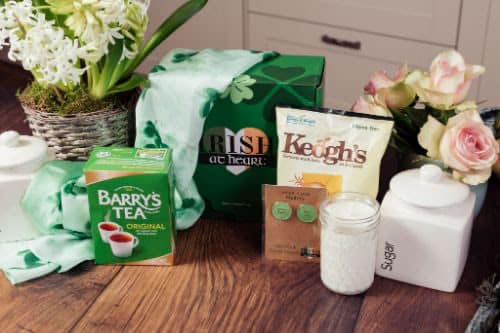 We Curate
Each month Irish at Heart choose a wonderful theme to base the product curation around.
Whether it's Dublin, The Wild Atlantic Way, or St Patrick's Day, Irish at Heart strive for every box to have something wonderful to wear, a gift to share, a treat to eat, and a treasure to live in your home.
Every month the team works with fantastic small Irish businesses; so no matter where you are in the world, you're helping Ireland!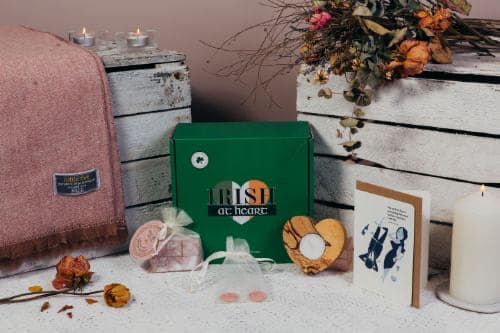 We Deliver
Receive a curated box of themed Irish goodness, creativity and joy. Your beautiful green box will ship at the start of the month, fully tracked from the UK to the USA and take between 10-15 days to arrive.
Our most popular option! 6 boxes full to the brim of Irish joy results in significant savings given the retail value of each box is between $65 and $85. Re-billing takes place every six months. Other payment options include monthly, 3-months, and 12-months for maximum value from maximum Irish joy!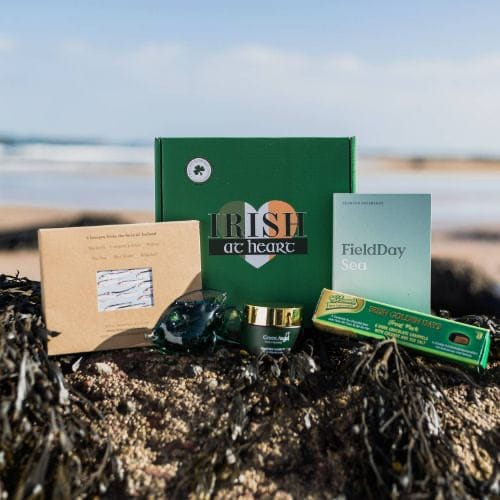 You Enjoy
When the green Irish box arrives at your door the pleasure is all yours. Sit back, open, and enjoy the surprise.
Irish at Heart curate a monthly Gazette to guide you through your Irish box. It's perfect to enjoy as your box travels across from the Emerald Isle to your home, and contains recipes, poems, and a message from Mary, founder of Irish at Heart!
Love your subscription box? Then you'll love the Irish at Heart Podcast, where the brilliant Conor will be your guide to all things Irish at Heart. As well as catching up with Mary, who has a real passion for supporting small Irish businesses, so you will hear from a diverse range of contemporary artists, creators and craftspeople who hail from the Emerald Isle.
Join the rest of the community on our social channels and share your favourite items.
What we think about this Box
Read our review of Irish at Heart on this page ➜
Please enjoy 10% off your first box with code HEART10