LE TOTE provides get unlimited access to clothing and accessories so you'll always have something to wear. For a limited time, through June 26, 2015, save 50% off your 1st month of LE TOTE when you use LE TOTE promo code JUN50 at checkout.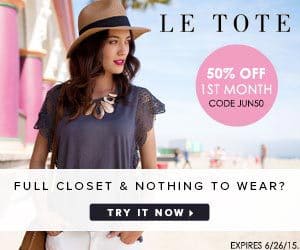 Get your first month of LE TOTE for just $24.50 after savings and start wearing new styles every day.
Save 50% off your 1st Month of LE TOTE with Code JUN50 today!
Offer expires June 26, 2015.