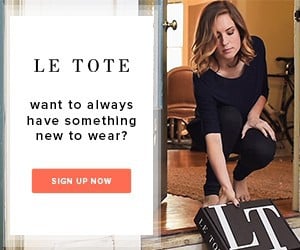 Always have something new to wear with Le Tote. For a limited time, through February 1, 2016, save 50% off your first month at Le Tote when you use code WINTER50 at checkout.

Every month, you'll receive 3 garments and 2 accessories delivered to your door to wear as long as you want. Return for new items when you're ready for new styles.

Save 50% off your Le Tote subscription box with code WINTER50 today!

Le Tote coupon code expires February 1, 2016.