UPDATE: Check out our July Cate & Chloe VIP Box review to see the jewelry in July's Modern Classic Cate & Chloe VIP Box!
Cate & Chloe has announced the theme and VIP perk for the Cate & Chloe VIP Box July 2017 jewelry subscription boxes. For as low as $19.99/month, Cate & Chloe VIP box sends you 1-3 stunning jewelry pieces, each in a ribboned gift box. The July Cate & Chloe jewelry subscription box theme is Wander Lust.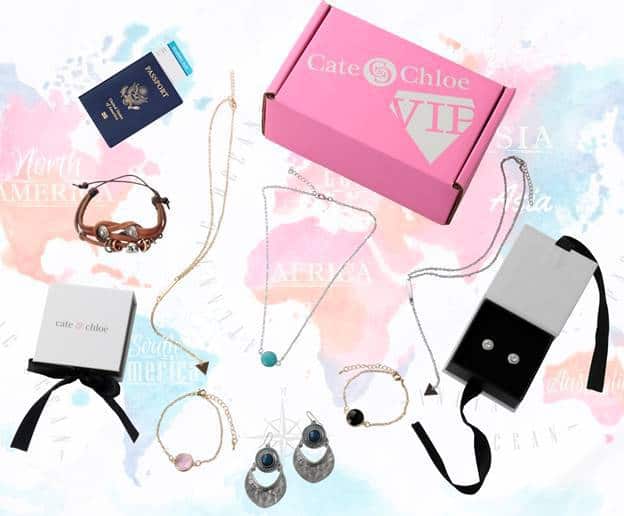 It's that time of year when everyone yearns to travel and experience other countries, cultures, or just Zen out in their garden. Taking a break from the grind of our everyday responsibilities to follow our hearts and free ourselves of all labels. Experiencing adventures whether planed or spontaneous we all need a break and to immerse ourselves into the moment.  Enjoying the hot summer days and nights, sipping on iced tea and munching on mango gelato while sitting at an outdoor café in Nice, France or at your friend's annual barbeque watching the fireworks, you are living in the moment that will be remembered for all time.
Cate & Chloe VIP Box July 2017 Spoiler
We also have a sneak peek at the VIP perk in the June Wander Lust Cate & Chloe VIP Box – a folding Cate & Chloe travel jewelry case!
We are super excited to share with you Cate & Chloe's very own first ever Folding Travel Jewelry Case! Now you can take your fav C&C jewelry with you were ever you are going. This jewelry case will fit in your purse, gym bag, and even in your man's pocket, guaranteeing the safety of your beloved baubles.
With Cate & Chloe VIP Box, you'll get a surprise jewelry box featuring 1-3 jewelry items based on the jewelry style you've chosen. Cate & Chloe VIP jewelry box styles are:
The Trend Setter – Always sets the trends in your inner circle with eye catching statement pieces & boho chic designs to leave you saying OMG!
Modern Classics – Accessorize your life with beautiful elegant classic jewelry designs for day or night from the office to the red carpet.
Mix It Up – Add versatility to your wardrobe mixing it up with the most popular modern classic styles and trend setting designs.
Join Cate & Chloe VIP Box today to reserve your July Cate & Chloe Wander Lust VIP Box!
July 2017 Cate & Chloe VIP Box Coupon
We're excited to share an exclusive Cate & Chloe VIP Box promo code for FSB readers! Use exclusive code FSBWANDERVIP to get 35% OFF all one month Cate & Chloe VIP Box subscriptions (The Starter Package, Double the Fun, Full VIP Status.)